John 13:27 As soon as Judas took the bread, Satan entered into him. "What you are about to do, do quickly," Jesus told him, 28 but no one at the meal understood why Jesus said this to him. 29 Since Judas had charge of the money, some thought Jesus was telling him to buy what was needed for the Feast, or to give something to the poor. 30 As soon as Judas had taken the bread, he went out. And it was night.
Have you ever marveled that Jesus didn't try to talk Judas out of it?  Have you ever thought about what you'd do with 11 remaining disciples after your betrayer left?  Especially if they started asking questions or tried to stop him from leaving?
How we handle betrayals says more about us than it does about those who betray us.  Because betrayers are a given in this world.  There's always someone around to put you down or stab you in the back.  Someone to sell you out to their own advantage.
Jesus offers us some final instruction on handling betrayers by how He dealt with Judas.
Grace is how Jesus dealt with it.
Grace is the same sentiment behind what is often called "The Serenity Prayer."  The original prayer is attributed to Reinhold Neibuhr and in the better known 1951 version, it includes the word grace.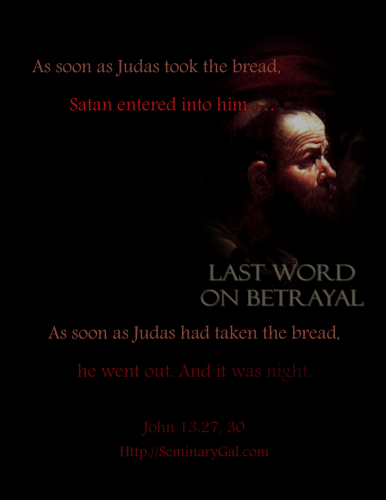 God, give me grace to accept with serenity
the things that cannot be changed,
Courage to change
the things which should be changed,
And the Wisdom
to distinguish the one from the other.
Living one day at a time,
Enjoying one moment at a time,
Accepting hardship as a pathway to peace,
Taking, as Jesus did,
This sinful world as it is,
Not as I would have it,
Trusting that You will make all things right,
If I surrender to Your will,
So that I may be reasonably happy in this life,
And supremely happy
with You forever in the next.
Amen.
 * * *
Give it Up for Lent: The agony of betrayal
Put it On for Lent: The grace of our Lord Jesus Christ
For further thought on the topic of betrayal and its antidote: grace.
God had a will.  Judas had a role.  Was there anything to be gained from Jesus' getting in the way of either?
Why would Jesus want Judas to do this quickly?  How did this show grace?
What do you find significant about it being night when Judas left?
Read

Ephesians 2:1 As for you, you were dead in your transgressions and sins, 2 in which you used to live when you followed the ways of this world and of the ruler of the kingdom of the air, the spirit who is now at work in those who are disobedient. 3 All of us also lived among them at one time, gratifying the cravings of our sinful nature and following its desires and thoughts. Like the rest, we were by nature objects of wrath. 4 But because of his great love for us, God, who is rich in mercy, 5 made us alive with Christ even when we were dead in transgressions– it is by grace you have been saved. 6 And God raised us up with Christ and seated us with him in the heavenly realms in Christ Jesus, 7 in order that in the coming ages he might show the incomparable riches of his grace, expressed in his kindness to us in Christ Jesus. 8 For it is by grace you have been saved, through faith– and this not from yourselves, it is the gift of God– 9 not by works, so that no one can boast. 10 For we are God's workmanship, created in Christ Jesus to do good works, which God prepared in advance for us to do. 11 Therefore, remember that formerly you who are Gentiles by birth and called "uncircumcised" by those who call themselves "the circumcision" (that done in the body by the hands of men)– 12 remember that at that time you were separate from Christ, excluded from citizenship in Israel and foreigners to the covenants of the promise, without hope and without God in the world. 13 But now in Christ Jesus you who once were far away have been brought near through the blood of Christ. 14 For he himself is our peace.

Jesus' pathway through suffering and Crucifixion became our pathway to peace with God.  How is God's grace shown to us in Jesus?  What must we do to experience His grace and His peace?
* * *
You can receive these devotional studies in your email (Monday through Saturday during Lent) by entering your email address on the SeminaryGal.com home page in the space provided in the sidebar.  Let's meet With Christ in the Upper Room.