Still taking a break from the series on Epiphany to address a current and important need for calm, peace, and faith as millions of Christians experience doubts about God's goodness and sovereignty. Irrespective of your view of the recent Inauguration, one thing is true: millions of Christians feel confused.
Given the volume of people reading my post from 4 years ago called Prayer for a Peaceful Transition of Power, some of you may wonder if I still believe it.  You bet I do.
Dr. Michael Brown echoed thoughts I had in 2016 about Donald J. Trump's election and he has reiterated them in his recent article entitled Joe Biden is president – by the sovereign will of God (wnd.com). Stick with me here.
This is not so much a political article or political post as it is a reflection on the larger picture with the goal of forging peace and a sense of understanding.  
Peace with each other.  Understanding each other. 
This is a wrestling with what we don't understand instead of wrangling with one another. 
More people could use a "Dead Baby Theology." Sounds horrible, I know, but I've lived it. It's highly useful, and I'm glad God gave me the opportunity more than 20 years ago to wrestle with Him and His goodness in the face of something no one calls good. My faith has been stronger for it.
When my third child Julia Marie was stillborn on my due date 3 days before Christmas in 1998, I didn't know it, but God was giving me a theology lesson like no other.  You see, some events aren't so easily reconciled as saying "It's God's will."  Once and done in simplistic platitudes.  In fact, the more we wanted something that seemed so good … but that we didn't get, the harder it is.  To make matters worse, in some cases what we got (death) can be called "bad" unapologetically—even Scripture calls it an enemy—but oh how we prayed fervently for the opposite (life)! 

Did God betray us, let us down? 

Some doctrine requires wrestling for months, even years due to questions like those.  I concluded that you can't take a dead baby photo, put a nice frame around it, and call it good.

So, it begs the question:  Why does a good God allow something that is so clearly "not good?"  The answer, of course, is for the eternal good He alone can bring from it.  The bigger picture is crystal clear to God Almighty.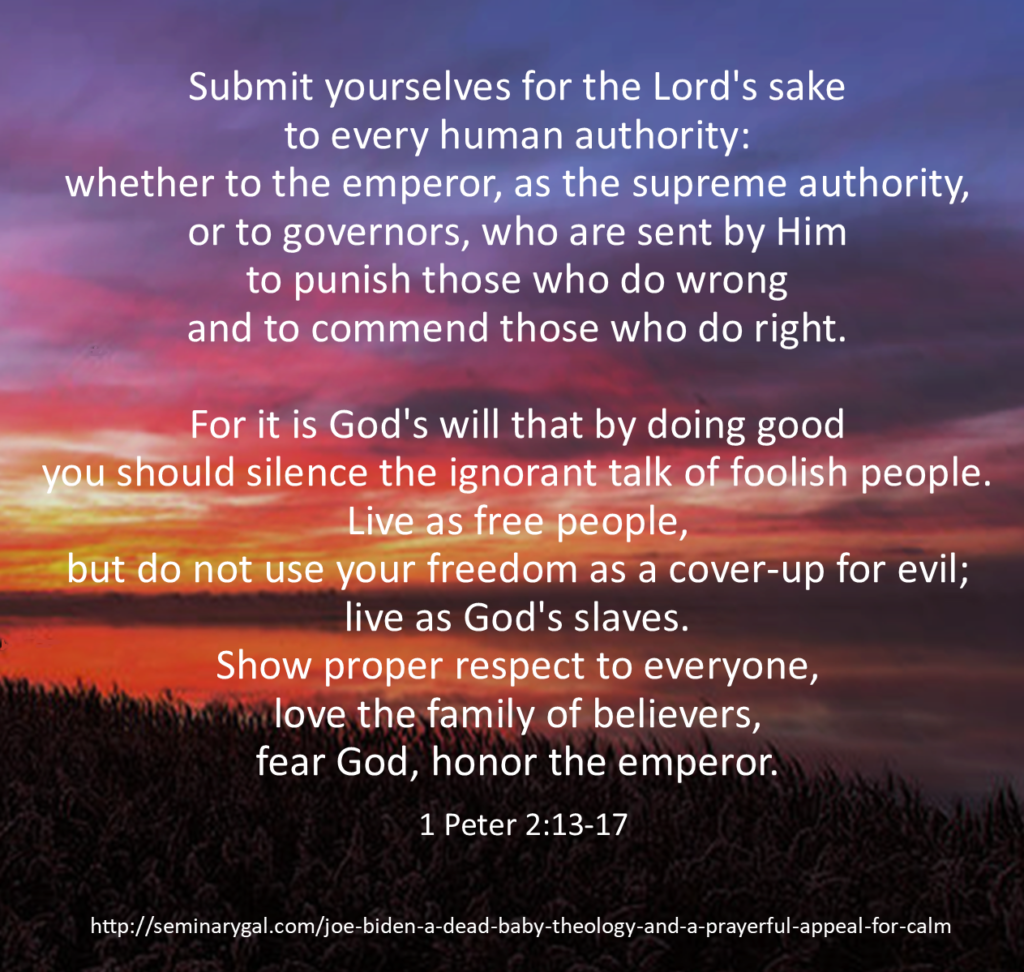 True Christians take this to heart:
"Dear friends, I urge you, as foreigners and exiles, to abstain from sinful desires, which wage war against your soul. Live such good lives among the pagans that, though they accuse you of doing wrong, they may see your good deeds and glorify God on the day he visits us. Submit yourselves for the Lord's sake to every human authority: whether to the emperor, as the supreme authority, or to governors, who are sent by him to punish those who do wrong and to commend those who do right. For it is God's will that by doing good you should silence the ignorant talk of foolish people. Live as free people, but do not use your freedom as a cover-up for evil; live as God's slaves. Show proper respect to everyone, love the family of believers, fear God, honor the emperor." (1 Peter 2:11-17)
Just like with my stillborn daughter, some things are hard to understand.  But God's perspective is eternal.  His interest is in furthering His kingdom by seeking and saving the lost, not so much elevating the United States, even though nations of the world without religious freedom admire that part of our Constitution.  So, friends, join me in praying that the events of November 3, 2020 and beyond will open the eyes of those who are truly lost—too deep in politics to see the problems of this world are … primarily spiritual.  Let's pray,
Father God, we acknowledge that Your ways are not our ways.  We submit to You and ask that You would give us—not answers to the hard questions, some of which we are incapable of understanding—but that You would give us… Yourself.  More of Jesus in our lives and in our world.  Give us the mind of Christ and Your peace that transcends understanding.  May we know Your Holy Spirit's comfort.  Help us to be still and know that You are God. Amen.