Continuing our look at how Christians should respond to last week's Inauguration, let's acknowledge something we can call reality. For the Christians who voted for Joe Biden, you got what you wanted.  For the Christians who didn't vote for Joe Biden, you didn't get what you wanted.  But in both cases, God got what will further His will.  Just like in 2016.  Hence what Dr. Michael Brown (who I offered as one example) said in 2016 and now says in his recent post (Joe Biden is president – by the sovereign will of God (wnd.com) ) is once again, true.
How should Christians respond?  Argue among each other about the faults and flaws of the one who is President and the one who was before and ran for a second term?  Nope.  Trash their wives and kids because of their family name?  Nope.  Rip theologians and pastors who don't agree with you?  Nope.  Look to doxx the enemy voters and send them to re-education camps?  That's one Big Nope.

I, for one, will not do what some Christians did at the election of Donald J. Trump.  I will not set myself against my fellow Christians who voted for Joe Biden or Donald Trump.  I will never hate either individual or their voters.  Here's why:  They all bear the Image of God.
The "Hating Christians" are the reason people outside the family of faith hate Christianity
and hate Christians. 
It's hypocrisy at the most insidious level on the part of Hating Christians
and it reflects poorly on Jesus Christ.
The hate that consumed the past 4 years of American life was never grounded in an understanding of earthly reality or Gospel truth.  People who aren't Christians are doing it out of ignorance.  People who claim Christ have no excuse.  There is no way that hatred each other was ever grounded in faithful Christianity!  We witnessed Christians tearing apart other Christians, protesting them, threatening them, insulting them, and digging non-stop for that speck of sawdust in someone else's eye (Matthew 7:3-5).  And that, my friends, was horribly, terribly wrong.
It is every bit as wrong now as it was then. As I wrote yesterday, true Christians take this to heart:
"Dear friends, I urge you, as foreigners and exiles, to abstain from sinful desires, which wage war against your soul. Live such good lives among the pagans that, though they accuse you of doing wrong, they may see your good deeds and glorify God on the day he visits us. Submit yourselves for the Lord's sake to every human authority: whether to the emperor, as the supreme authority, or to governors, who are sent by him to punish those who do wrong and to commend those who do right. For it is God's will that by doing good you should silence the ignorant talk of foolish people. Live as free people, but do not use your freedom as a cover-up for evil; live as God's slaves. Show proper respect to everyone, love the family of believers, fear God, honor the emperor." (1 Peter 2:11-17)
More on the idea of submitting to authority soon, but for now just know, it's a sinful desire to hate anyone. Therefore, anyone who loves God should stop from their present gloom and doubt—or heaven forbid, their desire for retribution against their fellow Christian—and instead, see everyone's dire need for a Savior and that only Jesus Christ will do.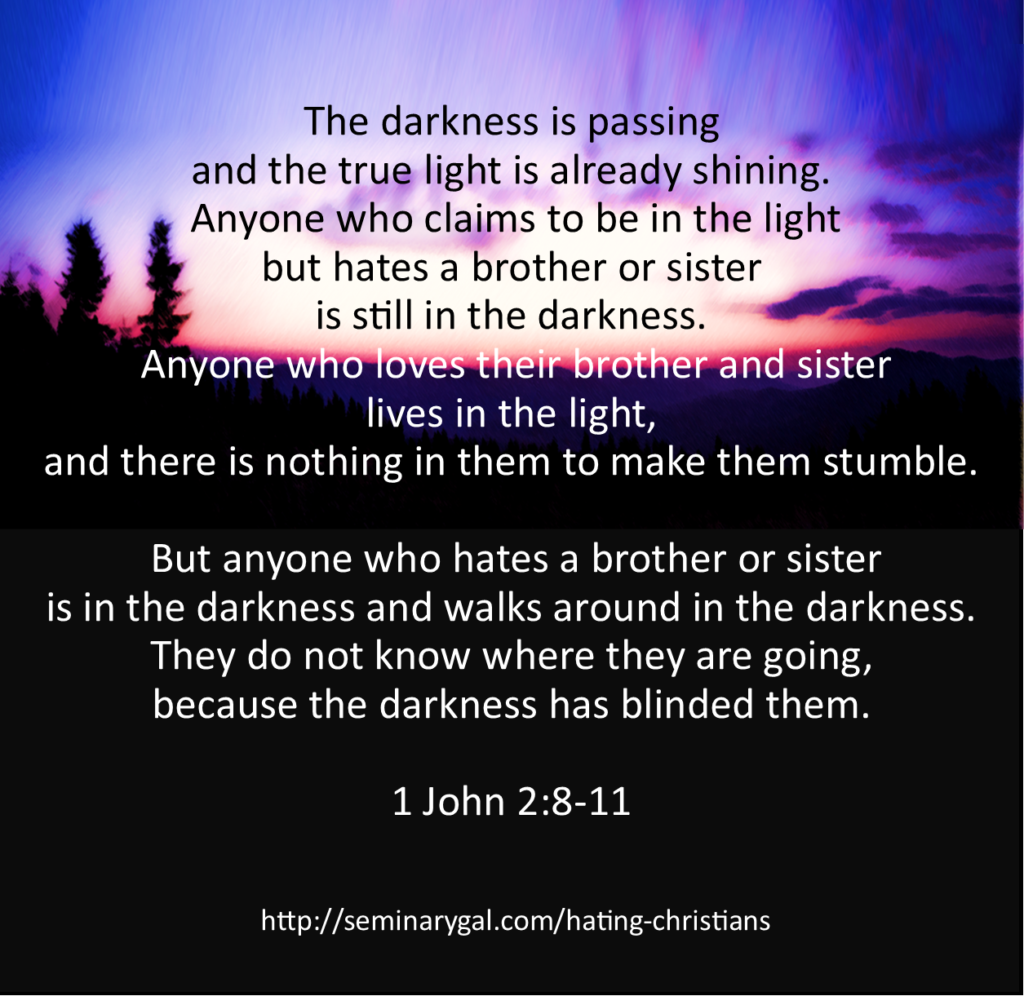 Let's pray, Lord Jesus, please use this time of political turmoil to open the eyes of people–both wayward Christians and those who have never known You.  We ask, Lord, that people would find hope in the shed blood of Christ for sin.  May they repent and believe what the Bible says that while we were still sinners, Christ died for us (Romans 5:8) as an expression of His great love.  We ask Lord that those Christians who are consumed by politics (denouncing Christian nationalism or elevating social justice in non-Gospel terms) or failing to see the larger picture of salvation in Jesus Christ as being predominant would repent of their hypocrisy so that the world might see Christ in us instead of Christians who hate.  Let love be our language.  Let peace be our response.  Let the Gospel be our banner for Your glory, Lord Jesus.  Amen.