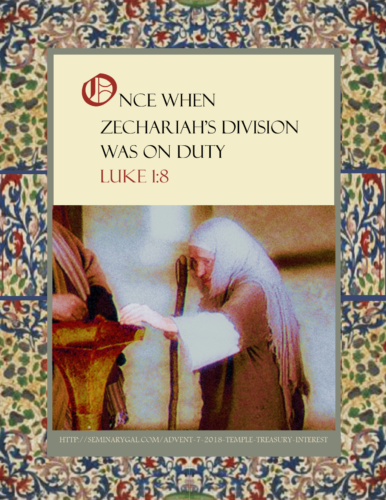 Zechariah was a full-blooded Jew. That sign prohibiting Gentiles didn't apply to him, so he arrived at last to the Court of Women, that location where Jewish men and women could gather and place their offerings in the trumpet-shaped offering boxes.
He quickly glanced around to see if anyone was putting money in there and if so, how much.
But he caught himself doing that and glanced nervously again to see if anyone noticed he was observing what they were doing.
"Priests are supposed to be above that," he thought in repentance.
"Did other priests do this type of thing when their sights were supposed to be on the task of leading worship as their birthright, or was it just him?"
After all, the Temple tax and the offerings are what supported all this enterprise. And it was a well-organized system of worship.
It required money to maintain the structures, the areas for washing and burning of animal sacrifices, and even for the incense itself. Granted, he didn't earn his living from this, except as the privilege during his service window, but the Temple treasury was always interesting to him anyway.
***
His Story, Your Story:
What about being a pastor or a priest makes money a dangerous topic?

How do people in our congregations feel about pastors talking about money in church?

In the Gospel of Mark 12:38-44 Jesus watched people putting money into the Temple Treasury, both rich with their large amounts and a poor widow with two copper coins. What do you think of Jesus' doing that?

Why is money such an uncomfortable topic?
Self-Reflection topic: Money and church
Prayer: Father, You alone are God from Whom all blessings flow. Everything on earth belonged first to You. Scripture reminds us that "The earth is the LORD's, and everything in it, the world, and all who live in it" (Psalm 24:1). Forgive us for viewing ownership as being ours instead of viewing ourselves as stewards of what You first gave us. Forgive us for times in which we are serving Money and for those times in which we are paying more attention to our financial health than our spiritual health. Forgive us for storing treasures on earth instead of in heaven. Help us to see that You are our treasure in heaven and quicken our hearts to choose better than an unhealthy interest in money. Amen.
===
By way of reminder, if you haven't signed up yet, you can receive these Storyteller devotional studies in your email throughout Advent 2018 by entering your email address on the SeminaryGal.com home page in the space provided in the sidebar. Or "Like" the SeminaryGal Facebook page to access them there. If you like these devotionals, I'd really appreciate your letting others know so I can continue to spread the Good News far and wide. Blessings to you, in Christ always, Barbara <><
===
Acknowledging inquiries about the entire season's devotionals for your study group's planning purposes, Seminary Gal's prior seasons' Advent devotionals can be accessed via the archives to the right and are as follows:
Last year's Advent Devotional Series (2017), Still Christmas, began December 3, 2017 and was the Advent complement to the Lenten series, Be Still and Know that I AM God.
The 2016 season devotionals were called "Timeless: The Message of Christmas for All Ages" and explored how the message of Christmas is timeless truth, for all ages of people, and for all ages at all times. Timeless hope, encouragement, grace, peace, and love as we looked into the Word, saw the face of our Lord Jesus, and experienced restoration in His presence. His goodness and His Gospel are truly Timeless. The 2016 devotionals began November 27, 2016.
The 2015 season devotionals were titled Incarnation and involved digging deep–and yes, I mean deep– in this important mystery of Christian theology. They began November 29, 2015.
Carol Me, Christmas! remains one of my most popular offerings and tells the Christmas story through our most beloved Christmas hymns and carols. You can access all of the numbered devotionals from 2014 via the archives. They began November 30, 2014.
The 2013 series was Emmanuel: When LOVE Showed Up in Person and examined the Prologue to the Gospel of John. It began December 1, 2013.
The 2012 series focused on Expecting the Unexpected…the unexpected, unlikely, and uniquely divine qualities of God's perfect plan outlined in Luke's account of the Christmas story. It began December 1, 2012.