Continuing this rumination about legacy and fame and how selfish ambition can destroy one's soul, I will share with you something about my approach to information. I go to the Bible first. It's my compass, in this case to distinguish a good desire for success from a not-good lust for fame. And then I go everywhere in search of the truth for comparing against what the Bible tells me. I have certain media outlets that arrive uninvited to my news feed on my laptop, others uninvited to my phone, and I have others I will intentionally visit. But then there are ones I must dig to find. Such is the case with a quote about fame I heard while watching an interview with Glenn Beck on Tucker Carlson's new show on FOX.
Before some of you ditch this post because of Beck or FOX, keep in mind that without hearing both sides of current events, a person only gets one side and often ends up getting it wrong. Glenn Beck said something very profound and if one only watches CNN or sees the auto-newsfeed chosen by Google, Bing, Yahoo, or Apple, one would miss this transcript statement that I eventually found on AdWeek's online site
BECK: "I think this job, I wouldn't wish on my worst enemy. I wouldn't wish the fame on my worst enemy. I think fame is more corrosive than anything else. It is a horrible, horrible thing if you don't have perspective."
That perspective reflects what my first source, the Bible, says about fame as selfish ambition:
Philippians 2: 3 Do nothing out of selfish ambition or vain conceit, but in humility consider others better than yourselves. 4 Each of you should look not only to your own interests, but also to the interests of others. 5 Your attitude should be the same as that of Christ Jesus: 6 Who, being in very nature God, did not consider equality with God something to be grasped, 7 but made himself nothing, taking the very nature of a servant, being made in human likeness. 8 And being found in appearance as a man, he humbled himself and became obedient to death– even death on a cross! 9 Therefore God exalted him to the highest place and gave him the name that is above every name, 10 that at the name of Jesus every knee should bow, in heaven and on earth and under the earth, 11 and every tongue confess that Jesus Christ is Lord, to the glory of God the Father.
PJ Media describes Carlson's interview this way, that it was a…
"doozy…with conservative rabble rouser Glenn Beck, and the host didn't hold back when it came to questions about faith, the nature of God's calling, and the fickle nature of fame, among other topics. Carlson started right out of the gate asking Beck a tough question:
CARLSON: Over the past year and a half, nobody has argued more forcefully or more fervently against Donald Trump's presidential candidacy than multimedia veteran Glenn Beck. … At one point he predicted that four years of the Trump presidency would lead to civil war or worse … So where is Glenn Beck on all of this now?"
[my note: Time and reality had given Beck some perspective, which is a good thing.]
Beck concluded his recollection … by stating that he is "not going to endorse anybody ever again."
Later on in the interview, Beck waxed philosophical on the nature of fame. When Carlson asked Beck if he would recommend the news business to his kids, the founder of The Blaze noted that the desire for fame is unhealthy and leads to a false sense of sanctimony.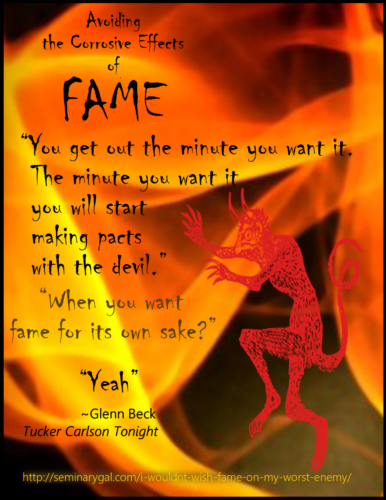 At the end of the interview, Carlson asked Beck, "How do you avoid that (i.e. falling prey to fame)?"
Beck said,
You get out the minute you want it. The minute you want it you will start making pacts with the devil." Carlson: "When you want fame for its own sake?" Beck: "Yeah"
Refrigerator magnet wisdom as lauded by Carlson, and here's further truth about fame: the Bible calls "wanting it" selfish ambition and vain conceit and tells us "Don't."
Just don't.