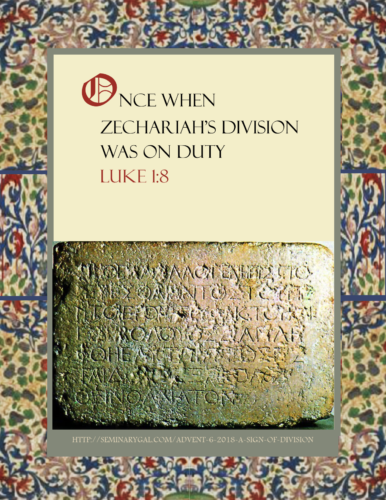 Now Zechariah acknowledged (with a sense of satisfaction) the sign on the stone wall proclaiming disaster to any Gentile who tried to go past this point in their worship.
They had to stay in the outer court where goods for worship were bought and sold, where money was changed for the currency needed inside.
He looked back across the Court of the Gentiles and perceived how Jews and Gentiles alike availed themselves of the ease of buying what they needed when they arrived.
How convenient!
They could travel as light as money would allow.
*
Anyway, much easier than lugging some animal the full journey and risking its being unsuitable once you got there. For comparatively little inconvenience and slightly greater expense (given the greed of the vendors and money changers), they could worship, having bought exactly what they needed right there, yeah, where the Gentiles worshiped.
After all, they were Gentiles and their worship…well, did it really matter to Adonai anyway? They weren't among the Chosen People.
***
His Story, Your Story:
Barriers to entry existed in worship then and now. Take a moment and ask yourself if your church has barriers to worship?

Barriers in Zechariah's day included whether you were a Jew or a Gentile, a man or a woman, and whether you were clean or unclean. In your church are there ways people who "belong" are clear and those who are new are unintentionally made to feel like outcasts or outsiders?

There were social barriers, but there were also practical barriers. People needed to either bring an animal with them for the sacrifice or to buy one. Money was a barrier and distance traveled, too. Is it any wonder that people would resent the money changers who charged a fee?

Are there any practical barriers of convenience, preference, and enjoyment that diminish the holiness of the worship experience? How do entertainment and concessions contribute to a fun, celebration, entertainment atmosphere instead of an experience of holiness in true worship?
Self-Reflection topic: Barriers
Prayer: Thank You, Lord, that You destroyed the dividing wall between us and Yourself and between us and each other. As Your Word says about Jesus, Ephesians 2:14 For he himself is our peace, who has made the two one and has destroyed the barrier, the dividing wall of hostility, 15 by abolishing in his flesh the law with its commandments and regulations. His purpose was to create in himself one new man out of the two, thus making peace, 16 and in this one body to reconcile both of them to God through the cross, by which he put to death their hostility. 17 He came and preached peace to you who were far away and peace to those who were near. 18 For through him we both have access to the Father by one Spirit. 19 Consequently, you are no longer foreigners and aliens, but fellow citizens with God's people and members of God's household, 20 built on the foundation of the apostles and prophets, with Christ Jesus himself as the chief cornerstone." Thank You, Lord Jesus. Amen.
===
By way of reminder, if you haven't signed up yet, you can receive these Storyteller devotional studies in your email throughout Advent 2018 by entering your email address on the SeminaryGal.com home page in the space provided in the sidebar. Or "Like" the SeminaryGal Facebook page to access them there. If you like these devotionals, I'd really appreciate your letting others know so I can continue to spread the Good News far and wide. Blessings to you, in Christ always, Barbara <><
===
Acknowledging inquiries about the entire season's devotionals for your study group's planning purposes, Seminary Gal's prior seasons' Advent devotionals can be accessed via the archives to the right and are as follows:
Last year's Advent Devotional Series (2017), Still Christmas, began December 3, 2017 and was the Advent complement to the Lenten series, Be Still and Know that I AM God.
The 2016 season devotionals were called "Timeless: The Message of Christmas for All Ages" and explored how the message of Christmas is timeless truth, for all ages of people, and for all ages at all times. Timeless hope, encouragement, grace, peace, and love as we looked into the Word, saw the face of our Lord Jesus, and experienced restoration in His presence. His goodness and His Gospel are truly Timeless. The 2016 devotionals began November 27, 2016.
The 2015 season devotionals were titled Incarnation and involved digging deep–and yes, I mean deep– in this important mystery of Christian theology. They began November 29, 2015.
Carol Me, Christmas! remains one of my most popular offerings and tells the Christmas story through our most beloved Christmas hymns and carols. You can access all of the numbered devotionals from 2014 via the archives. They began November 30, 2014.
The 2013 series was Emmanuel: When LOVE Showed Up in Person and examined the Prologue to the Gospel of John. It began December 1, 2013.
The 2012 series focused on Expecting the Unexpected…the unexpected, unlikely, and uniquely divine qualities of God's perfect plan outlined in Luke's account of the Christmas story. It began December 1, 2012.