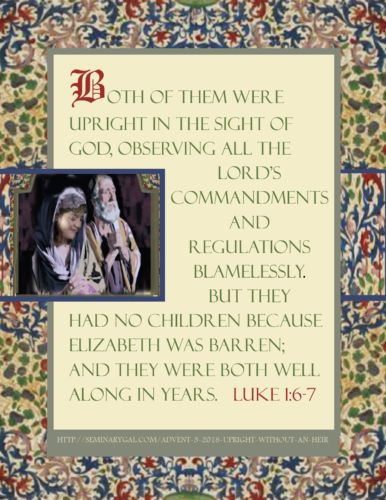 Yes, Zechariah held a deep wound in an embrace of emotions. This wound refused to be comforted, and it ruled his thoughts. Oh how he'd tried to shake it out of his mind!
Zechariah had no heir. No child.
No Isaac of his own.
No legacy for him or for his dear wife, Elizabeth. She was barren…and broken. She tried to be happy for other women when she saw them with their children and grandchildren.
Her love for others and her efforts in righteousness were well known by everyone.
She loved and submitted herself into complete obedient service to Adonai. She loved Him; and she loved her husband.
She didn't understand why Adonai did not give her the blessing of children, but she trusted the Almighty and prayed He might turn His face to see her sadness and take away her shame. Like with Hannah. She'd devote her son just like Hannah did with Samuel. Her son would be dedicated to the priesthood in his father Zechariah's footsteps.
But no son, no heir, no child, no answer to her many prayers and those of her husband. She felt the shame of it as there was little else for women to do than keep house, raise families to love Adonai, and to carry His Name forth to generations. Sons represented hope and a legacy, of land and an inheritance to be given, and blessing to be passed along for posterity. She didn't have a child to call "Laughter" (the meaning of Isaac) or to call anything else. She had no child at all and her reproductive years were well behind her.
***
Their Story, Your Story:
How do you view the connection between obedience and God's provision?

Why do you think God doesn't allow us to earn His favor that way?

What does it do to God if He becomes like a divine vending machine?

What about a legacy (an heir) would be important to Zechariah and Elizabeth? What about a legacy as it relates to you?
Self-Reflection topic: Legacy
Prayer: Father God, we praise You for comfort in our disappointments and discouragements. We praise You that our salvation and Your blessings are not contingent upon our behavior. We thank You for the ways You provide what we need in a way that grows our faith. Your Word tells us regarding sufferings and disappointments "These have come so that your faith– of greater worth than gold, which perishes even though refined by fire– may be proved genuine and may result in praise, glory and honor when Jesus Christ is revealed." (1 Peter 1:7). We ask, Lord, for our faith to be proved genuine and that all praise, glory and honor will be Yours. Help us to see our faith in Your Son Jesus Christ as the most precious gift we could carry as our legacy. Amen.
===
By way of reminder, if you haven't signed up yet, you can receive these Storyteller devotional studies in your email throughout Advent 2018 by entering your email address on the SeminaryGal.com home page in the space provided in the sidebar. Or "Like" the SeminaryGal Facebook page to access them there. If you like these devotionals, I'd really appreciate your letting others know so I can continue to spread the Good News far and wide. Blessings to you, in Christ always, Barbara <><
===
Acknowledging inquiries about the entire season's devotionals for your study group's planning purposes, Seminary Gal's prior seasons' Advent devotionals can be accessed via the archives to the right and are as follows:
Last year's Advent Devotional Series (2017), Still Christmas, began December 3, 2017 and was the Advent complement to the Lenten series, Be Still and Know that I AM God.
The 2016 season devotionals were called "Timeless: The Message of Christmas for All Ages" and explored how the message of Christmas is timeless truth, for all ages of people, and for all ages at all times. Timeless hope, encouragement, grace, peace, and love as we looked into the Word, saw the face of our Lord Jesus, and experienced restoration in His presence. His goodness and His Gospel are truly Timeless. The 2016 devotionals began November 27, 2016.
The 2015 season devotionals were titled Incarnation and involved digging deep–and yes, I mean deep– in this important mystery of Christian theology. They began November 29, 2015.
Carol Me, Christmas! remains one of my most popular offerings and tells the Christmas story through our most beloved Christmas hymns and carols. You can access all of the numbered devotionals from 2014 via the archives. They began November 30, 2014.
The 2013 series was Emmanuel: When LOVE Showed Up in Person and examined the Prologue to the Gospel of John. It began December 1, 2013.
The 2012 series focused on Expecting the Unexpected…the unexpected, unlikely, and uniquely divine qualities of God's perfect plan outlined in Luke's account of the Christmas story. It began December 1, 2012.