In the Life of Pi, the movie we've been using as our launch for 40 days worth of questions, there is a certain skepticism, an incredulity, a doubt in the minds of the investigators of the shipwreck. The investigators want to know why the ship sank and are frustrated that Pi isn't bringing them any closer to the answers. Answers they were willing to believe…
YOUNG PI Because I don't know. I was asleep…What else do you want from me?

CHIBA A story that won't make us look like fools.

OKAMOTO We need a simpler story for our report. One our company can understand. A story we can all believe.

YOUNG PI So…. a story without things you never seen before

OKAMOTO That's right.
The truth is we're more likely to doubt things we've never seen. If seeing is believing, not seeing and still believing requires faith.
In the Scriptures, Jesus offers a very interesting moment when He asks "Why Do You Doubt?", having already answered, because you have little faith.
Matthew 14: 25 During the fourth watch of the night Jesus went out to them, walking on the lake. 26 When the disciples saw him walking on the lake, they were terrified. "It's a ghost," they said, and cried out in fear. 27 But Jesus immediately said to them: "Take courage! It is I. Don't be afraid." 28 "Lord, if it's you," Peter replied, "tell me to come to you on the water." 29 "Come," he said. Then Peter got down out of the boat, walked on the water and came toward Jesus. 30 But when he saw the wind, he was afraid and, beginning to sink, cried out, "Lord, save me!" 31 Immediately Jesus reached out his hand and caught him. "You of little faith," he said, "why did you doubt?" 32 And when they climbed into the boat, the wind died down.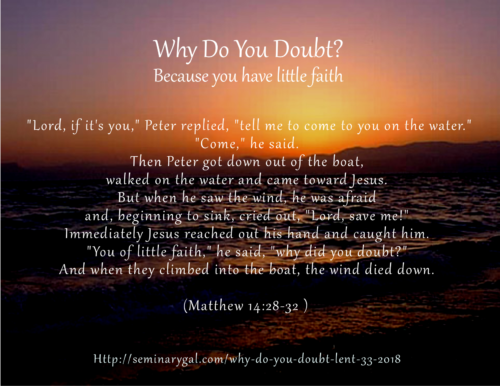 ***
Food for thought:
What types of challenges exist for your faith and result in doubt?

Why would the investigators have wanted a simpler story of easily understood predictabilities?

In your life of faith, do you ever find yourself wanting things to be simpler and more predictable?
Join me tomorrow for Why Should You Be Afraid?
==
For Lent 2018, we'll explore the questions of Pi and Chi (the Greek letter beginning the word Christos, which means Christ, Messiah, the Anointed One). We'll ask and answer the question "Why?" as we discover the uniqueness of Jesus Christ. Join me for the 40 days of Lent which began February 14, 2018 by liking Seminary Gal on Facebook or having these devotionals sent to your email box which you can do via the sign-up on my Home page. Thank you for blessing me with this opportunity to study together the Word of God.
===
Acknowledging that former years' devotional series remain popular: