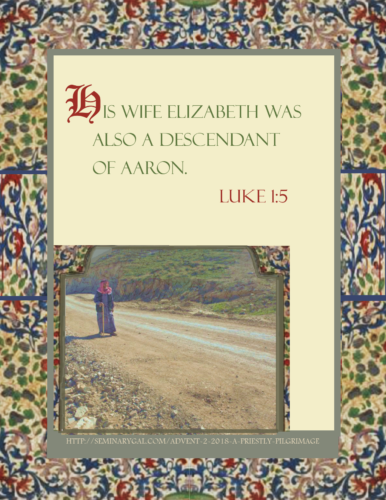 Twice a year to offer incense, that's the ritual for those belonging to the priesthood.
There were about 18,000 priests who each made the journey twice a year. These 18,000 were separated into 24 divisions and Zechariah belonged to the eighth order, that of Abijah.
It was his turn to go for this one-week service window.
What were the chances he'd do more than just minister outside?

Practically zilch.
Yet, there was always something refreshing about making these pilgrimages.
.
True, there was time for self-reflection on doubt, but as the sun beat down on his dusty path, he was overcome by the newness of hope amidst the doldrums and the routines of life. For starters, there was a reminder of the privilege: he was a descendant of Aaron and so was his wife. But also, maybe it was the change of pace, the change of scenery, or even simple opportunities to be alone…alone with his hopes, in the comfort of the past pilgrimages, and alone to ponder the history of all the faithful throughout the generations…on a journey to the center of religious life and thought.
He was going to the place of Abraham mentioned in Genesis 22:14, he recited aloud "The LORD Will Provide. And to this day it is said, "On the mountain of the LORD it will be provided."
He was headed to that very mountain and maybe what his soul needed most—renewal and repair—would be provided in such a place where the Almighty provided to Abram a ram of sacrifice in place of his son Isaac.
***
His Story, Your Story:
Do you have areas of your life in which you are still waiting with hope?

How does it feel to wait patiently?

What routines serve your spiritual life the best during those times?

Which habits are most detrimental to your spiritual life? Are those habits more detrimental when you're alone?

How do you use your "alone-time"?
Self-Reflection topic: The value of time alone
Prayer: Lord Jesus, Your Word tells us that You often went alone to pray. Teach us to value our time alone with You. Teach us how to pray in an ongoing and personal way. Teach us to overcome bad habits and to ignore distractions. Help us to set aside everything that interferes with our relationship with You. Help us to trust in Your provision and to wait patiently upon You. Amen.
===
By way of reminder, if you haven't signed up yet, you can receive these Storyteller devotional studies in your email throughout Advent 2018 by entering your email address on the SeminaryGal.com home page in the space provided in the sidebar. Or "Like" the SeminaryGal Facebook page to access them there. If you like these devotionals, I'd really appreciate your letting others know so I can continue to spread the Good News far and wide. Blessings to you, in Christ always, Barbara <><
===
Acknowledging inquiries about the entire season's devotionals for your study group's planning purposes, Seminary Gal's prior seasons' Advent devotionals can be accessed via the archives to the right and are as follows:
Last year's Advent Devotional Series (2017), Still Christmas, began December 3, 2017 and was the Advent complement to the Lenten series, Be Still and Know that I AM God.
The 2016 season devotionals were called "Timeless: The Message of Christmas for All Ages" and explored how the message of Christmas is timeless truth, for all ages of people, and for all ages at all times. Timeless hope, encouragement, grace, peace, and love as we looked into the Word, saw the face of our Lord Jesus, and experienced restoration in His presence. His goodness and His Gospel are truly Timeless. The 2016 devotionals began November 27, 2016.
The 2015 season devotionals were titled Incarnation and involved digging deep–and yes, I mean deep– in this important mystery of Christian theology. They began November 29, 2015.
Carol Me, Christmas! remains one of my most popular offerings and tells the Christmas story through our most beloved Christmas hymns and carols. You can access all of the numbered devotionals from 2014 via the archives. They began November 30, 2014.
The 2013 series was Emmanuel: When LOVE Showed Up in Person and examined the Prologue to the Gospel of John. It began December 1, 2013.
The 2012 series focused on Expecting the Unexpected…the unexpected, unlikely, and uniquely divine qualities of God's perfect plan outlined in Luke's account of the Christmas story. It began December 1, 2012.