With that awkwardness out of the way and moving beyond parental permission, Mary got ready and hurried to a town in the hill country of Judea, a walk of 90 miles. She didn't mind the time being alone with her thoughts. Five days of travel to ponder,
Who could she tell? Who should she tell? Who would even believe her?"
She relived the scene with Gabriel over and over to fix it forever in her memory and engrave it upon her heart. Don't doubt. Just believe. Adonai is trustworthy. He does the impossible.
What if…? She interrupted her own thoughts. Don't doubt. Just believe. Adonai is trustworthy. He does the impossible. Proof is just down the road. Just down the road. Don't doubt. Just believe. Adonai is trustworthy. He does the impossible. Patiently wait. Proof is just down the road.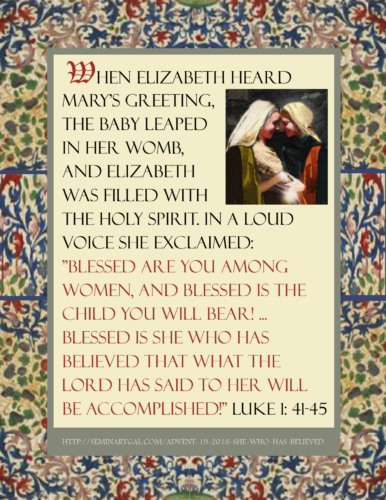 Finally, Mary arrived, entered Zechariah's home and greeted Elizabeth. Luke 1:41 When Elizabeth heard Mary's greeting, the baby leaped in her womb, and Elizabeth was filled with the Holy Spirit. 42 In a loud voice she exclaimed: "Blessed are you among women, and blessed is the child you will bear! 43 But why am I so favored, that the mother of my Lord should come to me? 44 As soon as the sound of your greeting reached my ears, the baby in my womb leaped for joy. 45 Blessed is she who has believed that what the Lord has said to her will be accomplished!"
Adonai was and is trustworthy. He does the impossible. Proof of this was just down the road.
***
Her Story, Your Story:
Evidence that Mary believed was recorded for us in Elizabeth's blessing. How does the ongoing practice of persevering in faith pay off?

What types of things can you do to "practice" your faith?

What happens to a faith that is exercised regularly?
Self-Reflection topic: Exercising faith
Prayer: Lord Jesus, we thank You for being the author and perfecter of our faith (Hebrews 12:2), Who showed us by Your example what it means to persevere. In Your Word, You pronounced blessings upon those who overcome: "I will give the right to eat from the tree of life" (Rev 2:7) and we "will not be hurt at all by the second death" (Rev. 2:11). We will be given "hidden manna… a white stone with a new name written on it" (Rev 2:17) and (Rev. 2:26) to him who overcomes and does my will to the end, I will give authority over the nations". We praise You for the promises in Revelation 3:5 He who overcomes will, like them, be dressed in white. I will never blot out his name from the book of life, but will acknowledge his name before my Father and his angels; Revelation 3:12 "Him who overcomes I will make a pillar in the temple of my God. Never again will he leave it. I will write on him the name of my God and the name of the city of my God, the new Jerusalem, which is coming down out of heaven from my God; and I will also write on him my new name"; Revelation 3:21 "To him who overcomes, I will give the right to sit with me on my throne, just as I overcame and sat down with my Father on his throne"; and Revelation 21:7 He who overcomes will inherit all this, and I will be his God and he will be my son." Lord Jesus, help us to exercise our faith daily and be overcomers who persevere to the end for our blessing and Your glory. Amen.
===
Just a few days left to receive these Storyteller devotional studies in your email during Advent 2018 by entering your email address on the SeminaryGal.com home page in the space provided in the sidebar. Or "Like" the SeminaryGal Facebook page to access them there. If you like these devotionals, I'd really appreciate your letting others know so I can continue to spread the Good News far and wide. After Advent is over, there will be devotionals from time to time until the next series at Lent. Blessings to you, in Christ always, Barbara <><
===
Acknowledging inquiries about the entire season's devotionals for your study group's planning purposes, Seminary Gal's prior seasons' Advent devotionals can be accessed via the archives to the right and are as follows:
Last year's Advent Devotional Series (2017), Still Christmas, began December 3, 2017 and was the Advent complement to the Lenten series, Be Still and Know that I AM God.
The 2016 season devotionals were called "Timeless: The Message of Christmas for All Ages" and explored how the message of Christmas is timeless truth, for all ages of people, and for all ages at all times. Timeless hope, encouragement, grace, peace, and love as we looked into the Word, saw the face of our Lord Jesus, and experienced restoration in His presence. His goodness and His Gospel are truly Timeless. The 2016 devotionals began November 27, 2016.
The 2015 season devotionals were titled Incarnation and involved digging deep–and yes, I mean deep– in this important mystery of Christian theology. They began November 29, 2015.
Carol Me, Christmas! remains one of my most popular offerings and tells the Christmas story through our most beloved Christmas hymns and carols. You can access all of the numbered devotionals from 2014 via the archives. They began November 30, 2014.
The 2013 series was Emmanuel: When LOVE Showed Up in Person and examined the Prologue to the Gospel of John. It began December 1, 2013.
The 2012 series focused on Expecting the Unexpected…the unexpected, unlikely, and uniquely divine qualities of God's perfect plan outlined in Luke's account of the Christmas story. It began December 1, 2012.