Mary was overcome with joy—a three-fold joy! First, joy at the affirmation of what she knew about herself with a role in the birth of Messiah, joy at seeing the truth of what she'd been told about Elizabeth, and of course, the simple joy at seeing relatives she loved.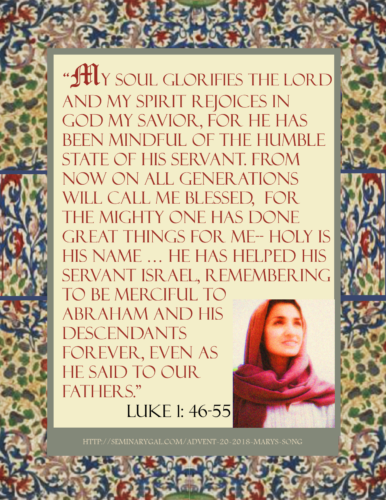 She couldn't contain it any longer and said, "My soul glorifies the Lord and my spirit rejoices in God my Savior, for he has been mindful of the humble state of his servant. From now on all generations will call me blessed, for the Mighty One has done great things for me holy is his name. His mercy extends to those who fear him, from generation to generation. He has performed mighty deeds with his arm; he has scattered those who are proud in their inmost thoughts. He has brought down rulers from their thrones but has lifted up the humble. He has filled the hungry with good things but has sent the rich away empty. He has helped his servant Israel, remembering to be merciful to Abraham and his descendants forever, even as he said to our fathers" (Luke 1:46-55)
Mary was overwhelmed with Adonai's faithfulness and gratefully caught up with all news that had happened to Elizabeth and Zechariah, to whom Adonai was also faithful. Elizabeth did most of the talking since Zechariah had tired of using a tablet to talk and Elizabeth was always better at conversation anyway.
***
Her Story, Your Story:
Mary burst into a theological praise song. Can you hear how deep her theological roots go?

Are you ever moved to praise God in song?

What types of things are most likely to bring you to praise Him?

Each person has his or her own way of expressing praise. What are your favorite means of praising God?
Self-Reflection topic: Unrestrained praise
Prayer: Lord God, we thank You that we were created for the praise of Your glory. Indeed, we take our place with all of Your creation about which the psalmist writes, Psalm 148:1 "Praise the LORD. Praise the LORD from the heavens, praise him in the heights above. 2 Praise him, all his angels, praise him, all his heavenly hosts. 3 Praise him, sun and moon, praise him, all you shining stars. 4 Praise him, you highest heavens and you waters above the skies. 5 Let them praise the name of the LORD, for he commanded and they were created." Let us praise You unrestrained and without being self-conscious in it! Let us praise You with full and joyful hearts! Let us praise You forever! Amen.
===
Just a few days left to receive these Storyteller devotional studies in your email during Advent 2018 by entering your email address on the SeminaryGal.com home page in the space provided in the sidebar. Or "Like" the SeminaryGal Facebook page to access them there. If you like these devotionals, I'd really appreciate your letting others know so I can continue to spread the Good News far and wide. After Advent is over, there will be devotionals from time to time until the next series at Lent. Blessings to you, in Christ always, Barbara <><
===
Acknowledging inquiries about the entire season's devotionals for your study group's planning purposes, Seminary Gal's prior seasons' Advent devotionals can be accessed via the archives to the right and are as follows:
Last year's Advent Devotional Series (2017), Still Christmas, began December 3, 2017 and was the Advent complement to the Lenten series, Be Still and Know that I AM God.
The 2016 season devotionals were called "Timeless: The Message of Christmas for All Ages" and explored how the message of Christmas is timeless truth, for all ages of people, and for all ages at all times. Timeless hope, encouragement, grace, peace, and love as we looked into the Word, saw the face of our Lord Jesus, and experienced restoration in His presence. His goodness and His Gospel are truly Timeless. The 2016 devotionals began November 27, 2016.
The 2015 season devotionals were titled Incarnation and involved digging deep–and yes, I mean deep– in this important mystery of Christian theology. They began November 29, 2015.
Carol Me, Christmas! remains one of my most popular offerings and tells the Christmas story through our most beloved Christmas hymns and carols. You can access all of the numbered devotionals from 2014 via the archives. They began November 30, 2014.
The 2013 series was Emmanuel: When LOVE Showed Up in Person and examined the Prologue to the Gospel of John. It began December 1, 2013.
The 2012 series focused on Expecting the Unexpected…the unexpected, unlikely, and uniquely divine qualities of God's perfect plan outlined in Luke's account of the Christmas story. It began December 1, 2012.