Luke 2:4 So Joseph also went up from the town of Nazareth in Galilee to Judea, to Bethlehem the town of David, because he belonged to the house and line of David.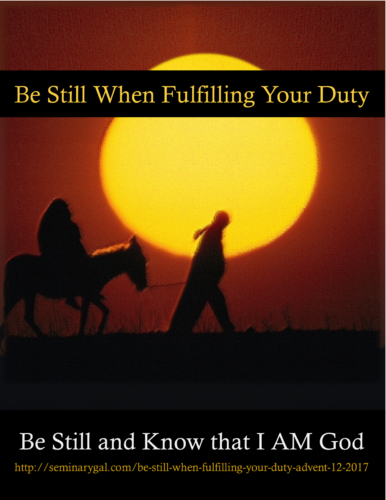 Nazareth to Bethlehem. That's 98 miles. Google says it takes 1 hr 53 minutes with light traffic on this low traffic road. That's by car. But there weren't cars back then. You walked or you rode. Most people walked.
So, this was a trek. It was a duty to the government and it wasn't like going to your local DMV to get a driver's license renewal. You probably packed, bringing a change of clothes and money for lodging or whatever food you didn't bring with you. After all, it was a 3-day trip unless you've got a pregnant wife slowing the whole thing down. As we look at Luke 2:4 in Still Christmas, Advent Devotionals for 2017, we can see that simply doing your duty to the government was an ordeal of biblical proportions.
Yet Joseph did it. He did his duty.
How must Joseph have felt? He'd been told in a dream not to be afraid to bring Mary home as his wife (Matthew 1:18-21), but a long journey wasn't what he'd originally had in mind. Neither was a pregnant wife who wasn't pregnant by him. Yeah, an angel told him that Mary was carrying the Messiah, but here he is, journeying days fulfilling his duty when he wasn't really "the dad." He didn't even get a chance to weigh in on naming the baby when He'd be born. In essence, God said to Joseph, you'll call him Jesus. You'll do it and God's Son won't even be called Joseph Jr..
Prudence. Honor. Obedience. Duty. What's in it for him?
What do you suppose went through his mind during Mary's pregnancy and all along this trip to register? Does he list Mary as his wife? Probably. That's true. What about family? Does he list Jesus as his son…? Joseph was a righteous man we're told time and again. Would it be a lie to say Jesus is his son since you can't list God on the upcoming birth certificate? Does Joseph quickly register before Mary gives birth to avoid all that weirdness?
* * *
Be Still, Joseph. I know I AM asking a lot. But I know you're the guy to have asked. Because I know you.
Be Still, Joseph. You're not just in a side-car of My will for Mary. You're integral. Remember that always.
Be Still and Know that I AM God. I promise to lead you one step at a time. I AM with you.
Be Still and Know that I AM God. This is to fulfill Scripture. Matthew 1: 2 All this took place to fulfill what the Lord had said through the prophet: 23 "The virgin will be with child and will give birth to a son, and they will call him Immanuel"–which means, "God with us."
Questions for Reflection:
When God is at the center of your life, how likely are you to wonder "What's in it for me?"

How is keeping God at the center of your life a key to Being Still?

How do you feel about obligations and duty?

How do you feel when someone else is the star of the show and you're along for the ride?

In what ways was Joseph integral to the birth narrative of Christ?
===
Still Christmas, Advent 2017 Devotionals began December 3, 2017 and are archived from that date.