Government. How often do we feel like our lives would be better without it? Rules, regulations, and checklists. Demands, division, diversion, and deception. Ugh. So much of government seems to be for its convenience, enrichment, and exertion of power. But it doesn't really seem to be for our benefit much of the time. This is nothing new.
But God can use governments, even without their knowledge or consent, to do His will.
As we continue our Advent 2017 Devotional Series, Still Christmas, let's see God doing this very thing. Luke 2:1 "In those days Caesar Augustus issued a decree that a census should be taken of the entire Roman world. 2 (This was the first census that took place while Quirinius was governor of Syria.) 3 And everyone went to his own town to register."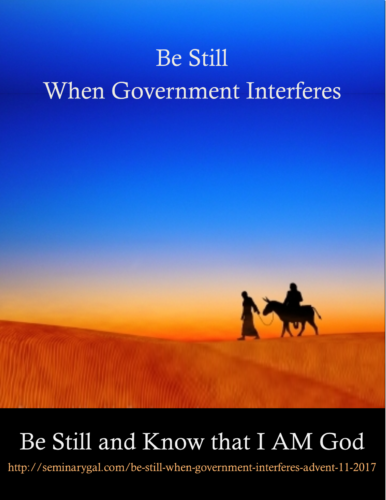 For pregnant Mary and her betrothed Joseph, this couldn't have come at a less convenient time. Yeah, let's make a long journey on foot or pose for a postage stamp with a sunsetty background with pregnant Mary on a donkey ready to give birth any minute.
Time out.
Scripture doesn't tell us HOW they went, only that their lives were interrupted because Caesar Augustus got a bee in his bonnet and decided to issue a decree for a census. Apparently, this would be kind of a routine travel tradition since verse 2 says it was the first census, suggesting more than one, maybe a string of them. Maybe so long as Caesar Augustus was in control, it would be a tight leash and an annual trip like the swallows returning to Capistrano from Argentina.
Anyway, on the surface, it was a government demand and intrusion, but in God's timing, this first census was a divine interference.
Scripture had to be fulfilled and that meant somehow Mary and Joseph couldn't stay where they were. And Joseph couldn't go alone and still have the Messiah born where Scripture says He would be. Mary needed to be there too.
So God interferes and uses the government to do it.
* * *
Be Still, Mary and Joseph. The census is an interference to get you to where you need to be.
Be Still. No man's interference will ever surprise Me or thwart My plan. They're often part of it.
Be Still and Know that I AM God. What Scripture says of My sovereignty is true: Proverbs 21:1 "The king's heart is in the hand of the LORD; he directs it like a watercourse wherever he pleases."
Be Still and Know that I AM God. When you understand this is how I work, it puts a different frame around whatever is going on that disrupts your life. I AM God and I know all things. If it serves My will, I'll let you in on it. Otherwise, just trust that I know what I AM doing.
Questions for Reflection:
What is often our gut reaction to government interference with our lives?

How do we feel about being inconvenienced?

What areas of your life might take on a different appearance with a God-sovereignty frame around it?

Would it be easier to accept traffic delays, long lines at the stores, relocations, job losses, etc. if you knew that God was still in control?

In what ways is it harder to believe that God cares about such small things in the scope of eternity? What does it tell you about God that no detail of your life escapes His notice?
===
Still Christmas, Advent 2017 Devotionals began December 3, 2017 and are archived from that date.