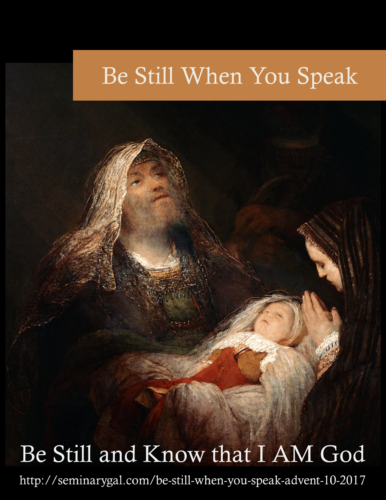 Wisdom is often shown in knowing when to speak and when to be silent.
***
Zechariah had foolishly asked for proof of God's blessing and he was forced to be silent while God brought it about. He'd learned to be silent and learned to Be Still. Then just as suddenly as he was rendered unable to speak, he is suddenly overflowing with praise for what God had done!
***
Be Still When You Speak.
Speak wisely.
***
Luke 1:64 "Immediately his mouth was opened and his tongue was loosed, and he began to speak, praising God. 65 The neighbors were all filled with awe, and throughout the hill country of Judea people were talking about all these things. 66 Everyone who heard this wondered about it, asking, "What then is this child going to be?" For the Lord's hand was with him. 67 His father Zechariah was filled with the Holy Spirit and prophesied: 68 "Praise be to the Lord, the God of Israel, because he has come and has redeemed his people. 69 He has raised up a horn of salvation for us in the house of his servant David 70 (as he said through his holy prophets of long ago), 71 salvation from our enemies and from the hand of all who hate us– 72 to show mercy to our fathers and to remember his holy covenant, 73 the oath he swore to our father Abraham: 74 to rescue us from the hand of our enemies, and to enable us to serve him without fear 75 in holiness and righteousness before him all our days. 76 And you, my child, will be called a prophet of the Most High; for you will go on before the Lord to prepare the way for him, 77 to give his people the knowledge of salvation through the forgiveness of their sins, 78 because of the tender mercy of our God, by which the rising sun will come to us from heaven 79 to shine on those living in darkness and in the shadow of death, to guide our feet into the path of peace." 80 And the child grew and became strong in spirit; and he lived in the desert until he appeared publicly to Israel."
It's highly doubtful that Zechariah had been planning for the 9+ months of silence what to say, as a rehearsed speech, or a sermon with all the right inflection points. Our Scripture says that the Holy Spirit gave him words, on the spot, to speak as prophecy, beginning with praise. Zechariah, conditioned to Be Still from months of being tongue-tied, yields to the Holy Spirit's supplying of words.
* * *
Be Still, Zechariah. You can point to Me in your silence or with your words.
Be Still. When speaking, your edifying words of truth and praise show the greater part of wisdom.
Be Still and Know that I AM God. I told you, Zechariah, that you'd be silent until your son was born. What I spoke came to pass. It always does.
Be Still and Know that I AM God. Praise as a response to My goodness is something to do for your benefit, not something I require to be complete. My servant King David understood this. Psalm 145:10 "All you have made will praise you, O LORD; your saints will extol you. 11 They will tell of the glory of your kingdom and speak of your might, 12 so that all men may know of your mighty acts and the glorious splendor of your kingdom. 13 Your kingdom is an everlasting kingdom, and your dominion endures through all generations. The LORD is faithful to all his promises and loving toward all he has made. 14 The LORD upholds all those who fall and lifts up all who are bowed down. 15 The eyes of all look to you, and you give them their food at the proper time. 16 You open your hand and satisfy the desires of every living thing. 17 The LORD is righteous in all his ways and loving toward all he has made. 18 The LORD is near to all who call on him, to all who call on him in truth. 19 He fulfills the desires of those who fear him; he hears their cry and saves them."
Questions for Reflection:
Read all of Psalm 145. Why does reminding ourselves of God's goodness and faithfulness help us?

Does acknowledging God's perfection—in any way—improve His situation? How does it improve ours?

In what ways is it instructive that Zechariah's silence was inaugurated with doubt and unbelief but ends when he would offer praise and acknowledgment of God's goodness to His people?
===
Still Christmas, Advent 2017 Devotionals began December 3, 2017 and are archived from that date.