Luke 2:5 He went there to register with Mary, who was pledged to be married to him and was expecting a child.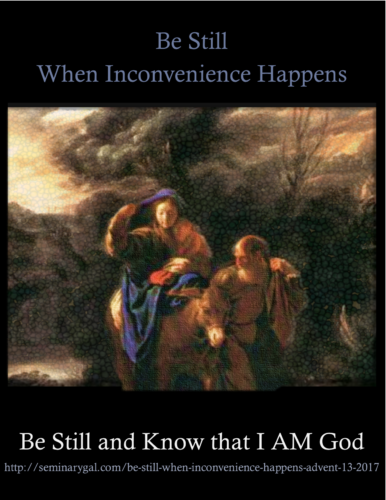 Joseph and Mary plod along, days on the journey to Bethlehem. Let's continue our look at Still Christmas (Advent Devotionals for 2017) and let the Bible's Christmas narrative be transparent and totally real with a look at this 3-day journey.
Did Mary and Joseph chat in lively conversation on a long road trip like young lovers? Or were their thoughts elsewhere? Scripture doesn't say, but human nature being human nature, they probably had their share of quiet time. While Joseph was likely contemplating a variety of things as the leader of their household and doing his duty to the government, Mary probably was thinking her own share of things.
Maybe they talked about them together and hashed this stuff out as a couple. Maybe each needed to process this whole situation individually.
My point is this: We cannot turn Mary and Joseph into felt-board or cardboard versions of themselves, characters without thoughts or feelings or a range of relationship hurdles. They are often depicted with halos as the Holy Family, but the truth is they were flesh-and-blood normal Joe and normal Mary whose halos are just an artist's rendering.
Yet, we hold them up as a model family because of their obedience to God and that's a well-deserved compliment to them.
Their obedience transcended life's inconvenience. The inconvenience to their marriage, their families, their travel for 3 days to fulfill a government duty and for Mary, the added inconvenience that pregnancy is frankly not a comfortable experience. She'd no doubt gained weight, worried about how the pregnancy would go, had swollen feet and had the baby Jesus pressing on her bladder and into her lungs…just as other pregnant women experience. She's traveling a long way under very inconvenient circumstances because it was more important to her to obey God, day in, day out, all the time, even when it's inconvenient.
* * *
Be Still, Mary. I will see you through this pregnancy and this journey.
Be Still, Joseph. My sovereignty didn't end at the border of Galilee. I AM still with you.
Be Still and Know that I AM God. As I was with Joshua, so I will be with you, Mary, and yes, I'll be with you, Joseph. I AM in this with you both. Deuteronomy 31:8 "The LORD himself goes before you and will be with you; he will never leave you nor forsake you. Do not be afraid; do not be discouraged."
Be Still and Know that I AM God. Though today's path means inconvenience, this journey will be successful because it fulfills what is written: Matthew 2:6 "'But you, Bethlehem, in the land of Judah, are by no means least among the rulers of Judah; for out of you will come a ruler who will be the shepherd of my people Israel.'"
Questions for Reflection:
How do you react to life's inconveniences?

Why do you think people want to make Mary and Joseph seem superhuman?

In what ways does allowing them to be real make the birth narrative even more profound?

When Joseph and Mary are permitted to be normal people, dealing with inconvenience and obligation, what does that mean for our obedience? Does it raise the bar for us to live as model Christians, too, or does it lower the bar to become an achievable, realistic goal, or both?
===
Still Christmas, Advent 2017 Devotionals began December 3, 2017 and are archived from that date.