As we continue our look at Still Christmas (Advent Devotionals 2017) and the earthly assaults upon spiritual stillness, I'd like to look at the birth of Christ from two different vantage points: Joseph's and Mary's. The Bible doesn't say that any other human being was there for Jesus' birth. No midwife. No mother of Mary. No mother-in law. No sister. No aunt. No cousin. No stranger. Just Joseph and Mary.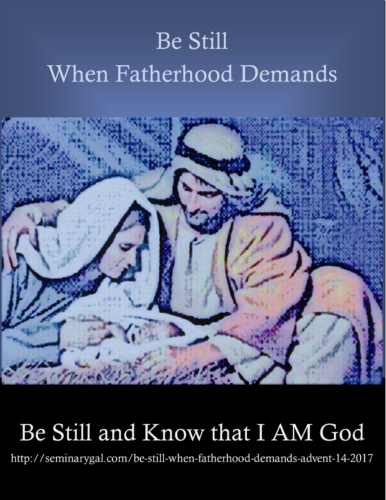 I live in reality. A woman might give birth on her own, but Joseph likely wasn't waiting in the waiting room for a cow or a chicken to come out and tell him,
"It's a boy!"
Joseph, being a guy, likely didn't have much experience (if any) as a midwife.
Yet, there he was.
Mary's in labor and he's doing more than coaching Lamaze breathing and getting the camera ready.
Luke 2:6 While they were there, the time came for the baby to be born, 7 and she gave birth to her firstborn, a son. She wrapped him in cloths and placed him in a manger, because there was no room for them in the inn.
More would be asked of him when he already knew that this isn't his baby per se. If there were paternity tests back then, whose DNA would have been Jesus' father's? God doesn't have DNA…or at least He didn't until Jesus was born and took on flesh.
So put yourself in Joseph's sandals for a moment. He didn't sign up for this. It took him by total surprise and he's told to deal with it. He may have been thinking,
Aw come'on, when Moses was born, even his mother had a midwife!"
Not here. Nope, it's just Joseph and Mary. That's it. So I don't think it's a stretch to believe that Joseph would be more intimately involved in the receiving of newborn Jesus than most men are in the delivery of their children.
* * *
Be Still, Joseph, you can do this!
Be Still. I AM giving you a joy and a privilege no other man or woman will EVER experience. Not even Mary. Your eyes will be the first to see My Son. Your hands will be the first to touch Him, no other person will touch Him before you. Furthermore, My Son's first human touch experience outside of the womb will be those carpenter hands of His earthly father. Yes, Joseph, yours.
Be Still and Know that I AM God. 1 Corinthians 2:9 "However, as it is written: 'No eye has seen, no ear has heard, no mind has conceived what God has prepared for those who love him.'"
Be Still and Know that I AM God. Treasure this reward for your faithfulness. I planned, Joseph, that this would be yours and yours only. Forever.
Questions for Reflection:
What obstacles might you have needed to get past in order to willingly do a task normally assumed by a midwife? Or one traditionally belonging to the other sex?

Just speculation: whose DNA do you think Jesus had as His earthly father's? Why might Joseph's DNA add to the burden of faith required in the miraculous?

First-time fathers don't know how to be fathers just as first-time mothers don't. How might the demands of fatherhood have been complicated for Joseph because of who Jesus is?

How would spiritual stillness be required to know what to do? How did Joseph's being a righteous man help prepare him for that?
===
Still Christmas, Advent 2017 Devotionals began December 3, 2017 and are archived from that date.
PS. I hope you don't mind today's inferences that aren't explicitly stated in Scripture. I firmly believe no mid-wife would have been there to be able to boast, to interfere, to gossip, to cast doubts and aspersions into this truly special moment. I cannot bring myself to believe that Joseph who had been faithful to the angel's assurances would have intentionally left Mary in her hour of need to birth the Christ Child on her own. I believe Joseph loved Mary and would have embraced the role he'd never imagined because he believed God and his righteous heart loved deeply. Furthermore, I believe God would have set this as a pattern of sacrificial love and the great importance of fathers. For all American society is doing these days to men and fatherhood, I believe it's high time to lift men up as the valued individuals they are and for the important role they play in a healthy, functioning society. Without diminishing single motherhood as a difficult road some women are forced to journey, I don't think it's a stretch to say God wanted His Son Jesus to be birthed into a nuclear family of a husband and a wife–one man, one woman–as a demonstration of His will for mankind made in His image. Since nothing is impossible for God, there is intentionality in His choice of parents, location, and the beautiful humility into which Christ was born.