In our Carol Me, Christmas (2014 Advent Devotional Series), we're still looking at the shepherds in the field hearing the Good News proclaimed by the angels regarding Christ's birth.  These shepherds are never named.  They're just shepherds watching their flocks.  They could have been anybody.
Today's carol goes by four different titles:  (1) How Great Our Joy! (2) While by the Sheep, (3) While by My Sheep, and (4) The Echo Carol.  Even the author is uncertain.
The words are apparently part of a traditional German carol dating back to the 1600s, but the music arrangement most common in our hymnals is one from 1890 by composer Hugo Jüngst who was born and raised in Dresden, Germany.  This is his only hymn of note.
All of this may be uncertain or certainly unspectacular, but this hymn is a great tribute to a spectacular event.
Luke 2:8 And there were shepherds living out in the fields nearby, keeping watch over their flocks at night. 9 An angel of the Lord appeared to them, and the glory of the Lord shone around them, and they were terrified. 10 But the angel said to them, "Do not be afraid. I bring you good news of great joy that will be for all the people. 11 Today in the town of David a Savior has been born to you; he is Christ the Lord. 12 This will be a sign to you: You will find a baby wrapped in cloths and lying in a manger." 13 Suddenly a great company of the heavenly host appeared with the angel, praising God and saying, 14 "Glory to God in the highest, and on earth peace to men on whom his favor rests." 15 When the angels had left them and gone into heaven, the shepherds said to one another, "Let's go to Bethlehem and see this thing that has happened, which the Lord has told us about." 16 So they hurried off and found Mary and Joseph, and the baby, who was lying in the manger.
I selected this hymn for two reasons.  First, it highlights that each of us must respond to the Good News.  The shepherds didn't just hear the Good News and say,
Oh well, so many sheep, so little time.  I'm not going to herd all these sheep together to go see this.  I don't have a baby gift, time to shop for one, and really, I don't even know this couple.  I guess I can wait to go to Bethlehem next year when maybe I'll know the family.  When you've seen one baby, you've seen them all."
Even the lowest on the social scale among the Jews knew that the birth of the Messiah was a profound event, one that was not to be missed!  It was a drop-everything-and-go spectacular that they were privileged to witness.  They went and are only recorded in Scripture as shepherds.  We don't even know who they were, but we do know their response.  They drop everything and go.
The second reason I chose this hymn is kind of sad, really.  It's about opportunities lost.  So many of our hymns have been German, French, and English ones.  Those places were at one time the epicenter of the growth of Christ's Kingdom.  Not anymore.
Today, Europe leads the way in moral relativism, secularism, and intellectual opposition to the Gospel.  America is rapidly becoming a contender for first place in those same categories.  I cannot help but reflect on the Germany that produced some of these great choral traditions and how much of Germany today greets the Gospel with a mighty yawn, if not a sneer.  It doesn't excuse us from trying to echo the past and remind Europe of why the Gospel is Good News.  It doesn't excuse us from trying to save America from the same apostasy and apathy we see overseas.
I like this hymn especially when performed the way the Expressions Choir and orchestra music  ministry of Calvary Lutheran Church, Golden Valley, MN does it.  It's full of exuberance and a perfect echo response!  This is the kind of joy that we ought to know—just as the shepherds did—that we are blessed with an opportunity to respond to the best news one could ever have: the Savior is born!  It's Good News that we should be joyfully echoing worldwide!
Thought Focus for Today:  That the shepherds are not named allows us to place ourselves in their sandals.  Can you remember the first time you heard the Good News?  How have you responded to it?  Do you know the Messiah, the Christ who is born on Christmas Day?  Do you know How Great Our Joy?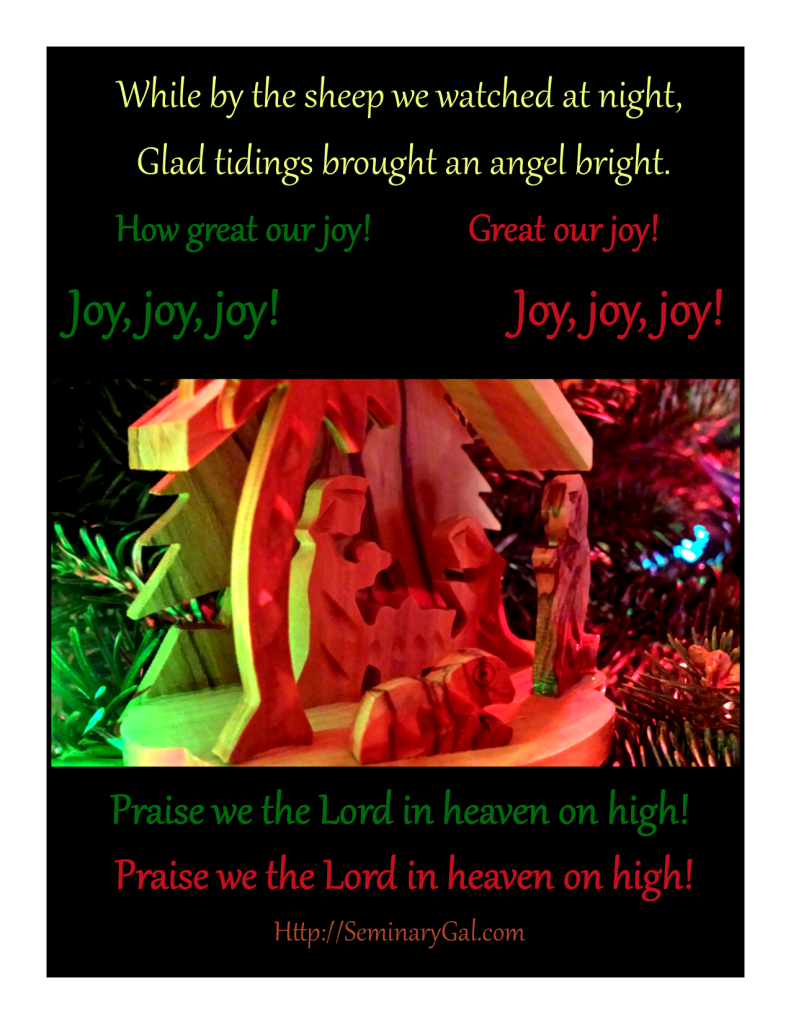 While by the sheep we watched at night,
Glad tidings brought an angel bright.
Refrain
How great our joy! (Great our joy!)
 Joy, joy, joy! (Joy, joy, joy!)
Praise we the Lord in heaven on high!
 (Praise we the Lord in heaven on high!)
There shall be born, so he did say,
In Bethlehem a Child today.
Refrain
There shall the Child lie in a stall,
This Child who shall redeem us all.
Refrain
This gift of God we'll cherish well,
That ever joy our hearts shall fill.
Refrain
=====
Carol Me, Christmas (2014 Advent Devotional Series) began November 30th.  By way of reminder, if you haven't signed up yet, you can receive these devotional studies in your email throughout Advent 2014 by entering your email address on the SeminaryGal.com home page in the space provided in the sidebar.  Or "Like" the SeminaryGal Facebook page to access them there.  If you like these devotionals, I'd really appreciate your letting others know so I can continue to spread the Good News far and wide.  Blessings to you, in Christ always, Barbara <><