Mary's mind was all awhirl as she made her way home from this totally bizarre encounter. She believed it was real, but it was too strange for comfort. She wanted to be alone. No! That'd be the worst thing. She'd talk herself out of it, she reasoned. What she really needed was to be in a place that would bolster her faith, and not allow her to dwell in her confusion to feed her insecurities and create all kinds of doubt.
"Visit Elizabeth! That's what I'll do," thought Mary.
"She's in her sixth month; she'll be showing;
and she'll need help around the house. That's exactly what I'll do!"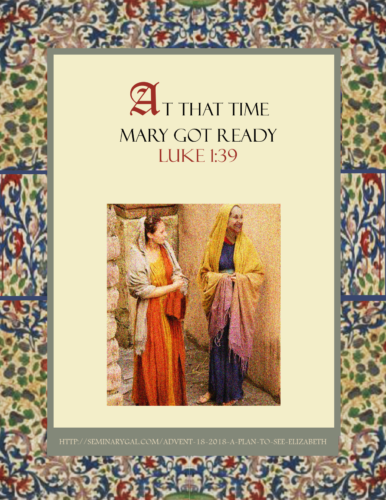 She saw her mother up by the house, came near to her, and asked, "Mother? May I please go visit Elizabeth?"
"Whatever for?" her mother replied.
"Well, it's been a long time since I got to visit her and she's a family favorite. And, well, I just had the strangest thought that she's expecting a baby."
Mary's mother burst out laughing.
"Do you realize how old she is? I'm sorry, but women that age just don't have kids."
Mary's heart sank at the obvious indication she couldn't even tell her mother about any of this.
She bolstered her own faith instead and suggested
Well, why not? After all, Abraham and Sarah did."
Her mother tried to squelch the heartiness of her own laugh and said "That's why they called him Isaac. What laughter to an old couple! Come now, Mary, that's nothing but some old Torah stories. It doesn't happen to regular people like Elizabeth and Zechariah. But sure, go ahead and visit Elizabeth," and added sarcastically, "Be sure to send along word when her due date is." Mary's mother wiped away tears of laughter from her eyes and tried to regain her composure from a good belly laugh.
* * *
Her Story, Your Story:
Throughout history, people of faith have been ridiculed and disbelieved. What ought to have been the most amazing and blessed news for the Chosen People who had been waiting generation after generation for their Messiah became something Mary realized could not be shared right now with her own family and would not be greeted with cheers by the very people who had been waiting for the coming of Messiah. She'd be ostracized and disbelieved because of the way God chose to do it. What should have been the reaction of God's people to the imminent coming of the Messiah?

How do you think she must have felt keeping this amazing news to herself?

Do you find that there are things you cannot tell even your parents, your children, or your closest friends? What types of things are you more likely to keep secret?

What distinguishes a burden from a secret or a surprise?
Self-Reflection topic: Secrecy
Prayer: Lord Jesus, Your story is one we should never want to keep to ourselves since it is good news for the entire world! Help us to have confidence to share it and to stand strong against a tide of unbelief and ridicule. Grant that we would have wisdom when to speak and when to remain silent for the sake of wisdom. Give us courage to speak when called because Your Word reminds us that when your disciples praised You, Luke 19:38 "Blessed is the king who comes in the name of the Lord!" "Peace in heaven and glory in the highest!" 39 Some of the Pharisees in the crowd said to Jesus, "Teacher, rebuke your disciples!" 40 "I tell you," he replied, "if they keep quiet, the stones will cry out." Let us not be deficient in our praise but rather, give You all glory and honor! Amen.