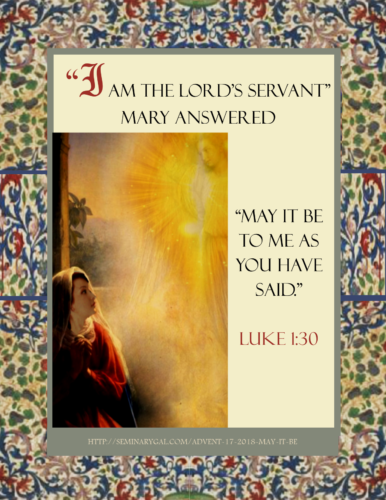 Mary listened attentively and at long last, Mary pieced together what the angel Gabriel was saying to her.
She blushed deeply and asked the obvious: "How will this be," Mary asked the angel, "since I am a virgin?" The angel answered, "The Holy Spirit will come upon you, and the power of the Most High will overshadow you. So the holy one to be born will be called the Son of God." (Luke 1:34-35)
She didn't understand. Who actually could? But she believed, committing in her heart to trust and obey. She wouldn't ask Gabriel for proof but she did admit a truth inwardly: she felt the need for a greater faith to believe what seemed totally impossible and completely improbable would yet come to pass.
Adonai, please give me faith to continue believing, and encouragement to keep me from doubt, her heart prayed silently.
Gabriel's presence changed in an instant from the brilliant holy messenger commanding fear and awe with a holiness so bright it blinded her even to look at him. It's as if he'd heard something she hadn't. His eyes, once piercing with holiness that inspired fear, suddenly softened into beauty, began visibly glistening, and a lovely, gentle, more cherubic smile spread over his face as reassuringly he added, Luke 1: 36 Even Elizabeth your relative is going to have a child in her old age, and she who was said to be barren is in her sixth month. 37 For nothing is impossible with God." [Her heart's prayer was satisfied, and Mary was emboldened by knowing that Adonai was, in fact, with her in spirit, sending His message through Gabriel.] 38 "I am the Lord's servant," Mary answered. "May it be to me as you have said." Then the angel left her.
Her Story, Your Story:
We don't know for sure that Mary prayed such a prayer (artistic license on my part, really), but we do know something happened between the question of how it would occur and her willingness to be the Lord's servant. That "something" was surely not doubt. The proof offered from Gabriel suggests God knew she needed reassurance and for her faith to increase. What is your reaction to God's silence when you see events stacking up against Him with impossible odds from an earthly viewpoint … or His asking the impossible from you?

Is your response to doubt, to deny, or to ask, "

Increase my faith?

" (Luke 17:5)
Self-Reflection topic: Faith enough
Prayer: Father, please increase our faith for the days ahead, days of stress and uncertainty. Increase our faith to stand for You when ridiculed and when it's difficult. Increase our faith to share You and Your Gospel with a world that is hostile to You and Your message of salvation. Increase our faith to love our enemies. Increase our faith to forgive not just seven times nor counting seventy-seven times, but understanding Jesus' meaning of continual and complete forgiveness (Matthew 18:21-22) because we have been forgiven of the greatest of sins because our sin is always against You. Forgive us, Lord, for those times we don't want to forgive others or to love and obey You. Help us to speak words of obedience in response to all You have done for us. Through Christ we pray, Amen.
===
By way of reminder, if you haven't signed up yet, you can receive these Storyteller devotional studies in your email throughout Advent 2018 by entering your email address on the SeminaryGal.com home page in the space provided in the sidebar. Or "Like" the SeminaryGal Facebook page to access them there. If you like these devotionals, I'd really appreciate your letting others know so I can continue to spread the Good News far and wide. Blessings to you, in Christ always, Barbara <><
===
Acknowledging inquiries about the entire season's devotionals for your study group's planning purposes, Seminary Gal's prior seasons' Advent devotionals can be accessed via the archives to the right and are as follows:
Last year's Advent Devotional Series (2017), Still Christmas, began December 3, 2017 and was the Advent complement to the Lenten series, Be Still and Know that I AM God.
The 2016 season devotionals were called "Timeless: The Message of Christmas for All Ages" and explored how the message of Christmas is timeless truth, for all ages of people, and for all ages at all times. Timeless hope, encouragement, grace, peace, and love as we looked into the Word, saw the face of our Lord Jesus, and experienced restoration in His presence. His goodness and His Gospel are truly Timeless. The 2016 devotionals began November 27, 2016.
The 2015 season devotionals were titled Incarnation and involved digging deep–and yes, I mean deep– in this important mystery of Christian theology. They began November 29, 2015.
Carol Me, Christmas! remains one of my most popular offerings and tells the Christmas story through our most beloved Christmas hymns and carols. You can access all of the numbered devotionals from 2014 via the archives. They began November 30, 2014.
The 2013 series was Emmanuel: When LOVE Showed Up in Person and examined the Prologue to the Gospel of John. It began December 1, 2013.
The 2012 series focused on Expecting the Unexpected…the unexpected, unlikely, and uniquely divine qualities of God's perfect plan outlined in Luke's account of the Christmas story. It began December 1, 2012.