Maybe you've experienced the same thing I have: Wondering whether what you think you're hearing from God is actually from God.  Abraham must have felt that way. 
You want me to do WHAT?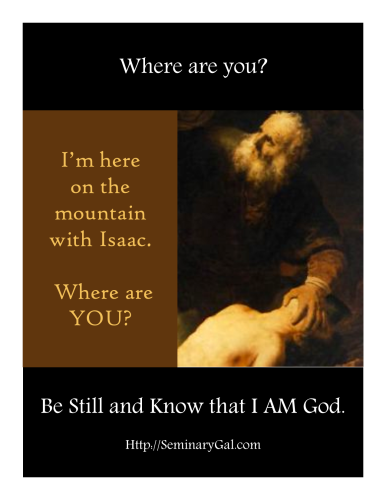 Where are you, Abraham?  Are you so in love with the promise and enthralled with the blessing that you've forgotten what it's like to love the LORD your God? Let's do a heart check.
Where are you?  Are you in danger of substituting the blessing for the Blesser?  Trading the Giver for the gift?  Trusting in the provision rather than the Provider?  Here's a test so that you can see where you are.
I can't even begin to imagine what must have been going through Abraham's mind when he was asked to sacrifice his son, Isaac, on Mount Moriah.  Somewhere along the way, did he wonder if he heard right?  Somewhere on the journey did he stop and think about God's character and whether what God was asking him to do was consistent?  How do you trust in God when He's asking "Where are you?"  And how do you continue trusting when you're thinking, "OK, God, where are YOU?"
Don't we often ask God where He is?  Or why didn't He stop this or that from happening?
Where are you?  Are you standing in a place of trust or doubt?  Is your trust in something or someone God has given to you?  Are you holding so tight to a person, a ministry, a thing, or a dream that maybe it's to the detriment of your relationship with God?
Be Still.  I'm just testing you so that you'll know I AM still here with you.  You don't need to ask where I AM.
Be Still.  I haven't stepped off the throne or gone on a vacation.  I'm not asleep.  I'm very well aware of the whole thing, not just the parts you can see, but how all the parts fit together today, tomorrow, and the next.
Be Still and Know that I AM God.  I AM the God who provides, who gives, who blesses and who saves.
Be Still and Know that I AM God.  I want you to know Me.  Because when you truly know who I AM, you won't ask where I AM.
Questions for reflection:
Scripture doesn't tell us Abraham doubted at all.  In fact, it says, Genesis 22:8

"Abraham answered, 'God himself will provide the lamb for the burnt offering, my son.'" 

How would you categorize that response?
Scripture also says, Hebrews 11:17

"By faith Abraham, when God tested him, offered Isaac as a sacrifice. He who had received the promises was about to sacrifice his one and only son, 18 even though God had said to him, 'It is through Isaac that your offspring will be reckoned.' 19 Abraham reasoned that God could raise the dead, and figuratively speaking, he did receive Isaac back from death." 

How can reasoning show faith?
Is your default position cynicism, skepticism, or doubt?  Is your default position the same with man as it is with God?  Bring your honest answer before the LORD and ask Him to help you to Be Still and Know that He is God.