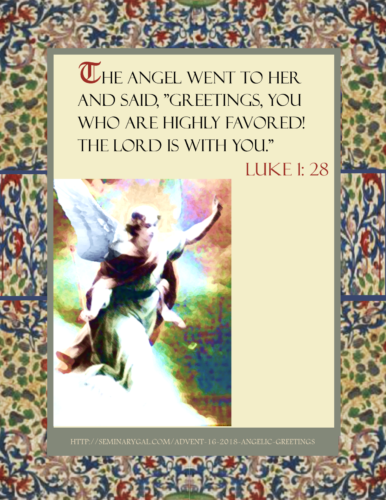 "Greetings, you who are highly favored!
The Lord is with you."
Mary was still looking at Gabriel when her heart became greatly troubled at his words and wondered what kind of greeting this might be. But the angel said to her,
"Do not be afraid, Mary, you have found favor with God".
What is he saying to me?
What does this mean?
She wondered silently.
She was too confused to do anything but listen to the angel's words as he explained in a powerful but surprisingly gentle voice that sounded like the whispered ripple of calm waters on a shoreline,
You will be with child and give birth to a son, and you are to give him the name Jesus. He will be great and will be called the Son of the Most High. The Lord God will give him the throne of his father David, and he will reign over the house of Jacob forever; his kingdom will never end" (Luke 1:31-33).
She was confused—she'd admit it. Her mind—it was a spinning wheel of many thoughts: The Messiah, the promise to David, deliverance, restoration, and consolation. They cascaded in rapid succession! She'd known about these things because her father taught her entire family about the Law; he told her the stories in the Writings; and he shared the expectations and hopes contained in the Prophets. But she couldn't begin to imagine how she could be part of that story.
She was scared and confused.
She didn't understand this angelic greeting and news at all.
***
Her Story, Your Story:
Mary's life had been regularly steeped in Scripture. This will be apparent in her Magnificat. For now, though, what value would there have been in her having been taught God's Word?

How is being taught Scripture different than, say, being taught history or math?

How is being taught Scripture no guarantee everything will make sense?

In your life, who taught you Scripture? Where have you heard God's Word taught?
Self-Reflection topic: Bible instruction
Prayer: Thank You, Lord that Your Word is "living and active living and active. Sharper than any double-edged sword, it penetrates even to dividing soul and spirit, joints and marrow; it judges the thoughts and attitudes of the heart" (Hebrews 4:12). We thank You that "All Scripture is God-breathed and is useful for teaching, rebuking, correcting and training in righteousness, so that the man of God may be thoroughly equipped for every good work" (2 Timothy 3:16-17). We ask, Lord Jesus, that by the power of Your Holy Spirit, You would plant Your Word deeply in us and that we would be prepared for Your return. Amen.
===
By way of reminder, if you haven't signed up yet, you can receive these Storyteller devotional studies in your email throughout Advent 2018 by entering your email address on the SeminaryGal.com home page in the space provided in the sidebar. Or "Like" the SeminaryGal Facebook page to access them there. If you like these devotionals, I'd really appreciate your letting others know so I can continue to spread the Good News far and wide. Blessings to you, in Christ always, Barbara <><
===
Acknowledging inquiries about the entire season's devotionals for your study group's planning purposes, Seminary Gal's prior seasons' Advent devotionals can be accessed via the archives to the right and are as follows:
Last year's Advent Devotional Series (2017), Still Christmas, began December 3, 2017 and was the Advent complement to the Lenten series, Be Still and Know that I AM God.
The 2016 season devotionals were called "Timeless: The Message of Christmas for All Ages" and explored how the message of Christmas is timeless truth, for all ages of people, and for all ages at all times. Timeless hope, encouragement, grace, peace, and love as we looked into the Word, saw the face of our Lord Jesus, and experienced restoration in His presence. His goodness and His Gospel are truly Timeless. The 2016 devotionals began November 27, 2016.
The 2015 season devotionals were titled Incarnation and involved digging deep–and yes, I mean deep– in this important mystery of Christian theology. They began November 29, 2015.
Carol Me, Christmas! remains one of my most popular offerings and tells the Christmas story through our most beloved Christmas hymns and carols. You can access all of the numbered devotionals from 2014 via the archives. They began November 30, 2014.
The 2013 series was Emmanuel: When LOVE Showed Up in Person and examined the Prologue to the Gospel of John. It began December 1, 2013.
The 2012 series focused on Expecting the Unexpected…the unexpected, unlikely, and uniquely divine qualities of God's perfect plan outlined in Luke's account of the Christmas story. It began December 1, 2012.