Meanwhile the work of Gabriel was not finished. After telling Zechariah of his good news about a son named John, to which all the angels naturally marveled and desired to know more deeply, six months went by and Gabriel was sent again.
There was a joyous stirring in the host of angels. Would this news be just as amazing as the first?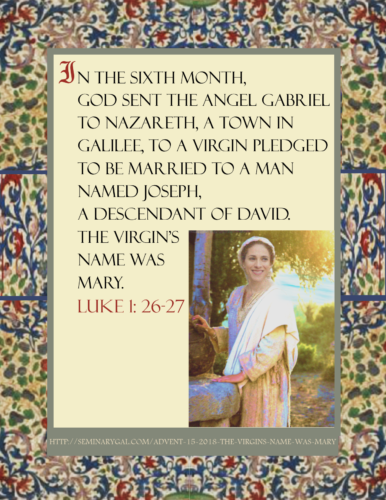 Gabriel went to a nothing little town of no special repute in the middle of nowhere called Nazareth which was north of Jerusalem in Galilee. There he found Mary, a young woman, a girl really, but old enough to be pledged in marriage.
She was helping her mother with household chores and enjoying the spring sunshine as it warmed her skin.
She breathed deeply. The wind gently swept pieces of her soft brown hair out of its braiding and across her face. She didn't mind. The sun was warm, and she loved spring with its fresh breezes across the pastures and fields. The scent of wildflowers with grassy overtones hinted at the fleeting time of their existence.
She smiled at the blue sky and wispy white clouds as she placed the washing out to dry. She thought to herself about her days at home and how much she loved them.
But these days as an unmarried daughter were soon coming to a close.
She was betrothed and would be married to Joseph, a good man, a righteous man, in the Davidic line no less—exactly the kind of man every girl in Nazareth dreamed of marrying.
She was blessed in so many ways.
She wandered a bit down the dusty path taking in the sights and the smells, pausing to create a memory of a moment when Gabriel entered in a flash of brilliance. It startled her into motionlessness. Her heart was fluttering. Her eyes grew wide in fear. Gabriel said,
Greetings, you who are highly favored! The Lord is with you."
***
Her Story, Your Story:
An average life and average blessings are something we all experience. In what ways was Mary's life completely average and not outstanding in any way?

In what ways did Mary display an exceptional life at this point in the story?

Is it hard to see blessings around you in an average day?

What was so amazing about Mary that God would choose her and send Gabriel? What made her highly favored?
Self-Reflection topic: Average blessings
Prayer: Father God, You amaze us with Your grace! Grace–that unmerited favor You show to us in so many ways, every day. We do not deserve Your love or Your mercy and yet, Your plan of redemption was designed as an ultimate display of Your love for us while we did nothing to earn it and did so much to rebel against You. Forgive us, Lord. And thank You for not giving up on us. Thank You for our sister Mary, the mother of our Lord Jesus, and for her average life made exceptional only by Your grace. Keep our faith grounded in Christ alone. Remind us that no human is worthy of worship, not Mary, not the Apostle Paul, no one but Jesus Christ our Lord. Admonish us as You did with the Apostle John when he was confronted with an angel so magnificent and beautiful "Revelation 19:10 At this I fell at his feet to worship him. But he said to me, "Do not do it! I am a fellow servant with you and with your brothers who hold to the testimony of Jesus. Worship God! For the testimony of Jesus is the spirit of prophecy." Remind us that You alone are God and even Your angels are servants who long to know the mysteries that You have in store for us in the Gospel (1 Peter 1:12). Amen.
===
By way of reminder, if you haven't signed up yet, you can receive these Storyteller devotional studies in your email throughout Advent 2018 by entering your email address on the SeminaryGal.com home page in the space provided in the sidebar. Or "Like" the SeminaryGal Facebook page to access them there. If you like these devotionals, I'd really appreciate your letting others know so I can continue to spread the Good News far and wide. Blessings to you, in Christ always, Barbara <><
===
Acknowledging inquiries about the entire season's devotionals for your study group's planning purposes, Seminary Gal's prior seasons' Advent devotionals can be accessed via the archives to the right and are as follows:
Last year's Advent Devotional Series (2017), Still Christmas, began December 3, 2017 and was the Advent complement to the Lenten series, Be Still and Know that I AM God.
The 2016 season devotionals were called "Timeless: The Message of Christmas for All Ages" and explored how the message of Christmas is timeless truth, for all ages of people, and for all ages at all times. Timeless hope, encouragement, grace, peace, and love as we looked into the Word, saw the face of our Lord Jesus, and experienced restoration in His presence. His goodness and His Gospel are truly Timeless. The 2016 devotionals began November 27, 2016.
The 2015 season devotionals were titled Incarnation and involved digging deep–and yes, I mean deep– in this important mystery of Christian theology. They began November 29, 2015.
Carol Me, Christmas! remains one of my most popular offerings and tells the Christmas story through our most beloved Christmas hymns and carols. You can access all of the numbered devotionals from 2014 via the archives. They began November 30, 2014.
The 2013 series was Emmanuel: When LOVE Showed Up in Person and examined the Prologue to the Gospel of John. It began December 1, 2013.
The 2012 series focused on Expecting the Unexpected…the unexpected, unlikely, and uniquely divine qualities of God's perfect plan outlined in Luke's account of the Christmas story. It began December 1, 2012.