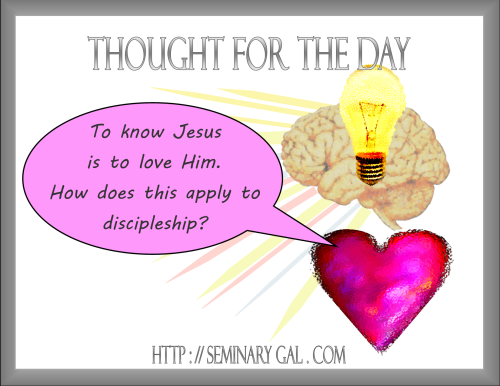 When we understand what God loves and face what God finds disgusting;
when we learn to love what is good and hate what is evil,
then we will begin to love like God does.
To know Him is to love Him.
* * *  
Love and knowledge are often linked in Scripture!  For example, after talking about knowing the Spirit of truth and the spirit of falsehood, the Apostle John writes,
1 John 4: 7 Dear friends, let us love one another, for love comes from God. Everyone who loves has been born of God and knows God. 8 Whoever does not love does not know God, because God is love. 9 This is how God showed his love among us: He sent his one and only Son into the world that we might live through him. 10 This is love: not that we loved God, but that he loved us and sent his Son as an atoning sacrifice for our sins. 11 Dear friends, since God so loved us, we also ought to love one another. 12 No one has ever seen God; but if we love one another, God lives in us and his love is made complete in us. 13 We know that we live in him and he in us, because he has given us of his Spirit. 14 And we have seen and testify that the Father has sent his Son to be the Savior of the world. 15 If anyone acknowledges that Jesus is the Son of God, God lives in him and he in God. 16 And so we know and rely on the love God has for us. God is love. Whoever lives in love lives in God, and God in him. 17 In this way, love is made complete among us so that we will have confidence on the day of judgment, because in this world we are like him.
God's love and wisdom are bound together in His character.
When love and wisdom become part of our character, we'll have His peace as well.  
Love. Wisdom. Peace. Isn't that what we all want? A sense of fulfillment, completeness, and success. And if that's what we want, we must have a rekindled understanding and appreciation for who God is and what He has done for us. To know Him is to love Him.
Psalm 111:1 Praise the LORD. I will extol the LORD with all my heart in the council of the upright and in the assembly. 2 Great are the works of the LORD; they are pondered by all who delight in them. 3 Glorious and majestic are his deeds, and his righteousness endures forever. 4 He has caused his wonders to be remembered; the LORD is gracious and compassionate. 5 He provides food for those who fear him; he remembers his covenant forever. 6 He has shown his people the power of his works, giving them the lands of other nations. 7 The works of his hands are faithful and just; all his precepts are trustworthy. 8 They are steadfast for ever and ever, done in faithfulness and uprightness. 9 He provided redemption for his people; he ordained his covenant forever– holy and awesome is his name. 10 The fear of the LORD is the beginning of wisdom; all who follow his precepts have good understanding. To him belongs eternal praise.
Give it Up for Lent: Ignorance of God's character and ingratitude for His works
Questions for 1 John 4:7-17 and Psalm 111.
In these passages, find all the ways knowledge and love are linked. Knowledge also includes an enduring sense of completeness. Why would I say that?
What items are God's doing in Psalm 111? What items are the psalmist's and our doing?
How do passages like this reorient our thoughts to God's ways and away from our own human understanding?
How easy is it to make God smaller than He is by not appreciating His character? What would be the remedy for that?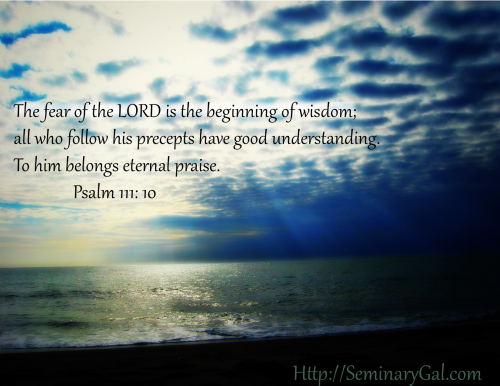 ReKindle is the 2016 Lenten devotional series from Seminary Gal.
To receive these devotionals to your email inbox throughout Lent, please fill in your email address in the space provided on my Home Page in the sidebar (right) and respond to the verification email.  If you already receive devotionals and articles, no need to do anything else.  You'll get them automatically.  Thank you!  Or log onto the SeminaryGal Facebook page and see them reprinted there.
Acknowledging that former years' devotional series remain popular, Be Still and Know that I AM God can be obtained through the archives beginning in March 2014 and With Christ in the Upper Room  is archived beginning February 18, 2015.