Rekindle my disgust. Not exactly the thing most people would want to rekindle.
But a key to loving what is good is also doing the converse: hating what is evil.
Jude 1:20 But you, dear friends, build yourselves up in your most holy faith and pray in the Holy Spirit. 21 Keep yourselves in God's love as you wait for the mercy of our Lord Jesus Christ to bring you to eternal life. 22 Be merciful to those who doubt; 23 snatch others from the fire and save them; to others show mercy, mixed with fear– hating even the clothing stained by corrupted flesh.
We live in a world of compromise. In politics. In marriage. In friendship. In our employment. In civic affairs. In negotiations. Everyone must give up a little something to reach their hands across the aisle and get work done. Frankly, Jesus never did that.
It's populist nonsense that flows directly from a culture that has abandoned the idea of absolute right and wrong because they've abandoned God long ago.
Reconciliation is not the same as compromise.

Reconciliation is the act of bringing unholy people and ungodly actions to a place of peace with God by encouraging the giving up of what God finds disgusting.

Compromise is the act of bringing unholy people and ungodly actions to the presence of a Holy God and demanding that He change His standards.

* * *
Compromise is not happening, folks.
 * * *
It's time to rekindle our disgust at what God finds disgusting.
* * *
* * *
2 Corinthians 5:10 For we must all appear before the judgment seat of Christ, that each one may receive what is due him for the things done while in the body, whether good or bad. 11 Since, then, we know what it is to fear the Lord, we try to persuade men. What we are is plain to God, and I hope it is also plain to your conscience…16 So from now on we regard no one from a worldly point of view. Though we once regarded Christ in this way, we do so no longer. 17 Therefore, if anyone is in Christ, he is a new creation; the old has gone, the new has come! 18 All this is from God, who reconciled us to himself through Christ and gave us the ministry of reconciliation: 19 that God was reconciling the world to himself in Christ, not counting men's sins against them. And he has committed to us the message of reconciliation. 20 We are therefore Christ's ambassadors, as though God were making his appeal through us. We implore you on Christ's behalf: Be reconciled to God. 21 God made him who had no sin to be sin for us, so that in him we might become the righteousness of God. 
2 Corinthians 6:14 Do not be yoked together with unbelievers. For what do righteousness and wickedness have in common? Or what fellowship can light have with darkness? 15 What harmony is there between Christ and Belial? What does a believer have in common with an unbeliever? 16 What agreement is there between the temple of God and idols? For we are the temple of the living God. As God has said: "I will live with them and walk among them, and I will be their God, and they will be my people." 17 "Therefore come out from them and be separate, says the Lord. Touch no unclean thing, and I will receive you." 18 "I will be a Father to you, and you will be my sons and daughters, says the Lord Almighty."
Give it up for Lent: Compromise of God's truth.
Questions related to Jude 1:20-23 and 2 Corinthians 5:10-6:18.
What are the levels of disgust and reconciliation we see in the Jude passage? How do we avoid being corrupted?
In what areas of your life are you tempted to compromise God's truth?
What kinds of areas are worth compromising? Are there any? Is it of moral consequence, for example, to prefer blue painted walls to purple, eating takeout pizza or at the restaurant, or preferring black coffee to a cup of coffee with cream and sugar? What distinguishes something that disgusts God versus something that is simply personal preference? When a person refuses to compromise on preferences, how does that relate to

Philippians 2:4 "Each of you should look not only to your own interests, but also to the interests of others."?

Now read through the entire 2 Corinthians passage at Bible Gateway. Identify areas of reconciliation and what God finds disgusting and therefore can never be compromised.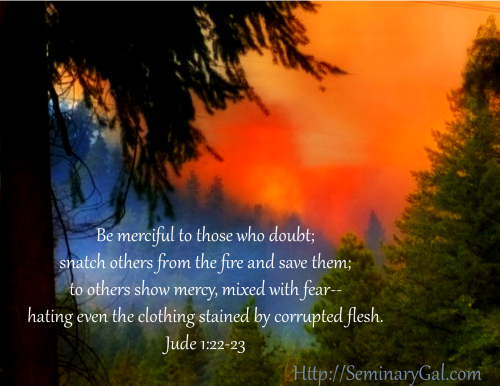 ReKindle is the 2016 Lenten devotional series from Seminary Gal.
To receive these devotionals to your email inbox throughout Lent, please fill in your email address in the space provided on my Home Page in the sidebar (right) and respond to the verification email.  If you already receive devotionals and articles, no need to do anything else.  You'll get them automatically.  Thank you!  Or log onto the SeminaryGal Facebook page and see them reprinted there.
Acknowledging that former years' devotional series remain popular, Be Still and Know that I AM God can be obtained through the archives beginning in March 2014 and With Christ in the Upper Room  is archived beginning February 18, 2015.