Finally, Zechariah gathered his composure. His knees which failed him…his strength which was rendered weak and useless–those in time were restored. His voice, however, was not. Luke 1:21 "Meanwhile, the people were waiting for Zechariah and wondering why he stayed so long in the temple. 22 When he came out, he could not speak to them. They realized he had seen a vision in the temple, for he kept making signs to them but remained unable to speak."
How could he ever finish his work week with this in his heart? A surprise for Elizabeth after praying for so long! Answered! Finally answered!
After being resigned to childlessness as her legacy, now a miracle! His mind returned time and again to what he might say, or rather how to let her know? Nevertheless, he fulfilled his time of service and returned home as quickly as his worn sandals could take him.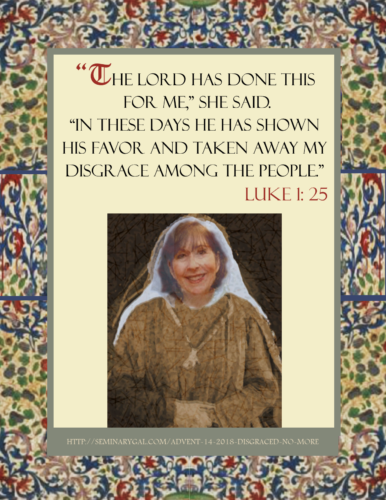 Understandably, his wife Elizabeth was stunned by the news, by Zechariah's silence, and by the hope he shared with her.
Neither of them said a word to others about it.
Zechariah because he couldn't.
Elizabeth, because this private joy was something too amazing and far too personal to put into words.
She believed Zechariah without a doubt. But here was the concern: Why subject herself to doubters and those who would think she'd lost her mind? Confidence in the face of nay-sayers is always hard. "The more nay, the more sway," she thought. So, she spent five months in seclusion with Zechariah to whom she could alone share the immensity of her joy.
The Lord has done this for me," she said. "In these days he has shown his favor and taken away my disgrace among the people." (Luke 1:25)
***
Her Story, Your Story:
Elizabeth did not have the benefit of an angelic appearance. She must rely upon what happened to her husband. In what ways does this affirm the "one-flesh" of marriage?

Thinking about both types of testimony (eye-witness and ear-witness), how did this take a powerful turn in the life of Elizabeth and Zechariah? In other words, is eye-witness the only way to acknowledge the truth?

None of us will see Jesus face-to-face until the very end. What types of things are important regarding the authenticity and truthfulness of testimony? What does evangelism require?
Self-Reflection topic: Testimony
Prayer: Father, we admit we do not understand Your plan and Your will. We do not understand why You would entrust such an important message of salvation to us to communicate to others as evangelism. We gratefully respond to the teachings of Christ when He said to Thomas, "Because you have seen me, you have believed; blessed are those who have not seen and yet have believed" (John 20:29). Our hope is in what we have been told, not what our eyes have seen at the present moment, except by faith. We look forward to the day described by the Apostle Paul, "For now we see in a mirror dimly, but then face to face; now I know in part, but then I shall know fully just as I also have been fully known" (1 Corinthians 13:12). Until that glorious day of Your return and seeing You for the first time in the flesh as our Resurrected Lord, grant that our faith would be strong, our witness would be effective, and our hope in the testimony handed down through the saints would be unshaken in a world of chaos. Amen.
===
By way of reminder, if you haven't signed up yet, you can receive these Storyteller devotional studies in your email throughout Advent 2018 by entering your email address on the SeminaryGal.com home page in the space provided in the sidebar. Or "Like" the SeminaryGal Facebook page to access them there. If you like these devotionals, I'd really appreciate your letting others know so I can continue to spread the Good News far and wide. Blessings to you, in Christ always, Barbara <><
===
Acknowledging inquiries about the entire season's devotionals for your study group's planning purposes, Seminary Gal's prior seasons' Advent devotionals can be accessed via the archives to the right and are as follows:
Last year's Advent Devotional Series (2017), Still Christmas, began December 3, 2017 and was the Advent complement to the Lenten series, Be Still and Know that I AM God.
The 2016 season devotionals were called "Timeless: The Message of Christmas for All Ages" and explored how the message of Christmas is timeless truth, for all ages of people, and for all ages at all times. Timeless hope, encouragement, grace, peace, and love as we looked into the Word, saw the face of our Lord Jesus, and experienced restoration in His presence. His goodness and His Gospel are truly Timeless. The 2016 devotionals began November 27, 2016.
The 2015 season devotionals were titled Incarnation and involved digging deep–and yes, I mean deep– in this important mystery of Christian theology. They began November 29, 2015.
Carol Me, Christmas! remains one of my most popular offerings and tells the Christmas story through our most beloved Christmas hymns and carols. You can access all of the numbered devotionals from 2014 via the archives. They began November 30, 2014.
The 2013 series was Emmanuel: When LOVE Showed Up in Person and examined the Prologue to the Gospel of John. It began December 1, 2013.
The 2012 series focused on Expecting the Unexpected…the unexpected, unlikely, and uniquely divine qualities of God's perfect plan outlined in Luke's account of the Christmas story. It began December 1, 2012.