Z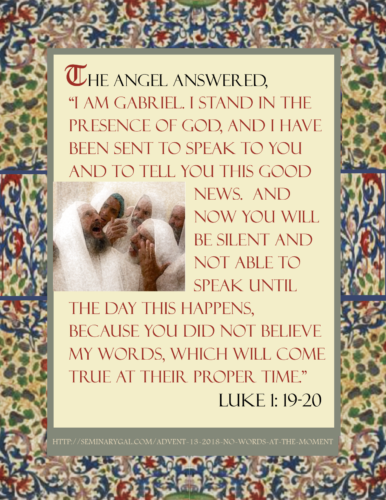 echariah remained frozen in stunned silence, trying to blink away the brilliant glow's memory still in his eyes. Must have been real.
His mind did not imagine it.
His eyes did not manufacture it.
Were those tears forming and streaming down his cheeks?
Yes. Why?
Fear? Joy? Shock?
Ashamed of his doubts being known?
He swallowed hard, ashamed at thinking his doubts could be hidden from such a Presence as the Almighty's. He shook his head free from incredulity at the unmistakable favor communicated by Gabriel. He was ashamed he didn't believe the angel's words.
A son! A son! Not just a child but a son! An heir! One who would go on before the Lord, as in a priestly tradition to turn the hearts of a people the Almighty had prepared for Himself!
Zechariah wept for joy and wept again, in frazzled shock. And as if this moment of being chosen by lot wasn't enough to be a blessing of a day and a highlight of lifetime, here was the miraculous! Good news! Amazing news! A son for this old man and for my old wife!
"I cannot wait to tell Elizabeth," he thought, "She'll be so surprised and so happy!" As he began to practice quietly what he would say to Elizabeth and wondered what to say so she'd believe him, he discovered his faithless response anew. He couldn't speak at all, just as the angel had told him.
***
His Story, Your Story:
In Zechariah's life, doubt was exposed, but it served some very useful purposes. What types of purposes might his silence have served for himself, personally?

What might it have done for Elizabeth since she didn't have the angelic appearance?

What kind of proof do you need to believe the miraculous?
Self-Reflection topic: Proof
Prayer: Lord Jesus, thank You that You are every bit as comfortable in the spiritual realm as in the earthly; You are as at home and at peace in the miraculous as in the mundane; and Your knowledge of all truth is complete. Help us to have confidence in Your reliability and trustworthiness and to know in Whom we trust instead of our eyes and our minds that can deceive us. Help us to bury our doubts beneath the ample evidence Your Word provides of the truth. Thank You that our hearts are known by You, and our prayers too. Thank You that You do not give us what we deserve, but in its place, You give us grace. Thank You, Lord. Amen.
===
By way of reminder, if you haven't signed up yet, you can receive these Storyteller devotional studies in your email throughout Advent 2018 by entering your email address on the SeminaryGal.com home page in the space provided in the sidebar. Or "Like" the SeminaryGal Facebook page to access them there. If you like these devotionals, I'd really appreciate your letting others know so I can continue to spread the Good News far and wide. Blessings to you, in Christ always, Barbara <><
===
Acknowledging inquiries about the entire season's devotionals for your study group's planning purposes, Seminary Gal's prior seasons' Advent devotionals can be accessed via the archives to the right and are as follows:
Last year's Advent Devotional Series (2017), Still Christmas, began December 3, 2017 and was the Advent complement to the Lenten series, Be Still and Know that I AM God.
The 2016 season devotionals were called "Timeless: The Message of Christmas for All Ages" and explored how the message of Christmas is timeless truth, for all ages of people, and for all ages at all times. Timeless hope, encouragement, grace, peace, and love as we looked into the Word, saw the face of our Lord Jesus, and experienced restoration in His presence. His goodness and His Gospel are truly Timeless. The 2016 devotionals began November 27, 2016.
The 2015 season devotionals were titled Incarnation and involved digging deep–and yes, I mean deep– in this important mystery of Christian theology. They began November 29, 2015.
Carol Me, Christmas! remains one of my most popular offerings and tells the Christmas story through our most beloved Christmas hymns and carols. You can access all of the numbered devotionals from 2014 via the archives. They began November 30, 2014.
The 2013 series was Emmanuel: When LOVE Showed Up in Person and examined the Prologue to the Gospel of John. It began December 1, 2013.
The 2012 series focused on Expecting the Unexpected…the unexpected, unlikely, and uniquely divine qualities of God's perfect plan outlined in Luke's account of the Christmas story. It began December 1, 2012.