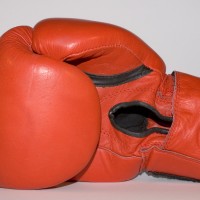 Born Cassius Marcellus Clay, Jr., retired boxer Muhammad Ali is widely considered to be one of the greatest heavyweights of all time by sports commentators and historians.  To that point, he has appeared on the cover of Sports Illustrated more often than any sports figure aside from Michael Jordan. 
Ali is quoted in his autobiography, The Greatest: My Own Story (1975), with saying,
I only said I was the greatest, not the smartest."
Well, one out of two isn't bad.  He wasn't the greatest or the smartest. 
John the Baptist was far greater, for far better reasons than being good at hitting people.  Scripture says of John the Baptist,
He will be a joy and delight to you, and many will rejoice because of his birth, for he will be great in the sight of the Lord. He is never to take wine or other fermented drink, and he will be filled with the Holy Spirit even from birth. Many of the people of Israel will he bring back to the Lord their God. And he will go on before the Lord, in the spirit and power of Elijah, to turn the hearts of the fathers to their children and the disobedient to the wisdom of the righteous– to make ready a people prepared for the Lord" (Luke 1:14-17).
As great in the sight of the Lord as John the Baptist was, he was still not the greatest.  No, that person is Jesus.  Mary is told regarding Jesus,
He will be great and will be called the Son of the Most High. The Lord God will give him the throne of his father David, and he will reign over the house of Jacob forever; his kingdom will never end" (Luke 1:32-33).
The first of five Christological (Messianic) references in these two verses is that Jesus will be great.  Not "great in the sight of the Lord," but great…period.
Muhammad Ali may think the term greatest is accurately applied to himself, but the Word of God considers that there are already plenty of people in the kingdom of heaven well ahead of Muhammad Ali's boxing greatness.
Jesus, the great one, says of John the Baptist,
I tell you the truth: Among those born of women there has not risen anyone greater than John the Baptist; yet he who is least in the kingdom of heaven is greater than he" (Matthew 11:11).