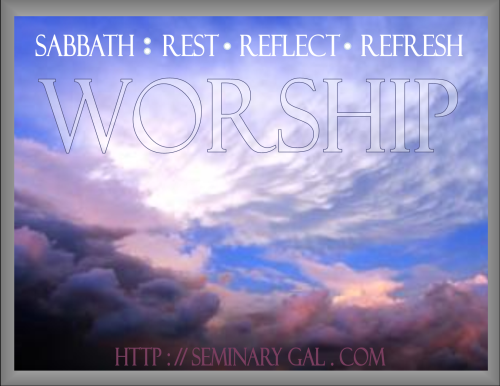 Psalm 92:1 A psalm. A song. For the Sabbath day. It is good to praise the LORD and make music to your name, O Most High, 2 to proclaim your love in the morning and your faithfulness at night, 3 to the music of the ten-stringed lyre and the melody of the harp. 4 For you make me glad by your deeds, O LORD; I sing for joy at the works of your hands. 5 How great are your works, O LORD, how profound your thoughts! 6 The senseless man does not know, fools do not understand, 7 that though the wicked spring up like grass and all evildoers flourish, they will be forever destroyed. 8 But you, O LORD, are exalted forever.
Tomorrow we resume ReKindle, the 2016 Lenten devotional series from Seminary Gal.
To receive these devotionals to your email inbox throughout Lent, please fill in your email address in the space provided on my Home Page in the sidebar (right) and respond to the verification email.  If you already receive devotionals and articles, no need to do anything else.  You'll get them automatically.  Thank you!  Or log onto the SeminaryGal Facebook page and see them reprinted there.
Acknowledging that former years' devotional series remain popular, Be Still and Know that I AM God can be obtained through the archives beginning in March 2014 and With Christ in the Upper Room  is archived beginning February 18, 2015.