Perseverance isn't always advancing to new ground.
Sometimes it takes everything we've got simply to remain standing.
Have you taken any arrows lately for your faith in Christ?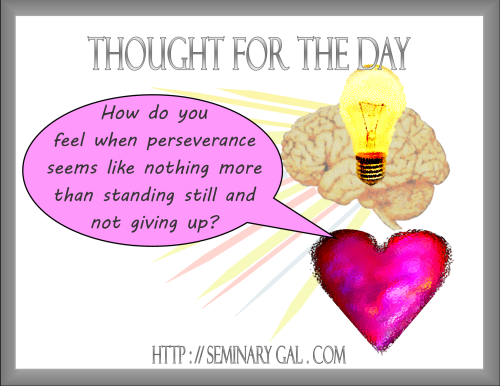 Ephesians 6: 10 Finally, be strong in the Lord and in his mighty power. 11 Put on the full armor of God so that you can take your stand against the devil's schemes. 12 For our struggle is not against flesh and blood, but against the rulers, against the authorities, against the powers of this dark world and against the spiritual forces of evil in the heavenly realms. 13 Therefore put on the full armor of God, so that when the day of evil comes, you may be able to stand your ground, and after you have done everything, to stand. 14 Stand firm then, with the belt of truth buckled around your waist, with the breastplate of righteousness in place, 15 and with your feet fitted with the readiness that comes from the gospel of peace. 16 In addition to all this, take up the shield of faith, with which you can extinguish all the flaming arrows of the evil one. 17 Take the helmet of salvation and the sword of the Spirit, which is the word of God. 18 And pray in the Spirit on all occasions with all kinds of prayers and requests. With this in mind, be alert and always keep on praying for all the saints.
When our strength is failing and our perseverance is in doubt, still we can trust God to see us through it. If only we'll believe. But it's not a blind faith. It's one that is not even naïve; it's perfectly rational. We count the cost and we evaluate our resources and conclude it is better to stand firm than to give up.
Standing for God in a dark world won't always be easy, but the crown of life awaits at the end for those who persevere by faith.
Give it up for Lent: The expectation that life ought to be easy
Questions for Ephesians 6:10-18:
How are we strong? (v.10)
Why isn't our own strength going to be good enough? Who is our battle against? (v. 12)
What equipment does God give us? (v. 13-17)
How does prayer operate in 3 dimensions (upward, outward, and inward)? Look back over verses 10-18 and see how prayer equips the Church.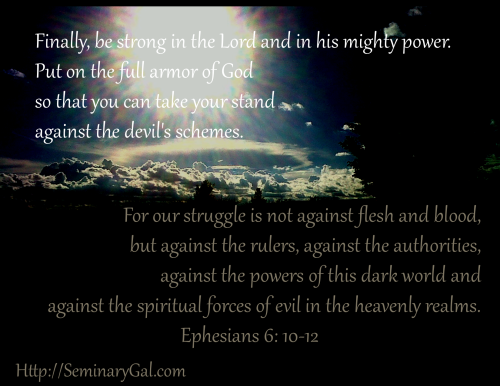 ReKindle is the 2016 Lenten devotional series from Seminary Gal.
To receive these devotionals to your email inbox throughout Lent, please fill in your email address in the space provided on my Home Page in the sidebar (right) and respond to the verification email.  If you already receive devotionals and articles, no need to do anything else.  You'll get them automatically.  Thank you!  Or log onto the SeminaryGal Facebook page and see them reprinted there.
Acknowledging that former years' devotional series remain popular, Be Still and Know that I AM God can be obtained through the archives beginning in March 2014 and With Christ in the Upper Room  is archived beginning February 18, 2015.