The whole point of a rekindled perseverance is a second wind.
Running the race all the way to completion. Finishing well.
James 1:4 Perseverance must finish its work so that you may be mature and complete, not lacking anything.
Many of us would prefer to quit thinking something along the lines of "When the going gets tough, the tough…"
wise up and quit
decide it's not worth the effort
find other people to do the tough part …sort of like your own personal stunt double
find someone to blame for making it tough
proclaim themselves victims and look for someone to punish for making it tough
find ways around it by compromising, cutting corners, or sacrificing standards
go to grad school
Perseverance–by its very nature–is hard. But profitable!
Rekindled, perseverance is that second wind leading to maturity as a human being and a Christian. It leads to a sense of completion both of the task and more importantly, in the formative work in one's own heart.
Persevere and you will not lack anything. Not lack anything for what? For the next task that lies ahead.  God is in your corner and has your back.  Press on!
Give it up for Lent: Being a quitter when God wants you to persevere
Questions for James 1:4:
In its context, what do the Scriptures say is the outcome of persevering?

James 1:2 "Consider it pure joy, my brothers, whenever you face trials of many kinds, 3 because you know that the testing of your faith develops perseverance. 4 Perseverance must finish its work so that you may be mature and complete, not lacking anything. 5 If any of you lacks wisdom, he should ask God, who gives generously to all without finding fault, and it will be given to him. 6 But when he asks, he must believe and not doubt, because he who doubts is like a wave of the sea, blown and tossed by the wind. 7 That man should not think he will receive anything from the Lord; 8 he is a double-minded man, unstable in all he does. 9 The brother in humble circumstances ought to take pride in his high position. 10 But the one who is rich should take pride in his low position, because he will pass away like a wild flower. 11 For the sun rises with scorching heat and withers the plant; its blossom falls and its beauty is destroyed. In the same way, the rich man will fade away even while he goes about his business. 12 Blessed is the man who perseveres under trial, because when he has stood the test, he will receive the crown of life that God has promised to those who love him."

What kinds of things are not lacking as we persevere?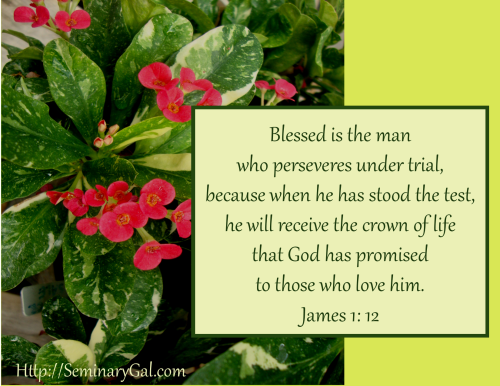 ReKindle is the 2016 Lenten devotional series from Seminary Gal.
To receive these devotionals to your email inbox throughout Lent, please fill in your email address in the space provided on my Home Page in the sidebar (right) and respond to the verification email.  If you already receive devotionals and articles, no need to do anything else.  You'll get them automatically.  Thank you!  Or log onto the SeminaryGal Facebook page and see them reprinted there.
Acknowledging that former years' devotional series remain popular, Be Still and Know that I AM God can be obtained through the archives beginning in March 2014 and With Christ in the Upper Room  is archived beginning February 18, 2015.