It's not just in the Church where we are called to serve. I am presently doing civic work as a volunteer. Isn't that a waste of my Christian time? Not at all!  We must rekindle our outlook toward an increasing sphere of service.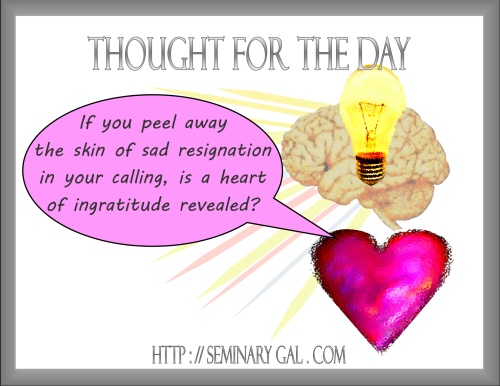 Look at all the spheres of life mentioned in Ephesians 6:1 "Children, obey your parents in the Lord, for this is right. 2 "Honor your father and mother"– which is the first commandment with a promise– 3 "that it may go well with you and that you may enjoy long life on the earth." 4 Fathers, do not exasperate your children; instead, bring them up in the training and instruction of the Lord. 5 Slaves, obey your earthly masters with respect and fear, and with sincerity of heart, just as you would obey Christ. 6 Obey them not only to win their favor when their eye is on you, but like slaves of Christ, doing the will of God from your heart. 7 Serve wholeheartedly, as if you were serving the Lord, not men, 8 because you know that the Lord will reward everyone for whatever good he does, whether he is slave or free. 9 And masters, treat your slaves in the same way. Do not threaten them, since you know that he who is both their Master and yours is in heaven, and there is no favoritism with him."
Children and parents. Parents and children. Slaves and masters which can reasonably be applied to employees and bosses. Masters and slaves. The sphere of God's work is as big as this world. It's not just in the Church.  There is no need for some sad resignation to working outside of the Church as your calling. Underneath the skin of resignation is a core of ingratitude for God's call.
Rather, we should embrace an increasing sphere of service…whether secular, familial, or church…and note that each has outcomes, every one in its season. The fruit of each sphere matters to God.
Give it up for Lent: Thinking that only church work or seminary work is of any use to God
Questions regarding Ephesians 6:1-9:
Why are children supposed to obey their parents? And what is the intended outcome?
Why are parents not supposed to aggravate and exasperate their children? Does that mean we let them off the hook? If not, what does verse 4 say we're supposed to do?
What kind of service qualities are supposed to be shown by employees? Why are we supposed to show those?
When verse 9 says we're supposed to treat our employees (slaves) in the same way, what way is that?
What about masters, bosses, and people in authority makes God add

"Do not threaten them, since you know that he who is both their Master and yours is in heaven, and there is no favoritism with him"?

What might people in authority often get wrong?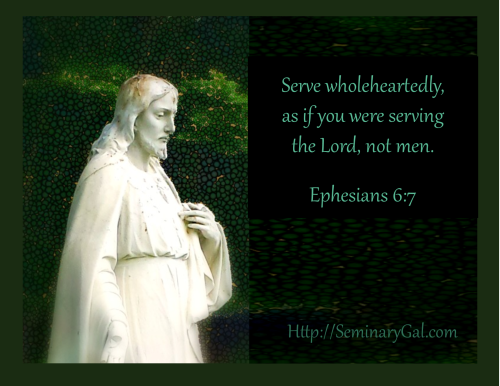 ReKindle is the 2016 Lenten devotional series from Seminary Gal.
To receive these devotionals to your email inbox throughout Lent, please fill in your email address in the space provided on my Home Page in the sidebar (right) and respond to the verification email.  If you already receive devotionals and articles, no need to do anything else.  You'll get them automatically.  Thank you!  Or log onto the SeminaryGal Facebook page and see them reprinted there.
Acknowledging that former years' devotional series remain popular, Be Still and Know that I AM God can be obtained through the archives beginning in March 2014 and With Christ in the Upper Room  is archived beginning February 18, 2015.