Contentment and complacency are two different things. One is good. The other is not. Contentment and laziness do not go hand in hand either.  Laziness is incompatible with service which flows out of a contented heart.
Contentment is the passive receiving of God's provision through an active trust.

Service is the active use of what God has provided. 

It's time to have contentment and service rekindled.
You sometimes hear people say that God doesn't waste anything. And that is true. So I look at my own life and how God took me out of the pulpit and plunked me into the sewer systems of my hometown to do community service for a while so that God could bless my neighbors.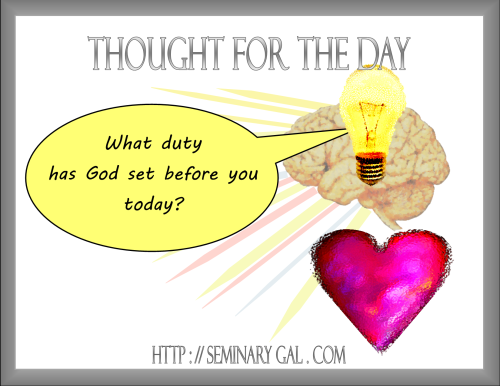 After all, what good is a preacher if he/she refuses God's opportunities to apply Bible teaching?
Galatians 6:10 Therefore, as we have opportunity, let us do good to all people, especially to those who belong to the family of believers.
The genuine Christ-follower doesn't resent such moves as from the mountaintop to the sewers. Every time I begin to question whether anything I do makes any difference, I remind myself of Jesus' words in Luke 17:10 "So you also, when you have done everything you were told to do, should say, 'We are unworthy servants; we have only done our duty.'"
It doesn't truly matter if I think I'm making a difference.  Jesus' call is enough.  Obedient service is my duty, plain and simple.
When God tells you to share opportunities but you want to hoard, do your duty. When God asks you to bless a fellow Christian by encouraging him/her in the work God has called that person to do, do you duty. Some Christians don't realize that their brothers and sisters may be languishing in doubt, bondage, or poverty, etc. simply because we aren't getting out of our comfort zones. Some Christians don't realize that as much as they like to be encouraged, maybe someone else could use some too. Some Christians don't realize that God intends our serving those He calls the least of these–and that service rekindled is our duty!  Not our hoarding of God's provision for our own advancement.  Frankly, some are so busy promoting themselves that they miss out on the greater blessing of serving others and promoting them…and joyfully watching them grow. Moreover when we've done our duty of serving others, what does God say?
2 Corinthians 9:12 This service that you perform is not only supplying the needs of God's people but is also overflowing in many expressions of thanks to God.
Give it up for Lent: Control
Questions related to Galatians 6:10, Luke 17:10 and 2 Corinthians 9:12:
What character qualities of the Christian are brought into focus when we serve others?
What does the Church get out of things when we let go of control, prestige, other people's expectations, and preferred positions in order to serve others and let them serve each other?
Are we supposed to serve everyone or only those in our Christian clubs? Why would God say "especially to those who belong to the family of believers?"
What does God get out of it when we step down and serve others? How does this relate to the previous question?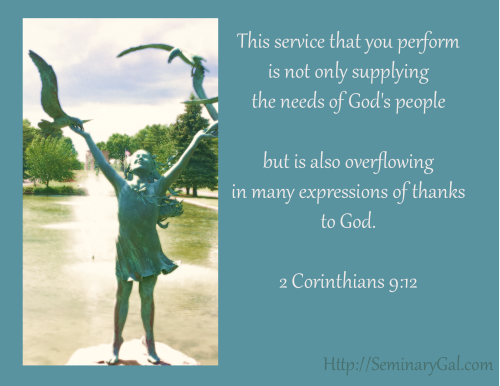 ReKindle is the 2016 Lenten devotional series from Seminary Gal.
To receive these devotionals to your email inbox throughout Lent, please fill in your email address in the space provided on my Home Page in the sidebar (right) and respond to the verification email.  If you already receive devotionals and articles, no need to do anything else.  You'll get them automatically.  Thank you!  Or log onto the SeminaryGal Facebook page and see them reprinted there.
Acknowledging that former years' devotional series remain popular, Be Still and Know that I AM God can be obtained through the archives beginning in March 2014 and With Christ in the Upper Room  is archived beginning February 18, 2015.