Luke 1: 30 "But the angel said to her, 'Do not be afraid, Mary, you have found favor with God. 31 You will be with child and give birth to a son, and you are to give him the name Jesus.'"
At first blush, the news Gabriel had for Mary doesn't seem significantly different than the news Zechariah had received just a few verses earlier.
Luke 1: 13 "But the angel said to him: 'Do not be afraid, Zechariah; your prayer has been heard. Your wife Elizabeth will bear you a son, and you are to give him the name John.'"
 Don't be afraid.  Check, check.
Zechariah.  Mary.  Name.  Name. Check, check.
But here, the two birth announcements begin to diverge.  Zechariah, your prayer has been heard.  Mary, you will be with child. (Had she been praying for this? Unlikely.)
Zechariah–Your wife Elizabeth will bear you a son (naturally conceived, but through God's doing the impossible).  Mary–you will be with child and give birth to a son (supernaturally conceived and miraculously the Son of God and Son of Man).
Zechariah—a priest—was given this message at a most sacred time of his life (while burning incense in the temple).  His doubt at Gabriel's message stands in contrast to his priestly position and results in his being unable to speak until the words recorded in Luke 1:59-64 at John's circumcision.
Mary, on the other hand, was by all measures living a normal day when Gabriel arrived.  But this moment inaugurated the most sacred time of her life.  She was entrusted with the most important baby ever to have been born.  The enormity of the responsibility cannot be overstated.  For nine months, she would be pregnant and at the end of this time, she would give birth to the long awaited Messiah.  The pressure to demonstrate the greatest care and nurture, knowing the importance of your role, would have been stressful if Mary had been of a different temperament.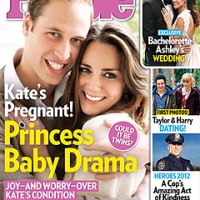 At present, Prince William and Kate Middleton (Catherine, Duchess of Cambridge) are expecting their first child.  The high profile pregnancy is exciting news and is being watched with eager anticipation of the birth of the next in line of the Royal Family.   The world's microscope upon her pregnancy could cause additional worry and concern and might be all the more reason for the greatest medical care available.  This child is important!  Yet, the new Royal's birth pales by comparison to the virginal conception of Jesus.
Amazingly, we do not see Mary exhibiting doubt, worry, pride, stress, or panic.  Instead, she listens and obediently assents to serve God however He chooses.  He would provide all the care His Son would need and Mary knew she was blessed to enjoy the privilege.  Never again would anyone have such a role.
And Mary said:
My soul glorifies the Lord  and my spirit rejoices in God my Savior, for he has been mindful of the humble state of his servant. From now on all generations will call me blessed, for the Mighty One has done great things for me– holy is his name" (Luke 1:46-49).