Say the words, Hail Mary and the world suddenly divides into the world of Christians and the world of sports enthusiasts.  In the Venn diagram of life, some will catch the dual meaning. 
Ever since 1975 when Roger Staubach threw a game-winning touchdown pass to wide receiver Drew Pearson in a playoff game against the Minnesota Vikings, any forward pass that is a long shot thrown out of desperation in the waning minutes has been termed a "Hail Mary."  Roger Staubach is reported to have closed his eyes and said a Hail Mary (prayer, in the Catholic sense) at that time and the rest is history.
In the Roman Catholic sense, it refers to one of the traditional prayers of the faithful: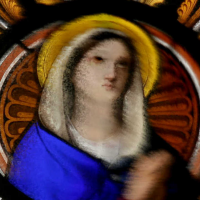 Hail Mary, full of grace. Our Lord is with thee. Blessed art thou among women, and blessed is the fruit of thy womb, Jesus. Holy Mary, Mother of God, pray for us sinners, now and at the hour of our death. Amen.
This prayer of intercession–so familiar to Roman Catholics–has its root in the greeting from the angel Gabriel.   What we've been seeing as "Greetings" is translated "Hail" in the King James Version.
And the angel came in unto her, and said, Hail, thou that art highly favoured, the Lord is with thee: blessed art thou among women (Luke 1:28 )
The words we read as "thou that art highly favoured" in the King James Version are actually only one word in the Greek, a verbal cognate of the word we translate as grace.
Clearly, this unmerited favor/grace given by God to Mary was a means of setting her apart (giving the idea of Holy Mary that we see in the Hail Mary prayer).  Mary was chosen to bear the Son of God and throughout the centuries there has been great debate over whether it was appropriate to call her the Mother of God and if so, exactly what that means.  So in 451 AD, Church Fathers gathered to discuss this and wrote the Definition of Faith of the Council of Chalcedon, which reads (in part):
Following the holy Fathers we teach with one voice that the Son [of God] and our Lord Jesus Christ is to be confessed as one and the same [Person], that he is perfect in Godhead and perfect in manhood, very God and very man, of a reasonable soul and [human] body consisting, consubstantial with the Father as touching his Godhead, and consubstantial with us as touching his manhood; made in all things like unto us, sin only excepted; begotten of his Father before the worlds according to his Godhead; but in these last days for us men and for our salvation born [into the world] of the Virgin Mary, the Mother of God according to his manhood.
Mary didn't birth God as Triune or exist as part of the Godhead (Father, Son, and Holy Spirit) and therefore, Hail Mary prayers are still viewed with suspicion by those in the Protestant world.  Mary–as a completely human being–is not divine at all.  Therefore her prayers are no more efficacious than say yours or mine.  Her earthly role was exceedingly important, as was John the Baptist's, but neither of them have any special audience with Jesus.  At least nowhere near the presence that God's Holy Spirit indwelling all believers has with Christ.
Romans 8:26 In the same way, the Spirit helps us in our weakness. We do not know what we ought to pray for, but the Spirit himself intercedes for us with groans that words cannot express. 27 And he who searches our hearts knows the mind of the Spirit, because the Spirit intercedes for the saints in accordance with God's will.
The Holy Spirit doesn't need Mary's help with praying.  That is why so many Protestants and many Roman Catholics find the line between veneration (i.e. profound respect and reverence) and worship to be increasingly blurry when it comes to Mary.  Veneration is completely appropriate.  Worship is God's alone.   The beloved disciple John writes,
Revelation 22:8 I, John, am the one who heard and saw these things. And when I had heard and seen them, I fell down to worship at the feet of the angel who had been showing them to me. 9 But he said to me, "Do not do it! I am a fellow servant with you and with your brothers the prophets and of all who keep the words of this book. Worship God!
All Christians worship God alone.  That said, Protestants can honor and respect Mary as the woman who bore the Son of God for her special role in redemptive history.  We can do this without giving her greater authority in heaven than God has actually granted to her.  I join my Roman Catholic brothers and sisters who believe veneration is good but that worship of Mary is inappropriate.  We can all look at Mary as a marvelous example of humility and faith and say that she was highly favored, full of grace.