We've reached the last of the Ten Undeniable Truths of Womanhood:  #10 The Lord's maidservants bring glory to Christ by their obedience.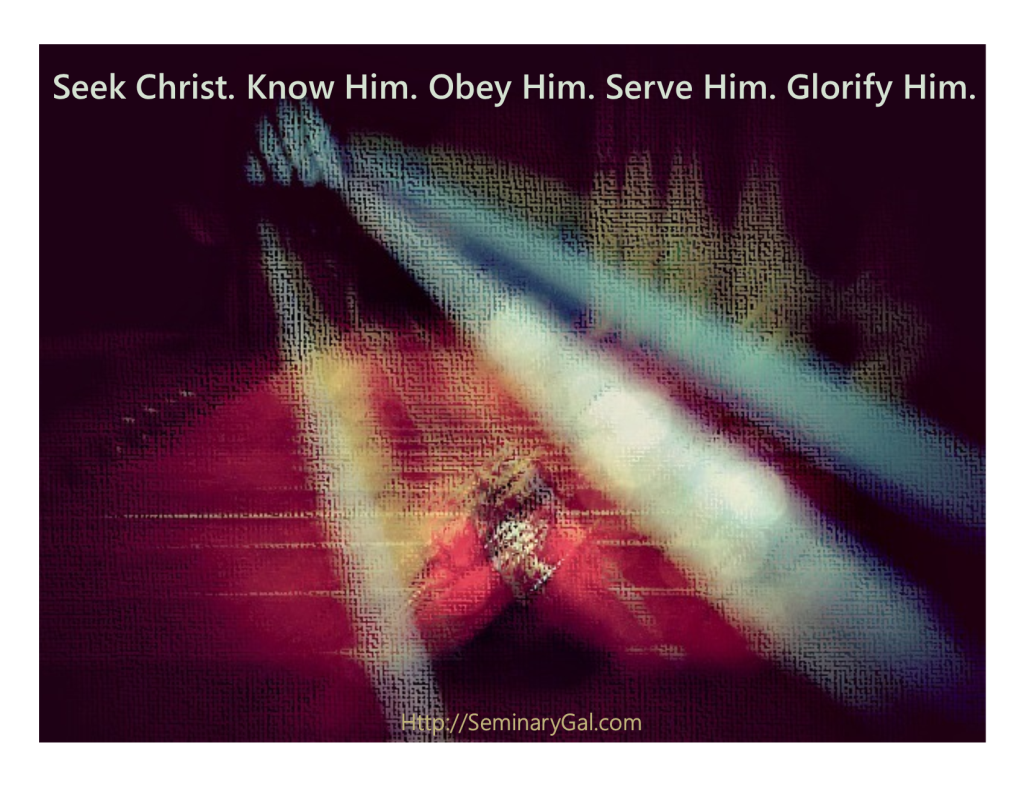 Women don't need to feel like they are glorifying God less by being women.  God is not surprised with how He made us and sometimes He is glorified uniquely by a woman's obedience.  The extent to which the world's population is female, that is the very degree to which He desires to receive glory by their obedience.
The number one thing any Christian woman can do is to seek God in order to obey Him.
Only by knowing and doing the will of God will we glorify Him in all we do.  So whether God has gifted you with the freedom of singleness, the joys of marriage, the responsibilities of motherhood, or seasons during which you experience a variety of these things in womanhood, do it well.  Obey God because the Lord's maidservants bring glory to Christ by their obedience.
Research:
John 15:1 "I am the true vine, and my Father is the gardener. 2 He cuts off every branch in me that bears no fruit, while every branch that does bear fruit he prunes so that it will be even more fruitful. 3 You are already clean because of the word I have spoken to you. 4 Remain in me, and I will remain in you. No branch can bear fruit by itself; it must remain in the vine. Neither can you bear fruit unless you remain in me. 5 "I am the vine; you are the branches. If a man remains in me and I in him, he will bear much fruit; apart from me you can do nothing. 6 If anyone does not remain in me, he is like a branch that is thrown away and withers; such branches are picked up, thrown into the fire and burned. 7 If you remain in me and my words remain in you, ask whatever you wish, and it will be given you. 8 This is to my Father's glory, that you bear much fruit, showing yourselves to be my disciples. 9 "As the Father has loved me, so have I loved you. Now remain in my love. 10 If you obey my commands, you will remain in my love, just as I have obeyed my Father's commands and remain in his love. 11 I have told you this so that my joy may be in you and that your joy may be complete. 12 My command is this: Love each other as I have loved you. 13 Greater love has no one than this, that he lay down his life for his friends. 14 You are my friends if you do what I command. 15 I no longer call you servants, because a servant does not know his master's business. Instead, I have called you friends, for everything that I learned from my Father I have made known to you. 16 You did not choose me, but I chose you and appointed you to go and bear fruit– fruit that will last. Then the Father will give you whatever you ask in my name. 17 This is my command: Love each other.
Reflect:
What does this Scripture say about bearing fruit?
How does any woman or man bear fruit?
How does bearing fruit look to God like glory and look to people like a litmus test for discipleship?
In what ways are love and obedience connected?
Respond:
Are you a man?  Find ways to encourage the women in your life in their God-given callings.  They glorify Christ when they are obedient to Him.  Pray about whether there are any ways you are standing between a woman in your life and her calling from God.  If there are ways you can coach or encourage her in Christ when the journey is hard, it would help her to remain obedient when doubts arise.  Your help to her glorifies Christ because it affirms that His glory is paramount.
Are you a woman?  Be obedient at all times.  To God, certainly!  To the men in your life, show them respect and honor.  Treat them as you would wish to be treated and as brothers in your family.  Are there men in your life who do not know Jesus?  Are there men who disagree with what you're doing?  Be patient in winning them over.  Culture is stacked against them in many of the same ways it is stacked against you.  God wants you to bear fruit and therefore, ask God to remove any obstacles in the way of fruitful service to Him.  Don't give in to the traps of the culture.  Obedience to Christ–in spite of opposition–brings Him greater glory.  It's a greater sacrifice of love.  Keep focused on Him.
Are you a pastor?  Teach about obedience and model it.  If you're a married pastor, have you openly talked with your wife about her calling from God and taught other married men to do likewise with their wives?  If her obedience to Christ would mean expanding your view of pastors' wives and their roles; if it would mean pressing into the opposition against her in order to teach all of us how obedience perseveres through trials; if it would mean standing up to men and women in your church who would stand in the way of her obedience to Christ, then are you prepared to walk with her, loving her as Christ loved the Church, and giving yourself up so that she might bring glory to God by her obedience?
=====
Ten Undeniable Truths of Womanhood:
A Christian woman is still a complete woman, even without marriage.
No man can teach a woman what is the truth of womanhood, even Christian womanhood.
The Bible clearly outlines what womanhood is…and it isn't always synonymous with motherhood.
Once a mother, always a mother.
Superwomen don't exist except in the comics.
All women make choices of no return.
Biology affirms what the Bible teaches.
The Christian woman must learn to artfully balance following Christ while honoring the men in her life.
Submission and sacrifice aren't bad words for women.

The Lord's maidservants bring glory to Christ by their obedience.