Luke 1:28 The angel went to her and said, "Greetings, you who are highly favored! The Lord is with you." 29 Mary was greatly troubled at his words and wondered what kind of greeting this might be.
It's not every day that someone has an angel arrive with a message.  No wonder Mary was greatly troubled.  But look closer: she wasn't troubled at him.  She was troubled at the angel's word–at his greeting.
On the surface, there doesn't seem to be much here to be troubled about. 
Greetings!  (Seems friendly enough.)
You who are highly favored.  (Not just favored.  Highly favored…literally favored one.  That might make a person wonder what she did to become favored, but favored in general is a good thing.  Certainly better than the alternatives.)
The Lord is with you.  (This is the polar opposite of the Lord being against you.  Mary ought to be encouraged.)
So why would Mary be troubled?  No!  Greatly troubled?  Seems like plenty of good news going on here.  But Mary kept pondering what kind of greeting this would be.  Maybe she was waiting for the other shoe to drop.  Maybe she was waiting for him to say, "But…"
The favor of the Lord being "with her" is encouraging and yet Mary understandably didn't know why or in what way.  Maybe she was troubled because she knew there was nothing she did to earn that favor and God would soon figure that out.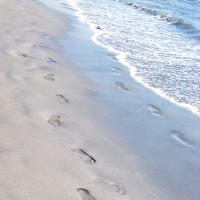 There is nothing Mary did to earn it.  God chose to bestow His favor upon Mary–though she was as human as any other person to walk the earth.  She made mistakes.  She didn't always act in perfect accord with Scripture.  Her son Jesus would be the only person to live His entire life without sin.  Yet Mary found favor with God because grace (unmerited favor) is a defining characteristic of God.
Have you ever been in a place where you knew the Lord's favor by how a circumstance came together or had a "wink from God" or a coincidence (which is when God chooses to remain silent)?  Maybe you've received a blessing so clearly from God that you knew the Lord was with you?  For others of us, we know the Lord's being "with us" most clearly when we are sick or when we are dying.  Like the footprints story in which God carries us…
If you've ever been caught smack-dab in the very center of God's will, and you've known the great favor of His clear presence, you know how unnerving this can be.  I've had 2 instances of this in my Christian walk and both times, I could feel the marrow of my bones quaking.  I wonder if that was a mild expression of how Mary felt in more profound measure–faced with the reality of the power of God and the magnitude of His grace.  I can only imagine that having an angel spell it out for you might shake you to your core.
One thing is for sure:  Mary's life would never be the same after the greeting.