Luke 1:26 In the sixth month, God sent the angel Gabriel to Nazareth, a town in Galilee, 27 to a virgin pledged to be married to a man named Joseph, a descendant of David.  The virgin's name was Mary.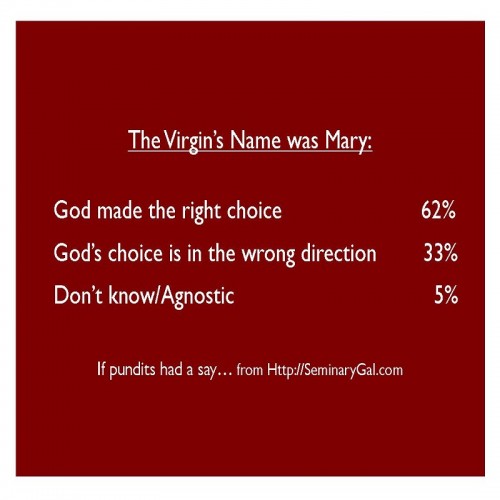 For the record, I am really glad that God fulfilled the "Virgin Birth" when He did.  God chose Mary and boom!  Done deal! 
There was no pundit analysis about whether God had chosen the right virgin to bear the Son of God.  62% of the American public thinks God made the right choice, 33% think God's choice is in the wrong direction, and 5% are agnostic and just don't know.
Or worse, how awful things would be if He were to have waited until the present day's reality TV and did things the modern way.  Ugh. 
Just imagine a sordid amalgamation of The Bachelor, The Apprentice, and a Woman's Day essay contest answering, "Why I should be the Mother of the Son of God" in 500 words or less.
Fortunately for all of us, God was not on The Bachelor, gathering virgins around Himself to decide which one would be chosen at the end of the season.  God was not looking over well-crafted résumés; evaluating job performance; deciding which virgin would not move on to next week, and telling her, "You're fired!"  The virgin didn't have to win a talent competition, model a swimsuit, answer a question about world peace, dance with the stars, or even be interviewed by God before He might choose which lucky lady would be crowned Mother of the Son of God.  There were no tabloids featuring pictures of Mary with a baby bump with a headline that reads, "Virgin says, 'God got me pregnant!' Read our exclusive interview with the virgin on page 2."
Rather, in a time of slower communication, in a rural nowhere town, there's a humble young woman named Mary.  Luke, the writer of this Gospel, peels the onion away one layer at a time from the region of Galilee, to the town of Nazareth, to a virgin who is pledged to be married—layer by layer—until we see God knows her personally.  Her name is Mary.
No celebrity status.  No contest.  No qualifications on a resume or prior birthing experience.  Just a humble young woman—a virgin—full of godly character, having a huge heart of faith, and brimming with a willingness to serve God.  God chose.  Mary responded as God knew she would.  Simple.  Beautiful.  Humble.  Perfect.
Isaiah 7:14 Therefore the Lord himself will give you a sign: The virgin will be with child and will give birth to a son, and will call him Immanuel.