What does following have to do with faith? Well, what is following but one person acting upon a decision to go in the same direction as the leader? A Christian, really, is nothing but a Christ follower in the great tradition of the earliest disciples.
Matthew 4:18 As Jesus was walking beside the Sea of Galilee, he saw two brothers, Simon called Peter and his brother Andrew. They were casting a net into the lake, for they were fishermen. 19 "Come, follow me," Jesus said, "and I will make you fishers of men." 20 At once they left their nets and followed him.
Faith. It's as easy as following.
The movie Life of Pi which we've been using for Lent 2018 devotionals shifts today when instead of "Why?" Pi asks, "Why not?" Pi's father had challenged his mother about Pi's religious sampling saying, "No Gita, [Pi's brother] Ravi has a point, no? You cannot follow three different religions at the same time, Piscine." The young Pi asks, "Why not?" to which his father explains,
Because believing in everything at the same time is the same as not believing in anything at all."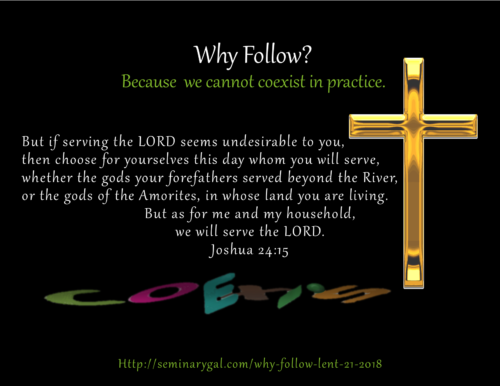 ***
The action of following makes it abundantly clear: We cannot come to a fork in the road and take it. There's a point of decision, a choice. To go forward or back, to the left or the right, up or down. To follow one way or another. No one can follow all directions simultaneously. At some point we believe in nothing or all others must fall away, leave one.
Food for thought:
In what ways do Christians try to follow the world's ways and Christ's way at the same time? What causes them to do it?

Ponder ideas of syncretism and assimilation. If three major monotheistic religions claim the only One True God, how does COEXIST fail every time? Why does it fail?

This idea of choosing which way to follow goes way back to the early days of the chosen people.

Deuteronomy 30:15 See, I set before you today life and prosperity, death and destruction. 16 For I command you today to love the LORD your God, to walk in his ways, and to keep his commands, decrees and laws; then you will live and increase, and the LORD your God will bless you in the land you are entering to possess. 17 But if your heart turns away and you are not obedient, and if you are drawn away to bow down to other gods and worship them, 18 I declare to you this day that you will certainly be destroyed. You will not live long in the land you are crossing the Jordan to enter and possess. 19 This day I call heaven and earth as witnesses against you that I have set before you life and death, blessings and curses. Now choose life, so that you and your children may live 20 and that you may love the LORD your God, listen to his voice, and hold fast to him. For the LORD is your life, and he will give you many years in the land he swore to give to your fathers, Abraham, Isaac and Jacob.

Joshua 24:15 But if serving the LORD seems undesirable to you, then choose for yourselves this day whom you will serve, whether the gods your forefathers served beyond the River, or the gods of the Amorites, in whose land you are living. But as for me and my household, we will serve the LORD."

Who and what do you follow?
Join me next time for "Why Can't God Give Us a Sign to Prove Himself?"
==
For Lent 2018, we'll explore the questions of Pi and Chi (the Greek letter beginning the word Christos, which means Christ, Messiah, the Anointed One). We'll ask and answer the question "Why?" as we discover the uniqueness of Jesus Christ. Join me for the 40 days of Lent which began February 14, 2018 by liking Seminary Gal on Facebook or having these devotionals sent to your email box which you can do via the sign-up on my Home page. Thank you for blessing me with this opportunity to study together the Word of God.
===
Acknowledging that former years' devotional series remain popular: