In the Life of Pi that we've been using to dig into the Scriptures to answer 40 questions "Why?" Pi responds to his father's claim that believing in all things is like believing in nothing by saying he wants to be baptized as a Christian.
In case we might be tempted to cheer along with all the angels at the salvation of one who was lost, Pi later on is still crediting Lord Vishnu for providing fish and saving him. For the boy Pi, Jesus was an add-on, not a sole occupant of a heart of worship.
This whole idea of exclusivity and exceptionalism has gotten a bad rap in modern culture. It has morphed into a holier-than-thou-ism which says
I'm better than you."
It's a total misunderstanding. It's not that at all. It's "I'm a sinner completely unable to save myself. But I follow Christ who can save me."
Let's say you accidently drank poison. You didn't know it at first, but when the symptoms began to show, you and a bunch of other people took notice that unless help arrived, it was going to kill you. Paramedics immediately show up on the scene and want to administer the only known antidote. You say that you don't like the exclusive claims of antidote. You'd rather try positive thinking and suggestions you found on an Internet search. Most people would think that's stupid with a capital S. "Take the antidote, you fool!" would be chanted by everyone watching.
There is one (and only one) antidote to sin's death sentence: Jesus.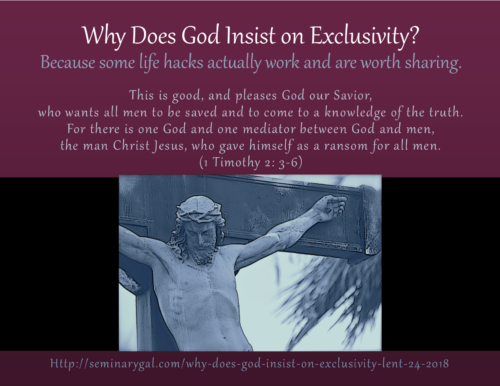 ***
1 Timothy 2: 3 This is good, and pleases God our Savior, 4 who wants all men to be saved and to come to a knowledge of the truth. 5 For there is one God and one mediator between God and men, the man Christ Jesus, 6 who gave himself as a ransom for all men.
The only question that remains is whether you're willing to accept the antidote or want to keep looking on the Internet for ways to try.
Food for thought:
Are you like Pi with Jesus as an add-on to your collection of gods?

Or are you willing to look beyond culture's mislabeling of exclusivity as a problem rather than as a known solution?

Should Christians feel guilty about telling other people about Jesus as the cure?

In what ways do we value knowing a sure solution in other areas of life and welcome hearing them? Do others get offended when we offer "life hacks" or solutions that work?
Join me tomorrow for "Why Couldn't We Do It?" and a discussion of DIY salvation programs offered by all other religions.
==
For Lent 2018, we'll explore the questions of Pi and Chi (the Greek letter beginning the word Christos, which means Christ, Messiah, the Anointed One). We'll ask and answer the question "Why?" as we discover the uniqueness of Jesus Christ. Join me for the 40 days of Lent which began February 14, 2018 by liking Seminary Gal on Facebook or having these devotionals sent to your email box which you can do via the sign-up on my Home page. Thank you for blessing me with this opportunity to study together the Word of God.
===
Acknowledging that former years' devotional series remain popular: