Do you get tired of waiting? Do you wish Jesus would just come to take us all home now? Do you feel like a perennial child asking from the back seat of the station wagon,
Are we there yet?"
In the movie Life of Pi that we've been using for our Lent 2018 devotional series, Pi recounts his father's abandonment of Hinduism in favor of atheism. His father had been sick and Hinduism didn't serve him the way Western medicine did. He abandoned religion in favor of science. Hindu gods had taken too long and provided no visible answer.
The Jewish people must have felt like that when Jesus first showed up on the scene. They'd been persecuted and mistreated from Egypt to Rome to Babylon. In their history books, they'd been gathered up, paraded through the Red Sea and wandered around in the desert for 40 years. They'd been a great kingdom and a divided kingdom and a small remnant. They'd lived in plenty and in famine. They'd been homegrown but also exiled. And all the while waiting for the vindication of God's chosen people that had been promised to Abraham, Isaac, and Jacob, prophesied by Isaiah, Ezra, and Joel. They had the Scriptures and knew what God had promised.
But a long time passed between the promise made and the Messiah promised.
This issue of time and its being among the things no human can control, only manage, is a wedge of faith. Hebrews 11:1 Now faith is being sure of what we hope for and certain of what we do not see.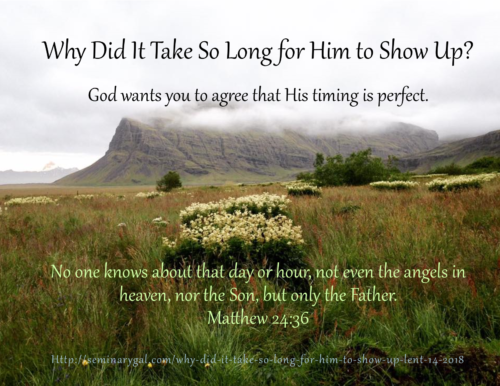 ***
Funny thing is, God doesn't think it took too long. He alone knew the day and hour back then and He alone knows it for Jesus' return. He wants you to agree His timing is perfect. It wasn't enough time to forget the promise, but enough time to cultivate desire. The world needed to be widely inhabited and time for the infrastructure of Rome to be established. There needed to be a common language (koine Greek to enable the spread of the Gospel). All of this made God's timing perfect for Jesus to arrive. Galatians 4: 4 But when the time had fully come, God sent his Son, born of a woman, born under law, 5 to redeem those under law, that we might receive the full rights of sons.
Food for thought:
In what way was Paul acknowledging the appointed time?

Titus 1:1 Paul, a servant of God and an apostle of Jesus Christ for the faith of God's elect and the knowledge of the truth that leads to godliness– 2 a faith and knowledge resting on the hope of eternal life, which God, who does not lie, promised before the beginning of time, 3 and at his appointed season he brought his word to light through the preaching entrusted to me by the command of God our Savior.

In what ways do science and this issue of control still present an obstacle to faith?

Are you looking for Christ's return or have you given up on waiting?

What things need to happen for Christ's return to be the perfect timing? Romans 11:25, Revelation 1:7 Look, he is coming with the clouds, and every eye will see him, even those who pierced him; and all the peoples of the earth will mourn because of him. So shall it be! Amen.

How might smart phones and 24-hour news cycles be making it possible for all eyes to see His return?
Join me tomorrow for who is this Jesus and "Why Is God's Image So Important?"
==
For Lent 2018, we'll explore the questions of Pi and Chi (the Greek letter beginning the word Christos, which means Christ, Messiah, the Anointed One). We'll ask and answer the question "Why?" as we discover the uniqueness of Jesus Christ. Join me for the 40 days of Lent which began February 14, 2018 by liking Seminary Gal on Facebook or having these devotionals sent to your email box which you can do via the sign-up on my Home page. Thank you for blessing me with this opportunity to study together the Word of God.
===
Acknowledging that former years' devotional series remain popular: