Salvation is not a do-it-yourself program because—even back when it was found only in the mind of God—saving mankind was always a "Did-it-Himself" program.
If there's one distinguishing feature of Christianity in contrast to all the other world religions, it's this fact: we cannot earn salvation. We must accept it as a gift of God's grace.
Whether it's our piling up good works as philanthropy, doing acts of purging the world of infidels, climbing through levels to inner peace, offering appeasements to placate the angry gods, or even atheism which says it's a do-it-yourself program of "life stinks and then you die" before becoming food for worms…all of these involve human effort. And each person thinking he's saving himself, primarily looking out for number 1, yet completely unable to save anyone whether self or others.
The idea of receiving salvation as a gift of grace through faith is a uniquely Christian idea.
Ephesians 2:3 Like the rest, we were by nature objects of wrath. 4 But because of his great love for us, God, who is rich in mercy, 5 made us alive with Christ even when we were dead in transgressions … 8 For it is by grace you have been saved, through faith– and this not from yourselves, it is the gift of God– 9 not by works, so that no one can boast.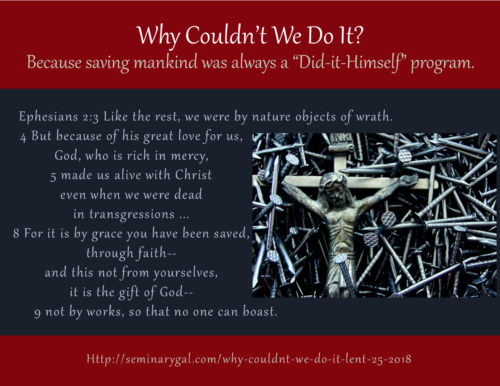 ***
In all other religions, men reach up for their god. In Christianity, God reached down and gave us the gift of Jesus and salvation through His sacrifice for our sins on the Cross. Note, however, this was not some gruesome, nasty act of Father God killing his kid, but Jesus—fully God Himself—willingly, lovingly, graciously coming as One sent…not to live…but to die. To intentionally die because it can never be a do-it-yourself program no matter how hard we try.
For further thought:
At the risk of offending my friends who are Mormon, believing that Jesus was a mere man who was exalted to godhood, this is different than Jesus coming from the Father, His already being fully God. How does God make that truth clear in the Did-it-Himself program of Christ's perfect sacrifice? Read Hebrews 10:1-18 for insight.

Is 99% perfect good enough or does it take 100% to be holy?

On this side of heaven can man alone ever be 100% holy? What made Jesus holy and 100% perfect?
Join me tomorrow for "Why Does God Ignore Merit?"
==
For Lent 2018, we'll explore the questions of Pi and Chi (the Greek letter beginning the word Christos, which means Christ, Messiah, the Anointed One). We'll ask and answer the question "Why?" as we discover the uniqueness of Jesus Christ. Join me for the 40 days of Lent which began February 14, 2018 by liking Seminary Gal on Facebook or having these devotionals sent to your email box which you can do via the sign-up on my Home page. Thank you for blessing me with this opportunity to study together the Word of God.
===
Acknowledging that former years' devotional series remain popular: