The young boy Pi (whose questions we're investigating during Lent 2018) is talking with the Catholic priest who seems genuine and kind and soft-spoken and has one answer to every question:
All you need to know is that He loves you."
How often do we underestimate God? (All the time!) We wonder, "Why Couldn't a Smart God Find Some Other Way?" Maybe we need a bigger box to see the genius of God's work.
I try not to go back to recap what is in prior devotionals, but sometimes I find I don't know how say it any better than what I said before. In talking about how God's Way wasn't some quickly devised Plan B to bail out mankind by a God who didn't think things through very well, I spoke about God's amazingly beautiful Plan A that resolved our problem to absolute perfection:
"It really is remarkable (although, I suppose not surprising) how perfect His resolution to the dilemma was.
God punished sin (demonstrating His perfect justice).

God brought us back into relationship with Him (demonstrating His mercy).

God showed us what His Image looks like (demonstrating His holiness, wisdom, and compassion).

God acted in every way loving toward us, His Image bearers (demonstrating His love).
Justice Served. Love Triumphs."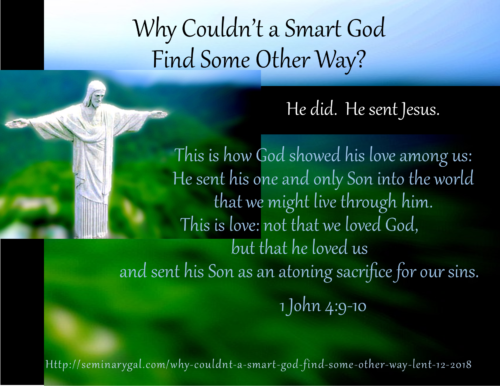 ***
That's the beauty of the Cross, ridiculed as foolishness by the world (1 Corinthians 1:18-25). It's not foolish–it is complete genius.
The Cross. It is there the perfection of God's justice intersected with the perfection of God's love.
This is how God showed his love among us: He sent his one and only Son into the world that we might live through him. This is love: not that we loved God, but that he loved us and sent his Son as an atoning sacrifice for our sins." (1 John 4:9-10)
Ponder the genius of it all:
What if God hadn't punished sin? What if He just ditched the relationship?

What if He didn't care about His image?

What if He gave Himself freedom to take a vacation from loving us, just this once?

What would happen to His perfection?
Join me tomorrow for "Why is It Important Where Jesus Comes From?"
==
For Lent 2018, we'll explore the questions of Pi and Chi (the Greek letter beginning the word Christos, which means Christ, Messiah, the Anointed One). We'll ask and answer the question "Why?" as we discover the uniqueness of Jesus Christ. Join me for the 40 days of Lent which began February 14, 2018 by liking Seminary Gal on Facebook or having these devotionals sent to your email box which you can do via the sign-up on my Home page. Thank you for blessing me with this opportunity to study together the Word of God.
===
Acknowledging that former years' devotional series remain popular: