How often have we heard it?
I'd believe if God gave me a sign or wrote something across the sky so I could know He exists."
We're not all like Thomas who got a first-hand experience of the Risen Lord. John 20:27 Then [Jesus] said to Thomas, "Put your finger here; see my hands. Reach out your hand and put it into my side. Stop doubting and believe." 28 Thomas said to him, "My Lord and my God!" 29 Then Jesus told him, "Because you have seen me, you have believed; blessed are those who have not seen and yet have believed." 30 Jesus did many other miraculous signs in the presence of his disciples, which are not recorded in this book. 31 But these are written that you may believe that Jesus is the Christ, the Son of God, and that by believing you may have life in his name.
Okay, so we have a lot of signs that have been written in the Bible and we're told they were written so we'd believe (John 20:30-31). So, why do so many people still refuse to repent and believe?
Jesus tells a story of a rich man and a beggar named Lazarus (not the same Lazarus that rose from the dead). In it, the rich man pleads with Abraham across the great chasm between hell and heaven to send Lazarus saying, "'I have five brothers. Let him warn them, so that they will not also come to this place of torment.' Abraham replied, 'They have Moses and the Prophets; let them listen to them.' "'No, father Abraham,' he said, 'but if someone from the dead goes to them, they will repent.' "He said to him, 'If they do not listen to Moses and the Prophets, they will not be convinced even if someone rises from the dead." (Luke 16:28-31)
God isn't in the habit of performing tricks at our command.
His request is a simple one: Follow Me, Jesus says. Repent and believe.
The signs are already there for someone willing to believe.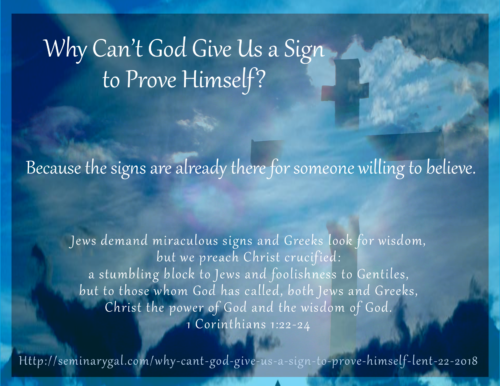 ***
Food for thought:
Why do some people not want to believe?

What purpose would a sign accomplish at this point? For further insight, read

1 Corinthians 1:22 Jews demand miraculous signs and Greeks look for wisdom, 23 but we preach Christ crucified: a stumbling block to Jews and foolishness to Gentiles, 24 but to those whom God has called, both Jews and Greeks, Christ the power of God and the wisdom of God.

What does God think of our demands for a sign?

Matthew 16:1 The Pharisees and Sadducees came to Jesus and tested him by asking him to show them a sign from heaven. 2 He replied, "When evening comes, you say, 'It will be fair weather, for the sky is red,' 3 and in the morning, 'Today it will be stormy, for the sky is red and overcast.' You know how to interpret the appearance of the sky, but you cannot interpret the signs of the times. 4 A wicked and adulterous generation looks for a miraculous sign, but none will be given it except the sign of Jonah.
Join me on Monday for Why Can't All Religions Lead to God?
==
For Lent 2018, we'll explore the questions of Pi and Chi (the Greek letter beginning the word Christos, which means Christ, Messiah, the Anointed One). We'll ask and answer the question "Why?" as we discover the uniqueness of Jesus Christ. Join me for the 40 days of Lent which began February 14, 2018 by liking Seminary Gal on Facebook or having these devotionals sent to your email box which you can do via the sign-up on my Home page. Thank you for blessing me with this opportunity to study together the Word of God.
===
Acknowledging that former years' devotional series remain popular: