Have you ever read a mystery that was so good, you simply couldn't put it down? And then resolution to the mystery was so surprising that you had to go back and re-read the entire thing to see how, yes indeed, the pieces all fit together with such precision that it was simply brilliant? The mystery of God's plan of redemption is like that on steroids.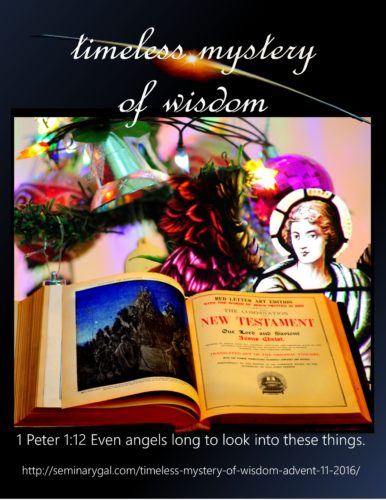 From the moment of the fall of man when the consequences of our rebellion caught up with us as mortality, God's plan was already in motion. Before sin, the plan was a closed book waiting to unfold in earthly time. After sin entered our picture and human death along with it (Romans 6:23 For the wages of sin is death, but the gift of God is eternal life in Christ Jesus our Lord), the plan of God was opened and He began to reveal little bits of this mystery. Like breadcrumbs or clues as prophecy.
Our adversary, Satan, is real but he's not omniscient like God is. He can only use what has been created by God whereas God can do things never done before and never to be done again. So when Satan thought he'd cornered God by tricking Adam and Eve into rebellion, he had no clue that God already had a plan that would unfold as a good mystery and as good as done!
Even God's angels, the ones pronouncing the Messiah's birth would not fully understand what God was doing and we're not even at the end of the story yet. Only in the omniscient mind of God is the wisdom of His plan fully known. 1 Peter 1:12 It was revealed to them that they were not serving themselves but you, when they spoke of the things that have now been told you by those who have preached the gospel to you by the Holy Spirit sent from heaven. Even angels long to look into these things.
Reflect today on how the birth of Christ was key to unlocking this mystery of wisdom.
Romans 16: 25 Now to him who is able to establish you by my gospel and the proclamation of Jesus Christ, according to the revelation of the mystery hidden for long ages past, 26 but now revealed and made known through the prophetic writings by the command of the eternal God, so that all nations might believe and obey him– 27 to the only wise God be glory forever through Jesus Christ! Amen.
===
Join me for Advent 2016 Devotionals called Timeless: the Message of Christmas for All Ages beginning November 27, 2106. Timeless hope, encouragement, grace, peace, and love will be ours as we look into the Word, see the face of our Lord Jesus, and experience restoration in His presence. His goodness and His Gospel are truly Timeless.
Advent began November 27, 2016. If you're already signed up on my Home Page sidebar to receive posts, you'll get the Advent devotionals automatically. If you haven't signed up, today is a great day to do so. Advent and Lenten devotionals remain among my most popular offerings. You don't want to miss this great way to prepare your heart for the true meaning of Christmas!