Do you suppose God laughs at how clever He is? At His own wisdom, kind of delighting in it? At knowing beforehand how He would work everything out and defeat Satan—who for a moment at our rebellion in Eden, gained a foothold in the lives of men and women? At the wisdom and beauty in rescue, earning by His love and sacrifice the very devotion we already owed Him from the beginning?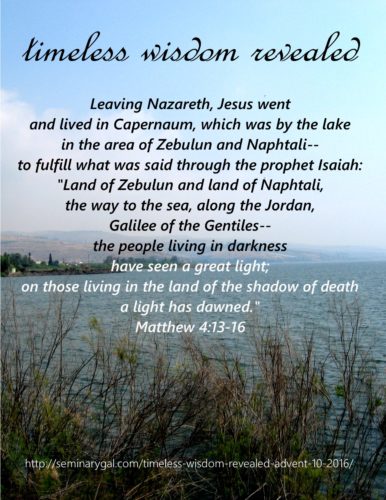 I'd like to think He does. Not in a sense of gloating, but as a victor delights in the victory itself…particularly when it's revealed that the beneficiaries of that victory are others. And in this case, we are His children.
Jesus is God's wisdom revealed!
Matthew 4:13 Leaving Nazareth, [Jesus] went and lived in Capernaum, which was by the lake in the area of Zebulun and Naphtali–
14 to fulfill what was said through the prophet Isaiah:
15 "Land of Zebulun and land of Naphtali, the way to the sea, along the Jordan, Galilee of the Gentiles– 16 the people living in darkness have seen a great light; on those living in the land of the shadow of death a light has dawned."
Who would have thought that God would become a man in order to rescue the sons of men? And He'd do it all without sacrificing one bit of His divinity: fully man, fully God! Who'd have dreamed it was even possible? And salvation would be found 3 decades later in the one who at Christmas was an innocent baby in a manger?
How did this happen at Christmas in the Incarnation? For insight reflect on Colossians 1: 13 For he has rescued us from the dominion of darkness and brought us into the kingdom of the Son he loves, 14 in whom we have redemption, the forgiveness of sins. 15 He is the image of the invisible God, the firstborn over all creation. 16 For by him all things were created: things in heaven and on earth, visible and invisible, whether thrones or powers or rulers or authorities; all things were created by him and for him. 17 He is before all things, and in him all things hold together. 18 And he is the head of the body, the church; he is the beginning and the firstborn from among the dead, so that in everything he might have the supremacy. 19 For God was pleased to have all his fullness dwell in him, 20 and through him to reconcile to himself all things, whether things on earth or things in heaven, by making peace through his blood, shed on the cross. 21 Once you were alienated from God and were enemies in your minds because of your evil behavior.
How does it happen also at Easter in the Crucifixion?
Reflect on Colossians 1: 22 But now he has reconciled you by Christ's physical body through death to present you holy in his sight, without blemish and free from accusation—
How do the two work together in tandem to make resurrection and eternal life possible?
Colossians 1: 25 I have become its servant by the commission God gave me to present to you the word of God in its fullness– 26 the mystery that has been kept hidden for ages and generations, but is now disclosed to the saints. 27 To them God has chosen to make known among the Gentiles the glorious riches of this mystery, which is Christ in you, the hope of glory. 28 We proclaim him, admonishing and teaching everyone with all wisdom, so that we may present everyone perfect in Christ.
===
Join me for Advent 2016 Devotionals called Timeless: the Message of Christmas for All Ages beginning November 27, 2106. Timeless hope, encouragement, grace, peace, and love will be ours as we look into the Word, see the face of our Lord Jesus, and experience restoration in His presence. His goodness and His Gospel are truly Timeless.
Advent began November 27, 2016. If you're already signed up on my Home Page sidebar to receive posts, you'll get the Advent devotionals automatically. If you haven't signed up, today is a great day to do so. Advent and Lenten devotionals remain among my most popular offerings. You don't want to miss this great way to prepare your heart for the true meaning of Christmas!