For the pastor, theologian, or Bible teacher who reads about Sabbath, our challenge is double: reading Scripture is not only dependence upon God, but it's work. We cannot read the Bible as our nighttime reading for relaxation and meditation without it turning our minds back on.
(Barbara, maybe it's just you…)
OK, maybe it is just me. I'm a walking anomaly, totally unable to compartmentalize my life and my Scripture reading into "Today it's relaxation on the Sabbath. Tomorrow it's study and it'll be work."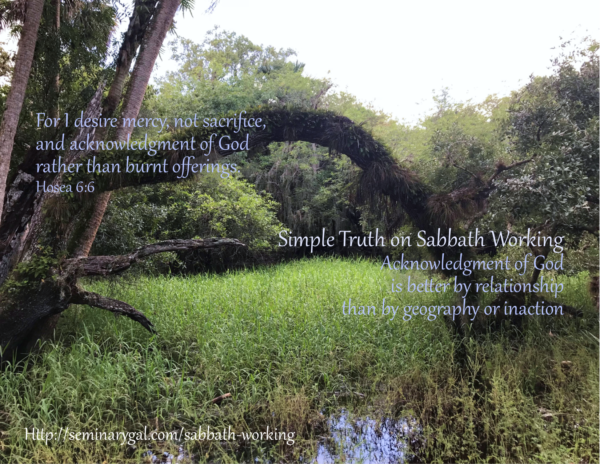 I am encouraged reading that Jesus healed people on the Sabbath. His teachings about the Sabbath include the grainfield and picking grain to eat, but I love how His example in teaching about the Sabbath is helpful—directly so—for people like me.
When questioned about lawfulness of the actions of the disciples and the Sabbath, Matthew 12: 3 Jesus answered, "Haven't you read what David did when he and his companions were hungry? 4 He entered the house of God, and he and his companions ate the consecrated bread– which was not lawful for them to do, but only for the priests. 5 Or haven't you read in the Law that on the Sabbath the priests in the temple desecrate the day and yet are innocent?
(Hold on. Let that sink in.)
The priests in the temple desecrate the day and yet are innocent.
How can that be?
6 I tell you that one greater than the temple is here. 7 If you had known what these words mean, 'I desire mercy, not sacrifice,' you would not have condemned the innocent. 8 For the Son of Man is Lord of the Sabbath."
Jesus quotes Hosea 6: 6 For I desire mercy, not sacrifice, and acknowledgment of God rather than burnt offerings.
Acknowledgment of God is better by relationship than by geography or inaction because Jesus IS God and He is among us.
One can keep the Sabbath without desecrating it by acknowledging God's righteousness. When we're Sabbath working, promoting God's gospel, and proclaiming our Lord and Savior Jesus Christ, we're actually honoring Him as Lord of the Sabbath!