Why Bother to Pray?
Message preached by Barbara Shafer at Advocate Condell Medical Center on April 27, 2014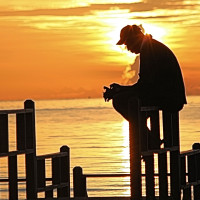 We're beginning a new sermon series today entitled Prayer: More than Just Conversation with God. 
I wanted to do a series on this because prayer is simultaneously one of the most important things Christians can do, one of the most misunderstood things Christians do, one of the most frustrating and discouraging practices for many of us resulting in some of the greatest insecurities a Christian can experience, and yet, it is the most powerful thing we can do this side of heaven.
As a people, we really don't pray enough. 
And it's easy enough to see why. 
First off, we have performance anxiety.  In public prayer, other people pray better than we do.  They pray longer.  They insert Bible verses they've memorized.  They are good at praying and aren't at all nervous about it.  Their words flow like milk and honey and ours?  Well, we stutter and sound stupid.  We can sound like the baby who is just learning to speak.  Or like that song by The Police, De Do Do Do, De Da Da Da (That's All I Want to Say to You).  We don't put Bible verses in there because even if we remember most of it, what if we goof up?  We'll sound even worse.  So some of us refuse to pray in public, maybe even making the avoidance of performance anxiety sound holier.  "Oh, I believe it's important to pray in my prayer closet where no one hears but God…since I pray best silently."  Place halo <here>.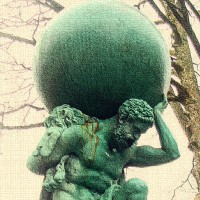 But for those of us who don't pray publically, we still have performance anxiety about praying even privately.  Am I showing enough faith?  Am I doing it right?  I never get the answer I want so why should I do more than a lick and a prayer?
Then there's the dozing off.  We fall asleep while praying and it kind of defeats the purpose of praying if we keep nodding off…unless we're doing it to fall asleep.  Which if I'm honest with you, sometimes I do that.  When my mind is going a million miles an hour…or when I'm afraid, I will pray.  It calms me down and I can fall asleep.  I think God kind of likes that.  I am resting in His hand and this is how it's supposed to be.  I think He prefers my resting in Him than trying to be like Atlas with the world on my shoulders.
But here's a second reason we really don't pray like we should: We also have an amazing group of resources at our disposal.  Why pray to God for our daily bread when we can go to the grocery store and get food?  Why pray for God to heal you when you can go to 24 hour walk-in clinic, see the doctor and get healed?  We can go to the car dealer and get the car we want without asking God for it.  In effect, as long as we ARE our own gods, we don't need to bother the Big Guy except when our own efforts are failing us.  He's kind of our last resort, the God in our back pocket in case we need Him.
Thirdly, how many of us don't bother to pray like we should because we don't find it to be a fruitful use of our time.  God already knows what we want so why pray?  Does He just want us to come groveling to Him?  Is He like the parent in the sky saying, "Now what are the magic words?"  To which we respond, "Please" or "Thank you!"
We should pray more and the reasons are many.  Let's explore my Top 7 Reasons why prayer matters.  Let's answer the question, "Why Bother to Pray?"
Reason #1: Prayer equips us for work. 
Ephesians 3: 7 I became a servant of this gospel by the gift of God's grace given me through the working of his power. 8 Although I am less than the least of all God's people, this grace was given me: to preach to the Gentiles the unsearchable riches of Christ, 9 and to make plain to everyone the administration of this mystery, which for ages past was kept hidden in God, who created all things.   
We often hear said that God doesn't give us tasks for which He expects us to fail.  Or that God won't call us to a place where He will not equip us to get there.  Prayer equips us for work.  Jesus prayed before choosing the 12 disciples.  He prayed before performing miracles of multiplying loaves and fishes.  He prayed before going to the Cross.
We can pray about the work God calls us to do.  Not only the religious work (like evangelism, worship singing, preaching, or Bible study), but just the work of relationship, period.  Relationships take work, sometimes lots of it.  But when we pray for our children, our parents, our siblings, our friends, our neighbors, and yes, even our enemies, prayer equips us to marshal not only our own power, but God's help in accomplishing the overall work of relationships.  Jesus knew that.  It's why He said in Matthew 5:44
But I say to you, love your enemies, and pray for those who persecute you."
God equips us for the work we do vocationally too.  God does not call all people to pastoral ministry, but He does give each of us a mission field.  Maybe your mission field is a needy neighbor to whom you can be a friend.  Maybe your mission field is your workplace where you attend meetings and glow as a witness by the way you avoid office politics and are winsome in each and every instance.  Whatever your mission field is, God wants you to blossom in it.  Prayer helps you by equipping you with patience, love, and stamina for the tough work of relationships.
Reason #2:  Prayer shows the wisdom of God to a watching world. 
Ephesians 3:10 His intent was that now, through the church, the manifold wisdom of God should be made known to the rulers and authorities in the heavenly realms, 11 according to his eternal purpose which he accomplished in Christ Jesus our Lord.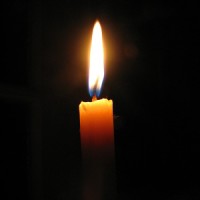 God never intended that Christians would hide in little prayer groups and only put on their Christian faces when around churchy people.  God's intent is that it would show.
Luke 11:33 "No one lights a lamp and puts it in a place where it will be hidden, or under a bowl. Instead he puts it on its stand, so that those who come in may see the light."
God wants not only those who are believers to see your Christian light.  He wants the Church as a gathering of millions of brightly lit candles to witness to everyone on earth.  And everyone in the spiritual realm.  Because if the spiritual realm is real and I believe it is…because depression exists…then when we pray, we are pointing to God every time we pray and the devil and his minions quake at that.  Look at this witness!
Mark 5:9 Then Jesus asked him, "What is your name?" "My name is Legion," he replied, "for we are many." 10 And he begged Jesus again and again not to send them out of the area. 11 A large herd of pigs was feeding on the nearby hillside. 12 The demons begged Jesus, "Send us among the pigs; allow us to go into them." 13 He gave them permission, and the evil spirits came out and went into the pigs. The herd, about two thousand in number, rushed down the steep bank into the lake and were drowned. 14 Those tending the pigs ran off and reported this in the town and countryside, and the people went out to see what had happened. 15 When they came to Jesus, they saw the man who had been possessed by the legion of demons, sitting there, dressed and in his right mind; and they were afraid. 16 Those who had seen it told the people what had happened to the demon-possessed man– and told about the pigs as well. 17 Then the people began to plead with Jesus to leave their region."
Prayer makes people on earth and spirits sit up and take notice.  They don't always like it, but it witnesses because prayer points to God and displays His dominion over everything.
Reason #3: Prayer is a privilege, not a chore.
Ephesians 3:12 In him and through faith in him we may approach God with freedom and confidence. 13 I ask you, therefore, not to be discouraged because of my sufferings for you, which are your glory. 14 For this reason I kneel before the Father, 15 from whom his whole family in heaven and on earth derives its name.
Prayer isn't just a chore to be done like taking out the garbage or mowing the grass or laundry.  Like some task that those of us who are task oriented hate…the cyclical chore that no sooner do you get it done that it's time to do it again.  Laundry.  Dishes.  Mowing the grass.  Repeat.
When you stop to think about what a privilege it is to speak with God, it's not really tedious at all.  We have freedom, Paul says.  And confidence!  We don't have to worry about God beating us up over stuff.  It's not like Divine Whack-a-Mole where we bring our prayers and our shortcomings and failures up to God and then He beats us down.
In fact, the opposite is true.  In prayer, God restores us to the place that Adam and Eve were before they fell from grace.  God restores us to that place of continual refreshment, that continual peace, that fullness of life, that living water that Jesus talks about.  We won't thirst ever again if we know the source of life and the freedom God gives us to seek it.  How does this happen?
Reason #4: Prayer strengthens us.   
Ephesians 3: 16 I pray that out of his glorious riches he may strengthen you with power through his Spirit in your inner being, 17 so that Christ may dwell in your hearts through faith.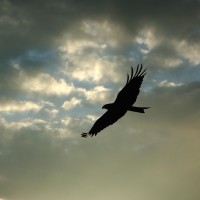 Let's face it: life on earth is exhausting.  It's discouraging.  It's overwhelming.  But prayer cuts through all that.
God's Holy Spirit is our advocate.  He strengthens us and encourages us in accordance with God's will so that we aren't fighting against the stream but running with it.  We're not flying into a head wind, but soaring with His wind beneath our wings.  Trying to do things our way can make us very tired.  Letting God strength, equip and empower us makes life less of a burden.
John 14:26 "But the Helper, the Holy Spirit, whom the Father will send in My name, He will teach you all things, and bring to your remembrance all that I said to you."
Not just what He teaches us though, or what He reminds us of, but also the Helper encourages us when we're feeling low.  Because if God is for us, who can be against us?  Which brings me to the next reason:
Reason #5: Prayer reorients us to God's magnificence.  To see things from God's perspective.
Ephesians 3:17b And I pray that you, being rooted and established in love, 18 may have power, together with all the saints, to grasp how wide and long and high and deep is the love of Christ, 19 and to know this love that surpasses knowledge– that you may be filled to the measure of all the fullness of God.
In his book on prayer, Philip Yancey says prayer is the way God satisfies our deepest longing for relationship with our Creator.  That prayer is where two lines intersect—the line of wondering "why God doesn't act the way we want God to" and the line of "why I don't act the way God wants me to.  Prayer is the precise point where those themes converge."
When I see God's magnificence in the larger universe and in the tiniest details of the human DNA, I am likely to have my prayers focused away from me and toward Him.    Prayer calls us higher, to transcend the insignificant small stuff we sweat on a daily basis, the temporal things that will pass with time, the petty problems we can get so wrapped up in…and prayer calls us to commune with the God who made the universe and whose strength and power keeps it all in order.
Prayer pierces through our priorities and causes us to consider what is truly significant in this life.
We can pour ourselves into the things that matter and not waste ourselves on priorities God does not hold out there for us.  How much energy we waste worrying!  How much energy we waste fearing the future!  How much energy we waste pouring good actions into a black hole of unproductivity!  Instead, we should know the 6th good reason to pray:
Reason #6:  Prayer plugs us into God's power.
Ephesians 3:20 Now to him who is able to do immeasurably more than all we ask or imagine, according to his power that is at work within us, 21 to him be glory in the church and in Christ Jesus throughout all generations, for ever and ever! Amen.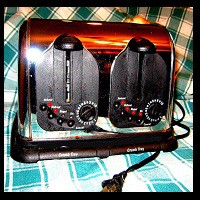 A toaster sitting on the counter unplugged won't even accept bread these days.  We push the button down and it pops right back up.  It won't even try to toast.  But plug it into the power source and suddenly the bread is toast.
Coming to God in prayer unleashes God's power in our lives.  We become plugged in and the tasks we couldn't do on our own get done by His power.
James 5:16 Therefore confess your sins to each other and pray for each other so that you may be healed. The prayer of a righteous man is powerful and effective.
Why?  Not because of the pray-er but because of the prayer to the One who has the power.  Prayer is the plug that connects us to our power source.  And finally my 7th reason among many that are reasons why we should bother to pray, and which may be the most important:
Reason #7:  Prayer brings glory to God because we are rightly related to Him in prayer.
We are living with a gap in our lives that stands between us and the power of God.  Prayer fills that gap because God hears our prayers through the work that Jesus Christ did…giving us freedom to approach the throne of grace boldly. To gain the power that we need to do the work He called us to do.
Before Jesus went to the Cross, He prayed to His Father in heaven saying,
I have brought you glory on earth by completing the work you gave me to do." (John 17:4)
God is glorified when we, too, complete the work He has designed for us.  Few things are more powerful than a life well-lived for Christ.
"This is to my Father's glory, that you bear much fruit, showing yourselves to be my disciples." (John 15:8)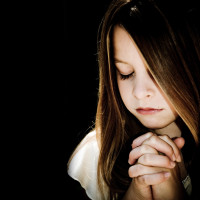 Prayer brings glory to God by showing us to be Jesus' disciples.
Yes, prayer is so much more than just conversation with God.  And there are many good reasons to pray.
Pray when you're facing the impossible task, Prayer will equip you for work.

Pray when God gives you opportunities to show the way or to resist the discouragement of the devil. Prayer shows the wisdom of God to a watching world.

Pray as if you fully realize that it is a privilege, not a chore.

Pray when you need strength or healing and you'll find yourself strengthened.

Pray to get some perspective, and reorient yourself to God's magnificence.  The little stuff won't seem so big when you see it in God's hands.

Pray to find yourself plugged into God's power. 

And know that when you pray, you bring glory to Him…which may be the most beautiful reason of all. 
Let's pray…