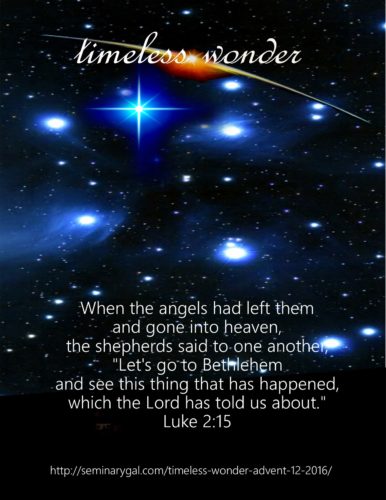 Oh, to have been a shepherd and witnessed that angel choir! I'm sure those shepherds were never the same. When they were old and sitting around the bar drinking their Mogen David, they'd recall the glory days: "Remember when…" When we were just minding our own business. When life was filled with wonder. Waiting for a Messiah and being told He was a baby in a manger. Ditching the sheep or hoping we could find an inn that would allow them (not knowing that Mary and Joseph couldn't even find an inn). Hustling all the way to Bethlehem to see this sight, and there He was: just as the angels said. To our naked eye, He looked like any other baby. But to our minds' recollections, we can't get the angels out of our heads.
He's the One we've been waiting for! The angel choir announced His birth!
Wow! The wonder of it all.
Luke 2:15 When the angels had left them and gone into heaven, the shepherds said to one another, "Let's go to Bethlehem and see this thing that has happened, which the Lord has told us about." 16 So they hurried off and found Mary and Joseph, and the baby, who was lying in the manger. 17 When they had seen him, they spread the word concerning what had been told them about this child, 18 and all who heard it were amazed at what the shepherds said to them.
All who heard it were amazed, but for how long? Were those who heard filled with timeless wonder? How many people heard these shepherds and thought they'd maybe had a bit too much Mogen David or spent too much time around sheep? And how many believed this preposterous story of a Virgin giving birth and a Messiah born to save God's people? Especially since this King wasn't on a throne but on the hay in a manger because the Messiah's mom and dad couldn't convince an inn-keeper to take them in. Some Messiah, some must have thought.
But for those who believe, we are still filled with wonder–even a timeless wonder. We don't need to hear the angels sing to know they did. We believe. We're full of wonder at God's unfolding mystery and how He continually does things outside of our boxes of daily humdrum and expectation.
For reflection: What about you? Are you filled with wonder?
===
Join me for Advent 2016 Devotionals called Timeless: the Message of Christmas for All Ages beginning November 27, 2106. Timeless hope, encouragement, grace, peace, and love will be ours as we look into the Word, see the face of our Lord Jesus, and experience restoration in His presence. His goodness and His Gospel are truly Timeless.
Advent began November 27, 2016. If you're already signed up on my Home Page sidebar to receive posts, you'll get the Advent devotionals automatically. If you haven't signed up, today is a great day to do so. Advent and Lenten devotionals remain among my most popular offerings. You don't want to miss this great way to prepare your heart for the true meaning of Christmas!