Jerusalem was still days ahead even if less than 2 miles as the crow flies when Jesus and His disciples arrived at Bethany. Jesus valued friends and Lazarus and his sisters Mary and Martha had been foremost among them. Martha's house was a special place, kind of a home away from home. A resting place in the presence of friends for a weary traveler. He sat down to rest in the care of such friends.
The truth is that Mary and Martha enjoyed Jesus' friendship as much as did Lazarus. When Jesus came to visit, they wanted their appreciation of Him to be evident. Mary and Martha were wired differently and showed their appreciation in different ways. Mary just wanted to be near Him. Martha wanted to serve Him.
Out of the corner of His eye, He could see Martha was moving beyond joyful serving to feeling annoyed with a sibling rivalry kind of annoyance.  Finally, Martha could handle it no longer.  She blurted out,
"Lord, don't you care that my sister has left me to do the work by myself? Tell her to help me!" (Luke 10:40)
The minute she said it, she regretted that her serving had turned from joy to a sense of compelling. She hoped Jesus didn't get mad that she'd put Him in the middle of sibling issues. Jesus looked at her as only a truest of friends can…with a compassionate smile, a tender beckoning, and a gentle correction.
41 "Martha, Martha," the Lord answered, "you are worried and upset about many things, 42 but few things are needed– or indeed only one. Mary has chosen what is better, and it will not be taken away from her."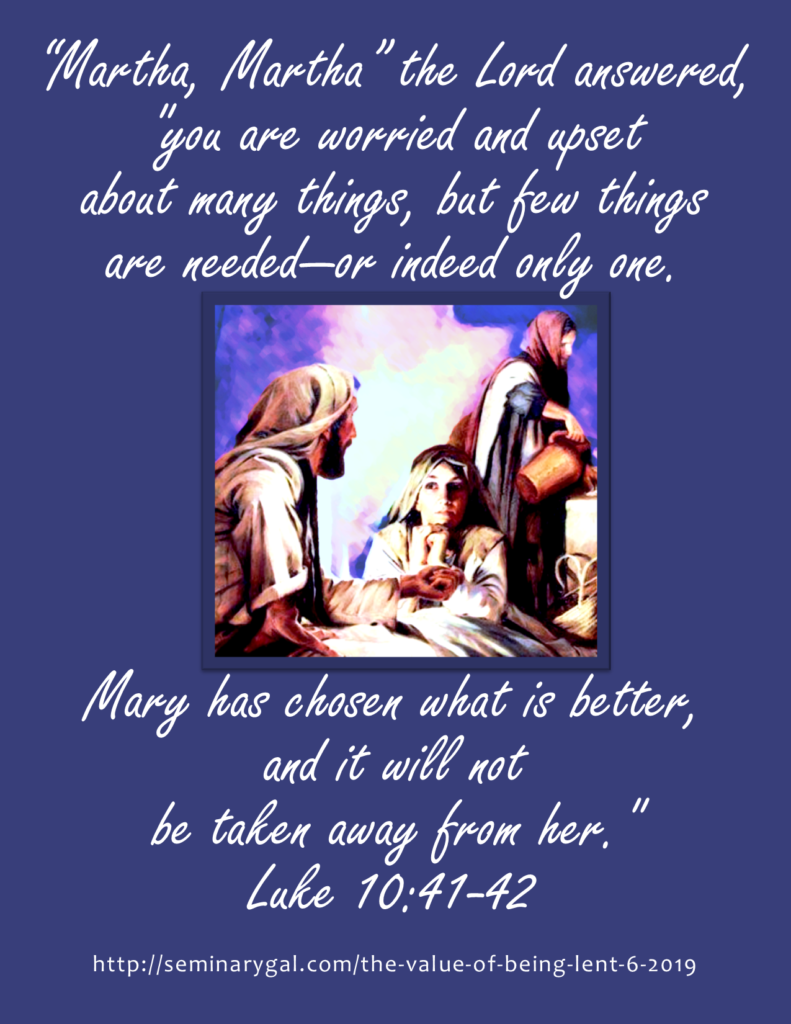 Just as Jesus taught that it's not a matter of how much you know (since there will be no doctrine comprehension exam), and it's also not just a matter of doing what you know (as completed checkmarks on a to-do-list)…Jesus now offers a fuller instruction to Martha. She was already a theologically sound woman, but she needed to know about the power that is available when one knows how to be. How to be with Jesus. How to be in His presence. How to be refreshed and how He is just as honored by her being as He is by her inclination toward serving.
He doesn't love her because of what she does. He loves her because of who she is.
And in her life, the best memories will not be made in studying the writings or even the to-do items accomplished.  Memories are best made in the being…and that's what both she and Mary will need to carry on when He completes His journey to Jerusalem.  It's preparation for them because Jesus knows the Cross awaits Him there.  He just wanted to be…with friends who loved Him and wanted them just to be…with Him.
Think about it:
How hard is it just to be in the presence of Christ?
What things can you do to be in His presence?
In what ways is it harder to rest in Him than doing things to serve Him?
What types of things make human relationships difficult?
Sibling rivalries bring a different kind of difficult relationship. Why is that?
Lord Jesus, thank You for Your wise instruction to Martha and Mary and to us today. Thank You for not condemning us for our actions. Thank You for loving us and desiring our presence with You. Thank You for Your sacrifice on the Cross to make it possible for us to be with You where You are. We praise You and thank You. Amen.
= = =
If you're already signed up on my Home Page sidebar to receive posts, you'll get the 2019 Lent Devotionals automatically. Or you can "Like" Seminary Gal on Facebook and they'll be delivered to your Facebook news feed. If you haven't signed up, today is a great day to do so. Advent and Lenten devotionals remain among my most popular offerings. You don't want to miss this great look at the Easter story to prepare your heart for Easter! Understanding that prior years' devotionals remain popular,