Luke 14:1 One Sabbath, when Jesus went to eat in the house of a prominent Pharisee, He was being carefully watched.
This Pharisee was prominent, and he knew it. You could tell that by the way he carried himself and the way he talked…that way he looked around while he was speaking to make sure people took note of how smart he is.
Funny, isn't it, that such a prominent man would have someone suffering with abnormal swelling fellowshipping at a meal, especially on the Sabbath? Except that Jesus was also invited.
Jesus was gaining so many disciples! In fact, His was a name on everyone's lips around town. The Pharisees were jealous and wanted that kind of attention and respect. They wanted to be around Him … to bring Him down by catching Jesus in some sort of wrongdoing whether in word or deed.
Jesus did it again! He healed on the Sabbath again! This was the fourth time Jesus did something wrong on the Sabbath! (Luke 6:1-5; 6:6-11; 13:10-17) He even asked the Pharisees whether it was lawful to heal on the Sabbath before He did it! Maybe He's not the hot shot all the people think He is! He not only eats with sinners and tax collectors, He heals sick people on the Sabbath! What a lowlife, what a fraud, thought the Pharisee, puffing himself up in his righteousness by comparison to this Jesus fellow who has bad connections and associates with sinners.
Jesus tilted His head slightly, as if listening from above and considered the thoughts of this Pharisee who was more concerned about how he stacked up vertically in power, prestige, and prominence than how he related to his fellow man on a horizontal plane. Where was the neighborly love?
Luke 14:7 When Jesus noticed how the guests picked the places of honor at the table, He told them this parable: 8 "When someone invites you to a wedding feast, do not take the place of honor, for a person more distinguished than you may have been invited. 9 If so, the host who invited both of you will come and say to you, 'Give this person your seat.' Then, humiliated, you will have to take the least important place. 10 But when you are invited, take the lowest place, so that when your host comes, he will say to you, 'Friend, move up to a better place.' Then you will be honored in the presence of all the other guests. 11 For all those who exalt themselves will be humbled, and those who humble themselves will be exalted." 12 Then Jesus said to his host, "When you give a luncheon or dinner, do not invite your friends, your brothers or sisters, your relatives, or your rich neighbors; if you do, they may invite you back and so you will be repaid. 13 But when you give a banquet, invite the poor, the crippled, the lame, the blind, 14 and you will be blessed. Although they cannot repay you, you will be repaid at the resurrection of the righteous."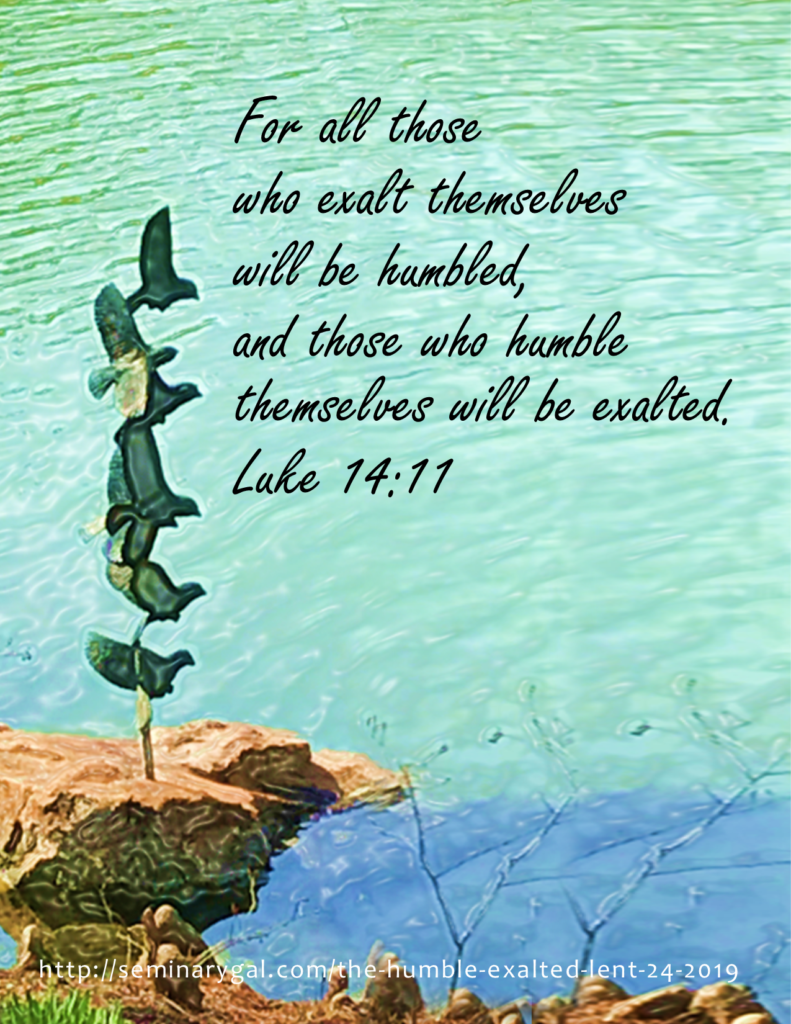 This Pharisee had invited Jesus and someone who needed healing but had done it for reasons of testing and entrapping. There was no love there for either man. A man's heart is shown in how he treats those who can do nothing for him. The Pharisee's heart was far less righteous than he'd arrogantly self-assessed. He wasn't likely to learn that "the Son of Man did not come to be served, but to serve, and to give his life as a ransom for many."
Think about it:
What people view as the best seats can be found in the sky box or the 50-yardline, box seats at the baseball game, the front row of the concert, or the donor's circle where one can be seated among celebrity and the wealthy. Why do people like these types of seats? Whose favor do they display and to whom?
What does it mean to you that Jesus outlined Kingdom rules beginning with the Beatitudes and is continuing to show how Kingdom rules are different, often polar opposites to earthly rules?
Why would Jesus be driving that home, particularly on the topic of humility? What is a common thing God hates more than others (see Proverbs 6:16-19)?
Thank You, Lord Jesus, for the way You humbled Yourself, all the way to the Cross. To show us how it's done. To show us what You value. To show us what Kingdom principles exist and the way those rules of the road can make our lives on earth more fruitful. We ask, Lord, that You would give us wisdom to live as wise people, making the most of every opportunity and to grow in character to help those who can never repay us as a reminder of how we can never repay the debt we've owed. Thank You, Holy Spirit, for opening our eyes and teaching us deep things. Thank You, Father, for giving us grace in Christ Jesus. Amen.
If you're already signed up on my Home Page sidebar to receive posts, you'll get the 2019 Lent Devotionals automatically. Or you can "Like" Seminary Gal on Facebook and they'll be delivered to your Facebook news feed. If you haven't signed up, today is a great day to do so. Advent and Lenten devotionals remain among my most popular offerings. You don't want to miss this great look at the Easter story to prepare your heart for Easter! Understanding that prior years' devotionals remain popular,